Nexus Player now available from Best Buy and Newegg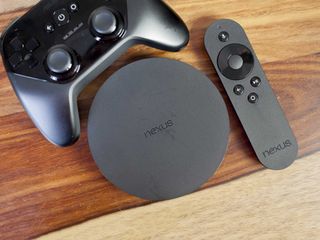 The Nexus Player is now available outside of the Google Play Store, notably at Best Buy, as well as online retailer Newegg. The device is available from both outlets for $99.99, with the game controller also available from both at a price of $39.99.
The Player served as the consumer launch of Android TV. It's powered by a 1.8GHZ Intel Atom processor, with a PowerVR GPU. It has 1GB of RAM and 8GB of storage space. For more on the Nexus Player, be sure to read the Android Central review, which found the device to be a fun, enjoyable experience, albeit one with a few issues.
Source: Best Buy (1) (opens in new tab), (2) (opens in new tab), Newegg (1) (opens in new tab), (2) (opens in new tab)
Android Central Newsletter
Get instant access to breaking news, the hottest reviews, great deals and helpful tips
No Vudu = no interest Posted via Android Central App

I've never actually used the vudu service. What are the benefits of using vudu over the other supported video services. Thanks.

Ultraviolet, has most movies and TV shows available at better prices, reliability. I wanted to convert to one service. Also felt that Walmart owning the service was a plus. I now have almost 550 movies and 30 TV series. You can also find codes cheap everywhere. Posted via Android Central App

Flixter also supports your Ultraviolet library.

Yah but you can only store your digital copy in one place or the other which is a bummer.

For those that have an ultraviolet digital library. Vudu is a way to watch those titiles that one owns. It's a little frustrating that the vudu android app doesn't support casting to the nexus player even though it will cast to a chromecast. The same holds true for the chrome casting extension.

That's odd. I was under the impression that anything that could cast to chromecast could also cast to android TV, as they both use the same protocol. Wubba lubba dub dub!

Yeah, thought that was the case too but there are at least 2 apps that I've found (vudu being one) that support casting to the Chromecast but not to the nexus player. Posted via the Android Central App

Flixter also allows access to your Ultraviolet movie collection.

Yes, but their video quality is terrible compared to Vudu Posted with Nexus 5 via Android Central App

In regards to watching on Android devices, it's the reverse... Flixter supports HD on android devices, but Vudu only allows SD on Android devices.

It does but quality isn't as good and it's not as good for TV shows.

He is used to using substandard stuff and thinking nothing is wrong. Posted by my soon to be retired Note 3

Ha! Says the guy who is still using a Note 3.

See you have no clue of what superior actually is with comments like that. Get a clue. Posted by my soon to be retired Note 3

Flixster does not allow offline viewing Vudu does. Posted via the Android Central App

Netflix is great because it works on literally every device in the house. Nexus Player excluded, the same can pretty much be said of Vudu. I actually like it better than Amazon Instant Video (less walled garden like).

Is Nexus Player only available in US or can it be used in the rest of the world (Montenegro here :))? Posted via the Android Central App

Don't know for Montenegro, but here in Canada it's available trough the play store but not trough Best Buy's Canadian site. Posted via the Android Central App

It's ok if I don't buy it through Google Play but I don't know if I'll be able to use it... It's a nice liitle device :) Posted via the Android Central App

A little late.. Already bought a Chromecast for HBO GO. I would've liked one of these tho but don't have $99 to spare right now anyway.. Also for a set top box I still prefer having an ethernet port. I know Razer has one but it has no remote control. Someone get it right please. Posted via Android Central App on The Nexus 5

I have to say that after seeing the Razer Forge TV(for the same price) at C.E.S. I get a real meh feeling about the Nexus Player.

Seconded. Wubba lubba dub dub!

Agreed! Posted via the Android Central App

I got one... Lemme start by saying the nexus player is perty bad ass... That said, it does have some buggy buggy bugs. Most notably the voice search function. It only works half the time so I find myself using the remote app for the nexus player from my phone, I'm sure it will get worked out but ya know. Also sometimes when u try n play a video it will play a totally different video. Also there is no off switch which I wasn't happy about. ( don't wanna hear it goes into power saver mode I want it off). Anyway everything else is sweet. It handles asphalt 8 like a dream and the added functionality over the Chromecast is great...oh yeah one more thing ... When u try n cast a Netflix movie if ur not signed in with the same account as ur trying to cast it won't cast... Lame... But I like it... Its got them loliipops... And little splashy animations so It could run like shit and I would be like its a nexus yay..... Lol Posted via the Android Central App

Wow...sounds like a buggy nightmare. Thanks for the warning

The lack of ethernet port and low memory are big downsides. The Razr box sounds better. Posted via the Android Central App

Why do you want an Ethernet port? Wubba lubba dub dub!

More reliable connection than wireless. Posted via Android Central App on The Nexus 5

Yup. I hard wire my Roku 3 into the TV. Sucker is supra fast (processor and connection). Also, my 2.5 GHz wireless headphones which like to play havoc with the WiFi don't affect watching stuff with a wired connection.

It does support Ethernet u just need the micro USB to Ethernet dongle ..... Posted via the Android Central App

But even that has limitations. Because it's USB 2.0, you're limited to 100mbit ethernet, and while you wouldn't get 100mbit on a real 100mbit ethernet connection, the USB adapter slows it down even more. The Razer has a gigabit ethernet port. This makes a huge difference for high bandwidth applications, like local game streaming and local video streaming of direct Blu-Ray rips. That said, I run my NP off of wireless-N. I get real world speeds of just over 16mbit (2MB) sustained. That's adequate for Netflix 4k, barely, but it does choke on some of my locally streamed movie encodes.

No 4k Posted via the Android Central App

Over priced. Fire tv way better Posted via Android Central App

How is it overpriced compared to the Fire? They are the same price! Posted via the Android Central App

Well, if they're the same price, and he thinks the Fire TV is better, then it would stand to reason that he thinks the Nexus Player is overpriced.

I get that. They have all the same specs I believe except Fire has ethernet. Was just wondering why he felt that way. I'm still debating and would love to hear an opinion if he actually has one. Posted via the Android Central App

Fire TV is usually slightly cheaper and supports Amazon's app. That's it for advantages. Android TV can run Kodi without having to use work arounds to get it running. Same with emulators. For mom and pop, Fire TV is better. For the enthusiast, Android TV is better.

How likely is it that Android TV will be merged in with Chromebox, or vice versa? A single device with remote and keyboard. I guess I'll be waiting on the sidelines until I fully understand.

Only 8GB and no microSD slot? What is the point of this thing? Just streaming? It can't be for gaming with such a low storage space. Maybe one game at a time. This tells me Google has little faith in Android for gaming, but is selling controllers to capitalize on fans of emulators. But I suppose Android TV will be fairly open (if not completely) and thus allow other manufacturers to make Android TV boxes with respectable specs. What I think would be really cool: An Android desktop system with a built-in KVM (keyboard/video/mouse) switch. Turn it on, and Windows (or whatever) goes buh-bye and is replaced with Android, in seconds. The thing would always be running. So if your computer is doing something computer-related, you can just pop into Android to check your email, hit up a social network, play a game, or whatever. Or maybe your computer's off because you've been away, you turn on your Android box and check email while Windows boots up. Or maybe you skip the KVM and just use it as a super-inexpensive workstation.

Why reinvent the wheel. Windows does everything on your list. Posted by my soon to be retired Note 3

I bought one. It is in a drawer collecting dust. No VUDU, NO HBO, NO FXX (simpsons), etc.
What a waste of money. I have regretted every minute of it. Using Roku 3

I kind of want to get one...should I get one? Edit - and although it doesn't have an HBO Go app (yet), you can sideload the regular Android version or cast it from your phone.

If Google Play movies and HBO Go access via Xfinity (Comcast) weren't just added to the newer Rokus, I probably would have snagged one of these. Maybe when (if) my original Roku XD dies, I'll try one out.

Hmmm Might have been better if this had been done BEFORE Christmas.
Android Central Newsletter
Get instant access to breaking news, the hottest reviews, great deals and helpful tips
Thank you for signing up to Android Central. You will receive a verification email shortly.
There was a problem. Please refresh the page and try again.