Nexus 9 now up for pre-order at HTC and Best Buy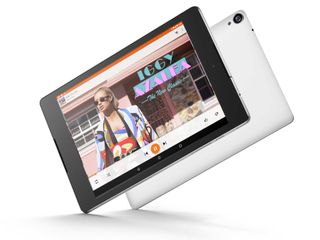 The Nexus 9 tablet is now available for pre-order from Best Buy, as well as HTC. It's available in both Lunar White and Indigo Black, and comes in both Wi-Fi-only and LTE-capable configurations. Pricing starts at $399.99 for the 16GB Wi-Fi-only configuration.
The Nexus 9 is a new tablet from HTC and Google with a 8.9-inch screen that runs Android 5.0 Lollipop out of the box. The tablet is powered by an NVIDIA Tegra K1 and has 2GB of RAM, with an 8MP rear camera and 1.6MP front-facing camera. The Wi-Fi-only models come in either 16GB or 32GB of storage, while the LTE-capable version comes only in 32GB. Best Buy is selling a T-Mobile-compatible version for $599.99.
Will you be pre-ordering your Nexus 9 from Best Buy or HTC? Tell us in the comments.
Why no love for the LTE version on Amazon or HTC? Best Buy only? Really?

I may repost in the Nexus 9 forum as well, but does anyone know if the LTE version will support LTE bands from all major carriers, similar tot he Nexus 7 LTE? Bext Buy lists the LTE version as being for TMobile.

The Qualcomm site for the Qualcomm MDM9625M modem ( https://www.qualcomm.com/products/gobi/modems/specs ) under the 4G LTE Advanced
LTE Rel10 HSPA+ Rel10 1x/DO TD-SCDMA GSM/EDGE and the Google.com/nexus site lists Telephony
"Quad-band GSM, CDMA, Penta-band HSPA, LTE" in the Telephony section of Specs Plus T-Mobile frequencies are very similar to AT&T aren't they? Good Luck!

Americas/EU: LTE bands 1,2,3,4,5,7,8,20 Asia: FDD bands 1,2,3,4,5,7, 12,13,17,19,25,26; TDD 41 Thats what I've got from twitter of Jeff Gordon

I can buy the iPad Mini with Retina display for a $100 less. Apple is smacking their competition around pretty good this month.

can you buy ipad Air 2 for $400??? This is Ipad air competitor. Google is smaking their competition around pretty good this month.

These iTrolls are out in numbers.

Ummm the entry level ipad 2 is 499. A bill more, but it's larger. The pricing on these for a pure android experience without software development is a bit high for me. I hate Apple products, but they are now part of the conversation based on pricing alone. Posted via Android Central App

Yeah, I'm about as much of an Android loyalist as the next guy, but $599 for 32 GB LTE Nexus 9 or $729 for 64 GB LTE iPad Air 2? I gotta say, I think the better value rests with Apple at those prices. If the N9 gets a $100 price drop across the board, then I think we'd be at parity.

Why is this not up for preorder with Google yet? This makes no sense...

I've been watching and refreshing since around midnight. I didn't intentionally wake up throughout the night but I checked every time I woke up and I've been refreshing all morning to nothing. It is now almost 1PM here and well into Google's start of the day so I see no reason why it isn't up now. GameStop seems to be the only retailer left that hasn't gotten their preorders up but it's GameStop so...

Yes, I prefer to order direct from Google Play. I get better support and replacement turn-around in my experience when you order direct from them.

It may be a move by Google to play nice with retailers, giving them a chance to rack up some sales in return for their support.

Correction: It's up on Google now - https://www.androidcentral.com/e?link=https2F2F...

When will accessories be added to Shop Android? I pre-ordered the device now I need a case!

I would prefer to wait until they put the Keyboard cover for sale before ordering my Nexus 9... I want to get both at the same time.

The product page is up at https://www.androidcentral.com/e?link=https2F2F... And $129 - I was hoping for $99 or less.

Holy CRAP! Never mind.... I'll just use the onscreen keyboard - plenty large enough for me. and get a case for under $15.00 on Amazon.

Looks like a botched launch on many fronts. I've been waiting for this all year and this seems very disorganized.

Unfortunately it is more expensive than the Nexus 7 that came out last year. I'm satisfied with my Nexus 7 and have no plans to buy the Nexus 9 at this time. Hopefully, as time goes by they will lower the price.
It comes out on the Nov 3, the same day, the Nexus 7 Wi-Fi is scheduled to received Android 5.0

How in the hell did anyone expect this to be as cheap or even the same price as the Nexus 7 from last year? It was a nice device but it wasn't premium by any stretch of the word except maybe the screen. (And that's only counting the resolution. That doesn't count the numerous screen/touch issues that came along with it.) The Nexus 9 is premium in almost every way.

You both make excellent points...Nexus 9 is premium, although $120 for an LTE chip is a rip off don't you think? And yes, our trusty Nexus 7s are quite compentent. I have a 2012 and a 2013 and plan on keeping them both even if I do get a 9.

I still like the 2012 build quality and how it feels in hand.

Well, Google Play devices section just finally removed the old Nexus models from the site a few minutes ago.

It's up for pre-order on Google finally!!! Yeah!!! Oh no... LTE version is coming soon only. No pre-order on that model. The suck.

Dang it, you can only get the sand color from Google?? :( Booooo sand color coming soon!!

I've been looking everywhere and haven't found an answer to this question: Are the white and sand colors also soft touch material like the black? I ask this because the white Nexus 5 was not soft touch and it was slippery. I have a black Nexus 5 so I figured I'd get a Nexus 9 in white, but if it's slippery plastic, I'll stick with the soft touch in black.

BESTBUY ONLINE AND BESTBUY PHONE CENTER both seem to be DOWN right now. I wasted 40 minutes. WHile on the phone with Bestbuy waiting AMAZON efficiently took my money. That is bad when I can't even get it done either way Online or by Phone.

all I want is the Gold one!!! Posted via Android Central App

Where is the best place to order the Nexus 9? Play Store or Amazon?

Can you pre-order from Best Buy to pick up in the store on 11/3? I don't really want to wait that extra couple of days for it to be delivered. :) Posted via the Android Central App

I think it gets shipped. That's what it said on the best buy website. I want to wait and get it from my local store, but with my luck it won't be there on the 3rd.

Yeah, that's my worry as well. I just want to get this thing in my hands as quickly as possible..... Posted via the Android Central App

You can pre-order the Nexus 9 on Amazon: http://www.amazon.com/gp/product/B00M6UC5B4/ref=as_li_qf_sp_asin_il_tl?i...
Android Central Newsletter
Get the best of Android Central in in your inbox, every day!
Thank you for signing up to Android Central. You will receive a verification email shortly.
There was a problem. Please refresh the page and try again.