Nexus 7 Android 4.2 update download link now live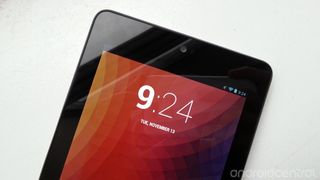 Nexus 4 and 10 orders continue to roll through the time zones as the Android 4.2 download links start to come in as well. We've seen one go live for the GSM Galaxy Nexus, and now we've got one for the Nexus 7 as well.
Eager users with a Nexus 7 on stock Android 4.1.2 can download and apply the update at their convenience, provided they have a few of the right tools and a little time on their hands. We have a great how-to guide available that explains how to do just that right below, just substitute in the file names included in 4.2. There's also no shame in waiting for the OTA to hit your device, as it'll surely be rolling out shortly.
Source: Google Direct Download; Thanks, Anonymous!
More: Google Nexus 7 Tablet Forums
Andrew was an Executive Editor, U.S. at Android Central between 2012 and 2020.
Between buying a N4 and updating my n7, I'm going to have a busy morning. I hope I get some sleep before work again tonight!

This definitely does NOT work. Your steps just simply don't work. Holding the power + volume UP + down while on the screen with Android and red exclaimation point just restarts the tablet. It would be cool to get some updated info. I would love to manually update without rooting.

Type adb reboot recovery in commands

Can you be more specific? Where am I typing this? Do I need to put spaces as you did or all together?

If you don't know where to do that, it's probably better to wait a day and get the OTA update.

Lol, good thing rooting isn't involved. If anyone needs to know how to do this, Google is your friend and so is XDA Forums. The comment section here won't cut it.

When you are at the part with the android and exclamation point, press power + volume up and it opens the menu up.

Update the guide with new file name.. there's adb command "adb reboot recovery" to go into recovery without pressing buttons

I'm going to wait for the OTA. I hate using the desktop.
Ever since I purchased the N7, I have no need to use the computer. The again, I do have to transfer music to it...

This is where I expected to see some VZW bashing. Since there isn't, I'll bash ATT and TMO instead, because if they had the coverage, speed, and customer service of VZW I would be a happy GSM customer right now.

This loads 4.1.2 not 4.2.

This is the update file for 4.2 for the Nexus 7, make sure you are stock on JZO54K or it may not work: http://android.clients.google.com/packages/data/ota/google_nakasi/094f66... Then follow the same instructions used for updating to 4.1.2.

This post is so misleading, finally i found out the 4.2 zip file is from the "Google Direct Download" link

Nothing misleading about the article, people just tend to click on links without reading.

They could've made it a little easier to find the right file.
Thanks.

This is a great article. If you have never excecued a command via adb, wait for OTA. Don't criticize this article because you don't understand.

I keep on getting an error "* failed to write data 'protocol fault (no status)' *" after about 80% any ideas ?

Not sure what's the issue but this is my check list: 1) Make sure your device is Android 4.1.2 (JZO54K)
2) Revert any changes such as Nexus 7 mod to unlock 720p
3) Make sure you do have a good USB cable. Also adb works better through USB2. I have issue with USB3. Otherwise you are pretty much on your own. You can eventually try to replace the bootloader with clockworkmod or TWRP2 and install the update.

I keep on getting an error "* failed to write data 'protocol fault (no status)' *" after about 80% any ideas ?

Flashed using clockworkmod recovery. Worked perfectly and maintained root. Thanks!

Now to get this ported on the VZW Galaxy Nexus...

Is there a way to turn off the "bolded hour" trait that seems to pervade all of the clock functionality in 4.2? I think it's hideous (and i am not alone).

Flashed and happy. First impression is that they need "phone mode" on the new "quick settings". It runs in tablet mode and there isn't all too much space to the right to pull down the quick settings menu. Didn't even think they had it when you ran in portrait until I thought of actually testing it =)

Caved in and flashed it. And rooted it. :D

Does anyone know the name for the Wallpaper in the picture? Thanx

For anybody who is having trouble with drivers, go to this link: http://blog.dantup.com/2012/10/fixing-adb-device-not-found-with-nexus-7-... For those of you on Windows 8, following these instructions will be a little bit different. To see, scroll down to the comments where me and the OP talk it out. The direct link to the comment is here: http://blog.dantup.com/2012/10/fixing-adb-device-not-found-with-nexus-7-...

This is the exact issue that I've been having. Thanks for the info, though it seems a little bit more complex than I'm comfortable with handling at my level. Let's hope the OTA comes along soon!

Skipped doing it this way for 4.1.2, thanks for the reminder! I went ahead and did it this time, forgot how satisfying it is since I unlocked my soon-to-be-replaced Sensation.

Nexus 7 was easy, to flash but setting up 4 user accounts and all the apps etc took ages, My UK jakju Galaxy Nexus was a little harder to update, had to install the takju ROM first than I was able to do it, on windows 8 has some adb issues which had to be sorted out before hand. I could have waited for OTA but, the point of owning a nexus device is to get updates before its released or on day 1

Hi Guys, if you are still waiting for OTA, wait no more... I had to do this a few times but it worked eventually. To force your Nexus 7 to update OTA, just turn off your WIFI, then go to Settings>Apps>All then scroll down to Google Services Framework. Then click Clear Data and Clear Cache then Force Close.
Exit and then turn Wifi back on. Then go to Settings>About Tablet>System Update and if its worked it will say Last check was 1970 or something. Click CHECK NOW and up should pop the update to download! Worked after 3 attempts with mine, just downloading it now so let me know how you get on!

Thanks David! Resetting the gservices data worked! It took two tries, after umpteen "check update" presses over the past two days... Very safe procedure, and I'm running an unlocked, rooted N7 with 4.2 (and 4.14 bootloader!) I was concerned that losing the gservices db would zap my Google account info, but all is well (I've tested). Note: My SU binary got zapped, so be sure to run the backup util first (Voodoo su recovery, I believe - in the GPlay store). Many thanks, Steve
Android Central Newsletter
Get the best of Android Central in in your inbox, every day!
Thank you for signing up to Android Central. You will receive a verification email shortly.
There was a problem. Please refresh the page and try again.