How to manually update your Nexus 7 to Android 4.1.2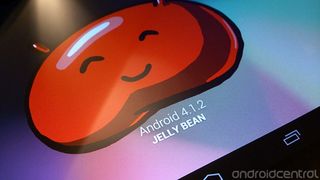 The Android 4.1.2 update has started rolling out to Nexus 7 tablets around the world. But if your tablet has yet to receive the update, then don't despair -- we've got a quick walkthrough that'll get you updated in a few minutes, assuming you've got a little experience with a command line.
Note that this is for stock Nexus 7 tablets, and for people who want to update without really doing any real hackery, but don't mind a little command line work. Nothing we do here is permanent, other than the update itself. If you've already flashed a custom recovery, you should be able to update manually using that, instead of our method. And with that...
Caution: This guide is intended for technically proficient users only. Proceed at your own risk. Dragons ahead, etc.
The prerequisites
A completely stock Nexus 7 running Android 4.1.1, build JRO03D. (Check under Settings > About device; if you have a different build number, you may need a different update package.)
Our zip file containing ADB executables for Windows, Mac and Linux.
The Android 4.1.2 update package from Google. (31MB)
Check past the break to see the full manual update process.
The process
Unzip the zip file containing the ADB executables into a folder on your computer.
Place the update .zip package from Google in the same folder, but do not unzip it.
On your Nexus 7, go to Settings > Development options and switch the toggle on. Then enable USB debugging under the "Debugging" menu group.
Power down your Nexus 7
Start up the bootloader by holding down volume up, volume down and power on your tablet.
When the menu loads, plug your Nexus 7 into your computer.
Use the volume up/down keys to navigate to "Recovery mode", then press the power button.
When the Android with the red exclamation point appears, hold down power first, followed quickly by volume down and volume up. (So that to start, you're holding down power, then you're holding down all three). After 2-3 seconds, release all three keys.
Use the volume up/down keys to select "apply update from ADB," then press power to select it.
On your computer, open up a command prompt or terminal window.
Using the command line, navigate to the folder containing the ADB executables and the update file. (cd command)
On Windows, type:
adb.exe sideload 03a4eaf95f73.signed-nakasi-JZO54K-from-JRO03D.03a4eaf9.zip
... or on Mac, type:
./adb-mac sideload 03a4eaf95f73.signed-nakasi-JZO54K-from-JRO03D.03a4eaf9.zip
... or on Linux, type:
./adb sideload 03a4eaf95f73.signed-nakasi-JZO54K-from-JRO03D.03a4eaf9.zip
The update should begin installing. When it's done, select "reboot system now."
Enjoy Android 4.1.2 on your Nexus 7!
Alex was with Android Central for over a decade, producing written and video content for the site, and served as global Executive Editor from 2016 to 2022.
No need of root for this?

Absolutely not. This is an official OTA file with official tools from Google to apply it :) .

I saw the adb option while updating from Android 4.1 before.. but just confirming :P

I keep getting the error insufficient permissions for device. Any ideas?

You need to run adb as root. If you're in linux (while in the adb folder) type these commands: ./adb kill-server
sudo ./adb start-server Then you should be able to do it. Worked for me!

Any idea when it will be available for Samsung Galaxy Nexus?

Haha now mine is stuck on landscape mode!

Never get the option to 'apply update from ADB' any suggestions?

Can I install this through TWRP?

Yes, but see my post below.

FYI: This breaks root and removes custom recovery if you have either. After flashing you will need to reflash your custom recovery and re-root. (Dont forget to delete recovery-from-boot.p before booting back up!)

Whew. Bunch of problems trying to follow these instructions. 1) I needed to install the ADB driver first because the nexus was locking up as soon as I plugged the cable in (in bootloader). 2) When I hit recovery after that, it just goes to a regular boot. 3) If I use adb reboot recovery, I can get to the red triangle screen, but holding all 3 buttons down just gets me back to the bootloader. After a few seconds at the red triangle screen, it just reboots to regular boot. Maybe I'll just wait for the OTA.

Check out my post below it should fix your issue.

Agreed. Useless "instructions" with typos like, "6. When the menu loads, your Nexus 7 into your computer." What my Nexus 7? Plug it in? Connect it? Is proofreading technical instructions too much work? I connected mine and it gave an error that it couldn't load the driver (Win7 x64 rig) and there was no option for Recovery AND it was totally frozen up. I don't know if there's a driver problem - how do you install the ADB driver? - or whether something is missing from the instructions, but I'm not about to spend all night trying to interpret poorly-written instructions and fixing things. I'll just wait for the OTA.

The you install the ADB driver from by downloading the Android SDK. What the poster was trying to do was give you the ADB/fastboot portion of the SDK so you didn't have to download the whole thing. With the SDK you shouldn't run into those issues. I give you better instructions or also you could do I google search for manually installing 4.1.2 on Nexus 7 and you should get plenty of results. I think he just wrote that out too fast to get people up and running.

Sorry, but your instructions don't work either. Pressing Power+VolUp does nothing, but pressing Vol+VolDn DOES work, but then the steps here which pointed me to the proper button presses - http://www.androidpolice.com/2012/10/09/how-to-update-your-nexus-7-to-an... - fall apart as pressing the Start doesn't do anything but bring up a Google logo and that's that. Googling around doesn't turn up anything, so I'm done screwing around with half-baked "instructions" which presume a bunch of things being present on computers, etc. The OTA will arrive eventually and that will be fine by me.

http://www.androidpolice.com/2012/10/09/how-to-update-your-nexus-7-to-an... Use that and you should not have any issues. Okay I think you misread the instructions. They never call for you to push start anywhere. The only mention of start is telling you to cycle till you see recovery. I think you are mistaking the bootloader screen for recovery. holding power + vol up + vol down will get you to bootloader you then need to choose recovery to get the picture of the android laying down with a red exclamation point. At this point you press "power" + "vol up" and a menu pops up. If you can't get to the android with the red exclamation point that way then just boot in android on your nexus 7 plug your usb up to your computer, open a command line in the folder you created on your desktop with the platform tools and type: adb reboot recovery That will take you directly there then you can press "power" + "vol up" Hope that helps I can write it out in steps if you need me to

Um, you just pointed me to the very site I was using. [/facepalm] Quiope said: "They never call for you to push start anywhere. The only mention of start is telling you to cycle till you see recovery." Android Police says: "Reboot your Nexus 7 and hold the VolDn button while it's booting up. Once you see the fastboot menu and the word Start, press VolUp a few times until you see Recovery and then press the Power button to enter recovery." I made a mistake in my post; I said "Start" when I meant "Power," so it should've read: "Pressing Power+VolUp does nothing, but pressing Vol+VolDn DOES work, but then the steps here which pointed me to the proper button presses - http://www.androidpolice.com/2012/10/09/how-to-update-your-nexus-7-to-an... - fall apart as pressing POWER doesn't do anything but bring up a Google logo and that's that." I just pressed Power+VolUp+VolDn and it brings up a screen with an Android on its back with the body open and a big green Start pointing to the Power button and arrows next to the volume buttons. In the lower left in white computer type is: FASTBOOT MODE (in red)
PRODUCT NAME - grouper
VARIANT - not defined yet
HW VERSION - ER3
BOOTLOADER VERSION - 3.34
BASEBAND VERSION - N/A
SERIAL NUMBER - xxxxxxxxxxx
SIGNING - not defined yet
LOCK STATE - LOCKED (in red) Pressing up or down twice brings up Recovery and pressing Power switches to a Google logo and that's the end of the show. I've downloaded the N7 drivers (here: http://dottech.org/downloads/usb_driver_r06_windows.zip) and installed them. However, running the command returns "error: device not found." Un/replugged the N7 with no change. After some fussing around, I got the red triangle to appear, but pressing Power+VolUp just gets the Google logo and pressing all three (article instructions) just restarts it. Something is screwy and I've wasted almost two hours on messing with it. Such is the pain of being a nerd and not an iPhone user. Sigh.

I had the same problem! not loading the menu and it restart itself

You didn't follow my instructions man. The screen you are looking at is the bootloader screen. I said if you can't get in recovery by clicking it then boot into android on your Nexus 7 connect it to your computer with a usb cord and open a command prompt in the folder that you created on your desktop originally when following the instructions on here. Once you open the command prompt make sure usb debugging is on and type in the following: adb reboot recovery
That will get you in the screen that you keep saying fails when you press the power button. All those original instructions are trying to do is get you to recovery but with adb commands you can go directly to it so again do this: 1) Turn your Nexus 7 on
2) Turn on USB Debugging
3) Plug your Nexus 7 into your computer with your USB cord
4) Open the folder you created by following the original instructions here and then "Shift" + "Right-Click" in the folder then click "open command window here"
5) Type "adb reboot recovery" without the quotes and your tablet will boot into recovery
6) When you get into recovery (see the android laying with the red exclamation point) press and release "Power" + "Volume Up" to bring up the default recovery menu
7) Then choose "Apply from ADB"
8) Then type in the command string from the original post here in that same command window you opened in step 4
9) Wait till it finishes then Reboot and you're done Hope that helps. About to head to bed but if I'll be back on tomorrow

I did all these steps you mentioned but the problem when i get the android laying with the red exclamation point, i pressed Power + Vol Up and nothing happens! Did it by pressing the Power + Vol Up once and did it all over again by pressing Power + Vol up until it the device restart itself! Those are the problems we got and couldn't find a way to avoid it :(

I finally got it done by following the steps in QBKing77's video: http://www.youtube.com/watch?v=PwlXQoAzrBE The key was an xda member who mentioned, "I had the exact same issues. Turns out, I had to hold my volume button directly in the middle while holding power." Once I tried that, it worked like butter. Too bad I wasted four hours trying to get to that point. My issue appears quite common.

So what does this really change about the nexus 7 besides landscape. i need some more specific stuff :(
does it fix the touchscreen problem? Make it faster?

Basically, Home screen rotation support and "Bug fixes and performance enhancements"

These instructions are incorrect. To get the "apply update from ADB" menu all you have to do is press "Power" + "Volume up" when you see the android with red exclamation point and a menu will appear. Then just choose apply from ADB. Hope this helps and the original post needs to updated.

at what point do we do the power + volume up, from power off? After hitting recovery in fastboot? Already plugged in or not plugged in?

You do the corrected power+vol-up after you see the Red Exclamation point on the Android laying down. Be sure to be plugged in to USB before you select Apply update from ADB.

Thank you Internet Friend - you just saved me from destroying the buttons on my N7 :D

Thanks so much. This was the problem I was having with the instructions. So, to correct this article: 1. You need to load the ADB drivers for the nexus 7 first, or else, the nexus will just freeze if you plug it into the computer when it's in boot loader mode.
8. should read hold the power button, and press the volume up button to access the recovery menu.

i cant get into the menu in recovery

Didn't follow the above instructions. Just plugged up and did everything from ADB. Renamed the file Update.zip. Typed "ADB sideload update.zip" from cmd and it did everything else. I don't like long instructions. lol

Wow... been trying for awhile no luck... just renamed to update.zip as you mentioned and bingo. Thank you much.

How to Manually update to 4.1.2:
http://www.youtube.com/watch?v=PwlXQoAzrBE

I found it easier to do this than to go through the bootloader and all that jazz: 1. With your Nexus on, turn on USB Debugging via Settings > Developer Options (flip the switch!!)
2. Plug your Nexus into your computer and open a Command Prompt.
3. With your ADB tools, do a "adb devices" no quotations to make sure it's being detected. Then do "adb reboot recovery" no quotations
4. You should see the red triangle with the ! and the Lloyd laying down (Lloyd is the Android guy :) )
5. Press the Volume up+Power button together and you should see a menu come up. Navigate to the "apply update from ADB.
6. Reboot your device once completed and you have successfully updated to 4.1.2!! NOTE: This was done completely stock, locked bootloader and recovery.

Steps from qbking777's Youtube video

This is much simpler and worked fine for me. Thanks for posting!

FYI for Windows 7 people... If you do the Google/Android SDK route, it drops into C:\Users\*Your Username*\AppData\Local\Android. This is a hidden directory, but you should be able to navigate to it. Also, Windows 7 is extremely metrosexual about this ADB driver. It will try to pick it as "Nexus" in Device Manager and then fail out repeatedly with a yellow triangle. If you installed the Google USB Drivers from Android SDK (the above folder path), you will need to do an Update Driver on it, manually select driver, then browse to the location above. It will then say, essentially "yeah...I saw that driver, right, but I don't really trust it and some junk, but if you REAAAAAAAALLLLY want to install it....?" Pick the Android ADB (not the Composite), install it. Then do the sideload command, and it should work fine.

You sir, are a life saver! Couldn't figure out why the update would fail with a "device not found" message. Turned out it was loading the Composite driver instead of the Android ADB. Loaded up the Android ADB driver and was good to go. Thanks again!

FYI, if you already have a custom recovery, it seems you have to move the zip to the device and flash it from recovery like you would any other update. However, if you're like me, and you use Titanium Backup to keep system apps integrated, or if you delete system apps, you'll get an assert failure on the first deleted or integrated system app. As I understand it - trying that now - you have to go back to stock with the image found here:
https://developers.google.com/android/nexus/images/ I believe you need to go back to JRO03D, but check your settings to make sure you get the right build. I'm tethered off my GNex (no secure google access on my laptop from here), so it could be awhile before I can report back. Cheers!

Holy crap people. Here is my two cents. 1) If you follow the instructions and apply a little logic it will work just fine. 2) I understand why people would want a completely stock N7 but to be honest unlocking the bootloader and rooting it is just as easy/hard as the adb approach detailed above. My point is that if you are going to go through this much troble to manually push an update to your N7 then just unlock and root the dam thing instead. Once you have done that install cwm and just flash the update zip from the custom recovery. Hell its so easy I downloaded and updated my N7 last night while sitting in the bath tub in like 5 mins, and thats with the zip download time included. Head shaking.

Step 8 didn't work for me. But I think it's because I was pushing down first, then up. If I held pwr and then just up, I got the menu.

Following this video was the easiest method of doing this: http://www.youtube.com/watch?v=PwlXQoAzrBE I couldn't originally get the device into recovery mode, but this method worked without a problem after installing pdanet for android on my PC.

You give me a good tip, thanks to you! and i will try your tip.

I need some help...I have ADB running and using it's updated driver as well. I can run recovery through adb and my nexus connects after "Install update from ADB", however EVERYTIME I type "adb sideload " I keep getting error message saying *cannot read 'sideload' What am I doing wrong, or what do I have to do differently. I'm so close...

Make sure the file you are trying to sideload is exactly the same same file that is in your folder. Sounds like it can't find the file that you typed in.

I never got the menu at step 8. each time I did it, it would just reboot. I am using Linux to communicate with the tablet.
I even used adb to reboot into recovery and nothing. -DW

Same problem with Windows 7. Every time I go to do something like this I wonder why the hell Google has to deliberately obfuscate this stuff. WebOS was so much more straightforward.

As noted by many of us, both here and elsewhere on the net, step 8 (power button to Android with the red exclamation) does not work Tried middle of vol up and down, plus start. Tried vol down and start. Tried facing North. Tell me that a Microsoft developer is involved here somewhere. Guess I need to wait for the official release.

Waiting more than 1hour but 'red exclamation point' donot appears.
what is wrong???
Android Central Newsletter
Get the best of Android Central in in your inbox, every day!
Thank you for signing up to Android Central. You will receive a verification email shortly.
There was a problem. Please refresh the page and try again.