Nexus 7 and Google Play Books now available in Japan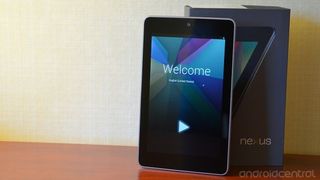 Google has a treat today for all Android fans in Japan. The Google Nexus 7 is now available in the country, and brings with it Google Play Books for the ride. Available from the Play Store for 19,800 Yen ($250) for the 16GB variant, it's good to see the same great pricing expanding across the world with the device. Despite rumors of an upcoming launch in India before the years end, this marks the first expansion into the Asian market following the Australian, North American and European launch markets.
Google has even given the Nexus 7 its own Japanese launch page, which you can find by hitting the source link below.
Source: @GoogleNexus, Google Japan
Jealous. Google Play, come to Hong Kong! You know how significant this small city is.

Hong Kong is so big market for iOS.
Last time I been there, everywhere is iPhone or iPad.
And AFAIK the 2nd is Nokia.
So Google will think twice before releasing Nexus 7 there due to high demand in other countries.

Yo Japan! You're welcome! Seriously though, I'm glad this tablet is getting out there. It's a great value and I use mine every day.
Android Central Newsletter
Thank you for signing up to Android Central. You will receive a verification email shortly.
There was a problem. Please refresh the page and try again.