Nexus 4 back in stock on T-Mobile website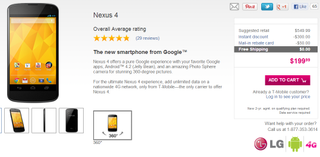 We heard last week that the Nexus 4 would be back up for sale from T-Mobile directly starting January 23rd, and it has shown up right on time. Provided you're willing to sign up for 2 years on a Classic Plan at T-Mobile the 16GB Nexus 4 can be yours for $199.99, or if you decide to keep it off-contract (seriously consider this route) you can have it for $499.99 after mail-in rebate.
We're not sure how many are available, but hopefully it's enough to at least let some people have their chance at the latest Nexus. As for proper availability in the Play Store at $299 and $349... who knows. Here's hoping that this new wave of stock to T-Mobile means there's more on the way to Google as well.
Source: T-Mobile (opens in new tab); Thanks, Frank!
Android Central Newsletter
Get instant access to breaking news, the hottest reviews, great deals and helpful tips
Andrew was an Executive Editor, U.S. at Android Central between 2012 and 2020.
Seems like too little too late, may as well wait few months to find out what comes from Google I/o in May

There's always the next big thing if you keep waiting. If you just keep waiting, you'll never get a new phone. Honestly, the Nexus 4 is one of the best devices I've ever owned. No issues at all.

Trust me, we're all well aware of that. The Nexus 4 is a very capable phone for the price, if you can get it from the Play Store at under $400. But, at $500 with mail in rebate from T-Mobile, many people that aren't diehard Nexus fans may as well wait a few months for the GS4.

Or wait to see the Motorola X phone in a couple months running pure android.

T-Mobile retailers in my city are selling it for $99 (with 2/year Agreement)
If you're going the rout of making payments towards the phone, might as well go that way. Check your local TMo first.

If T-Mobile could still make a profit selling the phone off contract at $400, I think they could do very well with the N4. Does anyone see this happening?

Nexus 4 is really a very good phone. Really looking forward to purchase it

I got mine on the 17th at the T-Mobile in Irving, Texas store.
They had plenty in stock, and, I got it for
99$.
Great deal.

from poking at the serial number, users on XDA-Developers have found the following
see the [INFO] LG Nexus 4 Production Date and Place Identification thread October: 70,000 devices produced
November: 90,000
Dec: 210,000
January: ? (500,000 + is a very real possibility) 752,000 - 70,000 - 90,000 - 210,000 = 382,000 so far in January. And the month has about 10 more days to go. How about an article about 750,000+ Nexus 4 have been produced?

Great news. Now more people can experience what an Android phone should be like! OFF THE CHARTS GOODNESS!

i already know it! i own a gs3 rocking wicked jb v6 this rom have everything and fast as hell no lag at all, but thanks though.

Well that's entirely subjective. I have a Nexus 7 and find vanilla Android leaves something to be desired. It's ok, but my Note 2 blows it out of the water! :P

Really? I've found quite the opposite. I think vanilla Android blows manufacturer overlays out of the water. It is, after all, a matter of opinion.

I tried to get this last night online, but apparently you can only buy it with a classic plan/2-year contract that way. After a few minutes of frustration, I decided to talk to one of the chat reps (whose advice I usually take pretty lightly) and she confirmed this. In store may be a different story, as a rep I spoke with there a few weeks ago told me I could get it on the value plan when they came out again, but don't waste your time online.

I had the same result on line. For a carrier that prides it'self on customer service, the reps I've dealt with on line or via phone are just awful. Most have poor English skills and I get different information talking to different people. I had spoken with a rep in store last week and there did not seem to be an issue with the Value Plan (they discussed the payment plan to finance the purchase of the phone) so you may have better results in the store. However, there does not seem to be a way to purchase the Nexus 4 on line without opting for the Classic Plan.

Uhhm 50 more nexus available! i bet tmobile will be out of nexus by the time i finish posting this comment.

I'm still holding back and waiting for Play Store availability. With increased availability in recent days, I'm hopeful that I'll be able to order one soon. I think waiting a few days or even weeks is worth it when I'm saving $150.

I agree. It is more than worth it to wait. The mark-up that many people were charging for the Nexus 4 was ridiculous. The 8GB was going for $500, as soon as the Play Store initially sold out back in November: one of the reasons why I decided to buy a GNex. However, as soon as it comes back in stock, you should be able to snag one no problem.
Android Central Newsletter
Get instant access to breaking news, the hottest reviews, great deals and helpful tips
Thank you for signing up to Android Central. You will receive a verification email shortly.
There was a problem. Please refresh the page and try again.