New USB Type-C Authentication spec can stop faulty cables before they do damage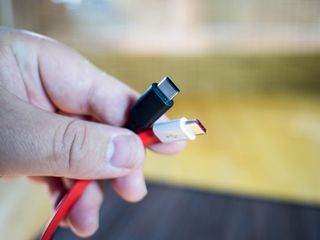 The USB Implementers Forum (USB-IF), which is in charge of certifying standards-compliant USB devices, has announced a new protocol that seeks to prevent non-compliant USB Type-C cables from doing damage to a connected device.
Through what has been dubbed the USB Type-C Authentication specification, devices like phones and tablets will be able to confirm the authenticity of a connected USB-C device or charger. Through the authentication protocol, devices can then set rules that could, for example, keep data safe by only allowing connected cables to charge. As a second method of protection, devices could also be set to disallow charging through non-compliant cables.
The authentication process occurs the "moment a wired connection is made," says the USB-IF. So, in other words, no data or power will be exchanged until the connected device is authenticated.
The new specification is welcome news in light of recent problems surrounding faulty USB-C cables on the market. For its part, Amazon recently cracked down by banning the sale of bad USB-C cables. Google engineer Benson Leung has also led the charge in testing hundreds of cables after a non-compliant one ruined his Chromebook Pixel. While the new protocol won't impact cables already on the market, we'll hopefully begin to see cable makers adopt the specification going forward.
This is huge news security wise as it brings measures to stop any malicious activity at a hardware level before software has to come into play Posted via the Android Central App

This is huge news company wise. "You did not purchase this from Apple. You can not use this to sync or charge your iPhone." Meanwhile ransomware/malware providers will reverse engineer it easy enough.

I was thinking similarly... This sword seems to be double edged. Posted via the Android Central App

Did you...even read the post?

Yes please. Posted via the Android Central App on the Moto X Pure Edition

Is the HTC 10 gonna get this before it hits shelves next month? Or did they miss it by the skin of their teeth?

This is sad. Posted via the Android Central App

Wouldn't this also require a firmware update to enable the phone to check the cables?

As long as it isn't used, to force expensive manufacturer oem cables like Apple has often done.

Welp, glad I read this one. After pre-ordering my HTC 10 I was all set to order a bunch of cables. Now I'm just ordering an adapter until this is in full swing and it's safer to buy.

Buy from Amazon and you should be safe, they've banned non compliant cables already. Posted via the Android Central App

Derrpyderdsf Posted via the iPhone app

Great, £20 for a USB cable here we come Posted via the Android Central App

I'd rather pay more for a cable then break a $1200 phone.... bring it on I say! I think as tech advances, devices will protect themselves more and more in the future.
Android Central Newsletter
Get the best of Android Central in in your inbox, every day!
Thank you for signing up to Android Central. You will receive a verification email shortly.
There was a problem. Please refresh the page and try again.