New NVIDIA Shield Android TV box includes Google Assistant, 4K HDR streaming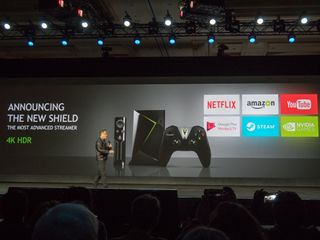 NVIDIA has announced an updated Shield streaming box — the one that debuted last year running Android TV — with updates to the hardware design, including the popular controller, and significant improvements to the software.
Perhaps the most impressive, and surprising, inclusion is that of Google Assistant, the only piece of hardware outside of Google's own Pixel phone lineup that sports the nascent AI conversationalist. And, with a future software update, the Shield will work with Samsung's SmarThings connected home platform, allowing it to be a central hub for lights, cameras and other action.
The announcement comes alongside a new peripheral, the NVIDIA Spot, which works as a voice assistant for, well, Google Assistant, connecting to the Shield and facilitating Google Home-like functionality from anywhere in the house.
Because it runs Android TV, the NVIDIA Shield includes all of the apps that Google's own Nexus Player and other similar set-top boxes feature, but NVIDIA of course has its own tricks: the ability to stream 4K HDR from Netflix and Amazon Video, the only piece of hardware currently capable of doing that. The same is true of the new game streaming features, GeForce Now, which work with NVIDIA's GeForce graphics card lineup to blast games from a PC to a nearby television — 4K HDR game streaming is something many enthusiasts have been waiting a long time for.
The company says that new titles like Watch Dogs 2, Assassin's Creed Syndicate, For Honor and others from Ubisoft will soon be added to the catalogue, and most modern titles optimized for NVIDIA hardware will run perfectly.
Finally, NVIDIA has announced a milestone for its own Steam game store: 1000 titles fully optimized for the Shield box, compatible with the newly-updated controller. The Shield Android TV will also now ship with both the controller and a regular remote, with that new remote supporting always-listening hands-free actions. A higher-end remote that includes a headphone jack for private listening will be included with the 500GB storage Shield Android TV Pro.
The updated NVIDIA Shield Android TV will start shipping later this month for $199, with pre-orders beginning now. Amazon already has a purchase link live, showing a ship date of January 16.
See at Amazon (opens in new tab)
Get the Android Central Newsletter
Instant access to breaking news, the hottest reviews, great deals and helpful tips.
Daniel Bader was a former Android Central Editor-in-Chief and Executive Editor for iMore and Windows Central.
I just might have to give in and get one!

I'm blow away at original Nvidia Shield. Nvidia made significant upgrades to the software considering it's not a major consumer hit.

It *IS* the original Shield. There is no hardware difference aside from looks and the removal of the micro SD and micro USB ports from the 16GB version. This software update will be available for the existing models in a couple weeks.

4k PC game streaming is not part of the original. Begs the point as the original has trouble adequately streaming at 1080p

So I can play Steam games on my TV? Does it have to go through a PC with GeForce card or does it only require the Shield and a Steam account?

You need a PC with GeForce.

IT works with any game, not just steam games. It doesn't have anything to do with Steam actually...not sure where they got that from.

Not just any game. It works with origin, Uplay and steam, but not Windows store games. But yes it isn't just steam

No, it's any game., heck you can even stream the desktop if you want. You can setup custom games for anything it doesn't automatically pull in.

Just as expected. Hope they ain't lose that IR Receiver. I only owned the older one for about 5 months, but thought it was a real good box...the best imo and I've owned Apple TV, Roku, Fire TV etc. I liked the Google Play Music integration. Just wished Google would update the UI. The reason I got rid of it was because I saw it disappearing from retailers, so I thought EOL on Android TV. But seeing a better more upgraded box gives me hope...again as long as it didn't lose the IR THING(Very Important when you want to control everything with a Universal Remote). I also like that Nvidia Spy...I mean Spot thingy that will let me control the shield and my light with voice.

Can't wait to get this and load up Kodi for the ultimate streaming box. Oh yes you will be mine. It's basically a decent gaming console, sweet streaming box, and Google home all in one. The quality of the controller and hardware probably makes this worth the 199 knowing Nvidia's QC standards.

Same here.. held off on the old Shield just for this update. Kodi here I come!

It's the same device. Just a new look.

I'd buy the old one but it's been sold out for a while :/

I don't wanna upgrade my Shield, but with the Google Assistant (and I'm assuming Home integration will come with it) and Spot coming...uggghhh I hate you Nvidia!!!
Would like to know if it comes with Nougat or Marshmallow

Looks like according to Nvidia's spec page it comes with Nougat.

It is the same device as first-gen Shield. Your Shield will get Google Assistant and Nougat update this month too. :)

But my Shield isn't new and shiny. I need the new shiny one.

There is no difference at all if you get the Pro version. If you get the 16GB the only difference is that you *lose* the micro USB and micro SD ports. Just buy the controller or remote.

No, I'm getting the new shiny one. Already preordered. And actually there is a difference. The shiny new one is smaller :p
But thanks for posting over and over and over and over and over that it's the same.

I pointed out the difference - smaller and you lose the micro SD and micro USB ports.

Can the original Shield do 4K?

What's up with Amazon bring available on this? It's not available directly on any other Android product. I love the first shield TV .... Now of course I wish I held out for the new one but living by that thought process you'd basically be waiting on everything

First-gen Shield TV is the same device as new one in terms of specs...Tegra X1,3GB RAM, HDR+4K60FPS support...only diference is a size and a new (worse) remote without touchpad, wifi direct, earphones plug and volume control and the old Shield also have more USB ports The software from Shield 2 will be available for Shield 1 this month :)

The touchpad on the old remote is nonfunctional anyway so it's a waste of space. How is getting rid of it make it worse?

16gb has had SD support removed, only the pro has the SD port now, same with Micro USB

I'll just plug in my 1TB external that's connected to my Shield now. Not really an issue.

Is it worth the extra $100 to get the Pro? An external hard drive seems to be a cheaper upgrade if storage capacity is the biggest difference here.

I've never used the pro, but I have a 1TB Seagate Expansion connected as adoptive storage and it's worked perfectly for me, not a single hiccup and I haven't noticed any slow downs. If I had to do it over, I'd do it the same way with buying the 16GB version and getting an external usb drive.
Just a note: on Nvidia's spec page it says to use a USB 3.0 external drive for the new Shield. That's what I already have so I'm all set there.

It really depends how you plan on using it. I got mine with a 4 TB hard drive and use it mainly as a Plex server and the main home entertainment box (live TV/ DVR/stereo). The external HDD can be mounted as extra storage or as the internal storage. In other words you can use the external HDD as storage for media only or storage to install apps and media. The only catch is that if you mount the HDD as internal storage the HDD only plugs and play with the Shield. It also supports FTP devices like NAS storage and they mount system wise meaning any app can access the local network storage seamless.

Plex however only uses internal memory and can use up almost all hdd space...

All great pointers. Thanks very much. I plan on using it mostly as a streamer and replacement for my Roku 3. Probably a bit of casual gaming as well.

If you plan on using it for gaming then I recommend you mount the storage as internal storage.

@Mahomed correction you can add libraries to Plex server via the web interface including the libraries from internal storage, external storage, and FTP storage. http://app.plex.tv/web/app#

Almost bought the last one... I will this time. Awesome.

So I'm guessing the first gen won't get the Google assistant with a future update. I'm now wondering if it'll even get 7.0 with the pip etc that was talked about a while back.

The old versions of the Shield will get the update later this month. Supposedly the update will be to Android TV 7.0, with Google Assistant and an official Amazon Video App.

So will it come with the normal remote this time? Also does the remote have a headphone jack?

It comes with both the controller and the remote. According to Nvdia's spec page, the controller has a headphone jack, the remote doesn't.

Did they upgrade the Tegra X1 also ?

so....the current shield doesn't do HDR but the new version will? I guess a software update can add google assistant but not HDR?

The original Shield TV was updated to support HDR way back in June 2016. I can't see any reason why they can't upgrade the older model but of course this would not make them any money lol. Still the best Android TV box and mini games powerhouse I've used in quite some time. Streaming GTA V from my main PC with Geforce Experience at full settings is pretty incredible (note that this is dependent on graphics card on the PC and a good internet connection) This may well be worth a purchase and will move the original Shield TV to the bedroom....hmmmmm

The original is getting a software update. No reason to buy the new shield no hardware changes. Those and other features will be rolled out to both the new Shield TV and older models via a software update in January 2017.

First one was awesome, this looks amazing

It's the exact same device.

Doesn't the Amazon FireTv Box stream 4K from Netflix and YouTube?

Yes it does and although it's a decent bit of kit in its own right it's not patch on the Shield TV when it comes to gaming and the overall user experience

MAME. That's where the Shield TV sold me.

Same specs will they at least put an SSD drive in it?

No. You aren't getting a 500GB SSD for $100.

I keep posting it, but people need to understand that the new model *IS* the current model. There are no changes, other than the micro USB and micro SD ports being removed from the 16GB model in order to make it smaller, and the controller is now Bluetooth and looks weird. It is the same exact device. Anything and everything you can do on the new one you will be able to do on the current model in a couple of weeks.

Only if you buy a new remote can you get the always listening.

Maybe people do understand it and just don't care because this one is new and shiny and the old one isn't. Some people(like me) like new and shiny.

Doesn't the new one have a BT 4.0 radio for the remotes? Meaning, you couldn't use the new remotes on the old device.

It has BT and WIFI Direct so it should still work with the old device.

The current one already has Bluetooth 4.1 - http://www.androidcentral.com/nvidia-shield-android-tv-console-specs
It is the exact same device internally.

The Nvidia Shield supports the Amazon Prime video app?

Yes, and the current model will in a couple weeks (officially).

Expensive, but Nvidia gets it right again.

I wonder if this means the Assistant is coming to all Android-powered devices sooner rather than later

Unfortunately, no word on YouTube HDR. Google uses VP9 Profile 2 (10-bit), which, according to NVIDIA's spec, cannot be processed by the Tegra X1 fixed-function VP9 decoder unit. However, there were rumors that VP9 Profile 2 might still be coming to the SHIELD - either because the Spec is inaccurate or maybe by doing some kind of hybrid decoding involving the GPU? But I guess if they could do it, they would have announced it for the 2nd gen version - so probably not happening :-/ Edit: Maybe there is hope. NVIDIA's press release says the following: "The new SHIELD delivers the richest visual experience with support for 4K HDR and 3x the performance of any other streamer on the market. With the addition of Amazon Video in 4K HDR, SHIELD offers the largest, most open catalog of media in stunning 4K -- also supporting Netflix, YouTube, Google Play Movies(1) and VUDU." It doesn't explicitly say "YouTube HDR", but it certainly implies it.

Pretty sure he mentioned YouTube HDR support during the presentation...could be wrong.

I actually watched the SHIELD part of the CES presentation after my first post. He explicitly mentions HDR for Netflix (already available), Amazon and Steam (upcoming). Regarding Youtube and Google Play Movies, he only says that 4K is supported (which is already the case AFAIK). The slide certainly implies that all of the services will support HDR on the Shield - let's hope so! http://imgur.com/kgLHB8M

I wish they'd spend some time on the tablet, which I got for Christmas and looks like they're not giving too much attention too now.
wah-wah

Are you talking about the the Shield K1? The K1 is essentially the same as the original Shield Tablet. Came out with Android 4.4, then got 5.0, 5.1, 6.0. They haven't said anything about a 7.0 (Nougat) upgrade and I don't think there will be one. The Nougat ROMs available on XDA all seem to have their weaknesses. While it's a good piece of hardware, apparently its time has come and I would return it if I were you (and if you still can).

But I like it. It's a nice tablet to use, and I don't see myself using it as a gaming center (the only game I play currently is Fallout Shelter and that's because it came preloaded). I also don't see myself going to streaming only TV, I'm happy enough to pay for satellite. So far it's worked out very well for my needs, especially for $200. Do you have another tablet in mind?

I completely understand. I was tempted to buy one as well because the hardware is really nice, especially for the price. When I wrote my previous post I didn't remember that the Shield Tablet actually had 'official' CyanogenMod support (CM 13 being the most recent release for the Shield Tablet K1). We'll have to wait and see if LineageOS will continue supporting the Shield and if they can produce a stable Nougat-based ROM. If you're ready to spend (a lot) more, go with a Google Pixel C - it's still the best Android tablet available IMO.

The problem with the Pixel C is that it's 10 inch and the K1 is 8 inch. With that regard, the Shield K1 is still the best 8 inch tablet on the market. It hands down owns the Pixel C as a gaming tablet anyways.

My current Nvidia Shield TV (16GB model) is one of my all-time favorite devices. It's such a great way to stream media and play emulated retro games. I was just about to get the newest Roku for the second TV in my house but now I'm going to wait and get another Shield.

How do you play emulated retro games on it?

well it already comes with a controller. All you need is a ROM emulator from the Play store and some games.

I drove 40 miles last month to a game stop that had 2 of the original shields on clearance for $140 each, They are awesome devices. I Had been trying to hold off for the new model, but couldn't pass them up at that price. I'm glad the new model is essentially the same thing. at $199 they are worth your hard earned money.

Out-of-the-blue question: could this mean that Nexus players will get an update for an Amazon Prime app? Assistant? The thing is still getting monthly updates- so that's a good sign- right?

Most likely not. The Amazon app is going to built-in to the software, not in the Play Store. Allegedly this is to avoid paying royalties to Google on movies sold through the app.

And in a 2 or 3 months the upcoming Nintendo switch will be available with Nvidia's customized Tegra Graphics processor built-in. In other words Nvidia is having 2 gaming devices coming this year.

Doesnt look as good as the Fetch TV Box I own, it does streaming from those apps, lots of others as well as all 5 Australian TV networks cachup TV as well as play and record live TV to 1TB hard drive. Costs not much more. And off course its avaiable here withou expensive Amazon shipping ( the Amaon Australia store only seels kindles and ebooks, everythingels comes fromUS or UK at premium postal rates!). Fetch, XBOX, ROKU with Telstra Mods are the only such TV attached devices I have found that will stream all 5 Australian TV networks catchup services to TV ( apart from a computer).
I actually wonder how long these boxes attached to TVs will be useful, with windows 10 having inbuilt right click and cast to (DNLA device-inluding your smart TV) from both windows explorer and EDGE browser. Not present in Chrome browser-how about it Google? My PC has 6TB of inbilt storage and I can cast all those videos photos and audios just by selecting them and right clicking them! Dont need to be in the same room, just on same netork. Not sure what you are streaming in 4k-some youtube or Netflix perhaps, none of our networks do that, they do very little full HD even.

Thing is I need The Google Assistant and this is how I can get it. So unless Fetch gets the Assistant what else it can do just does not matter.