New Nexus 7 available for shipping right now at Amazon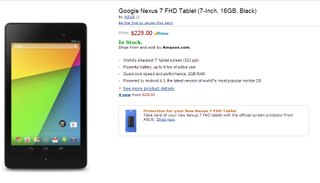 If you can't wait until July 30 for a new 2013 Nexus 7, and no retailers in your area are selling them early, Amazon has your back. Google's latest tablet, and what everyone is talking about, is available right now, and ships today.
It's the Wifi model, and the same one we saw Sundar and friends show off in San Francisco just a few short days ago. With the new 1920x1200 display, Android 4.3, and double the RAM of the previous incarnation, it looks to be the tablet everyone will want this year. There's even a Saturday delivery option for Amazon Prime customers for an extra $9.
Who's clicking? We clicked a couple times. Shout out in the comments if you did, too.
Source: Amazon Google Nexus 7 FHD Tablet (7-Inch, 32GB, Black) (opens in new tab)
Have you listened to this week's Android Central Podcast?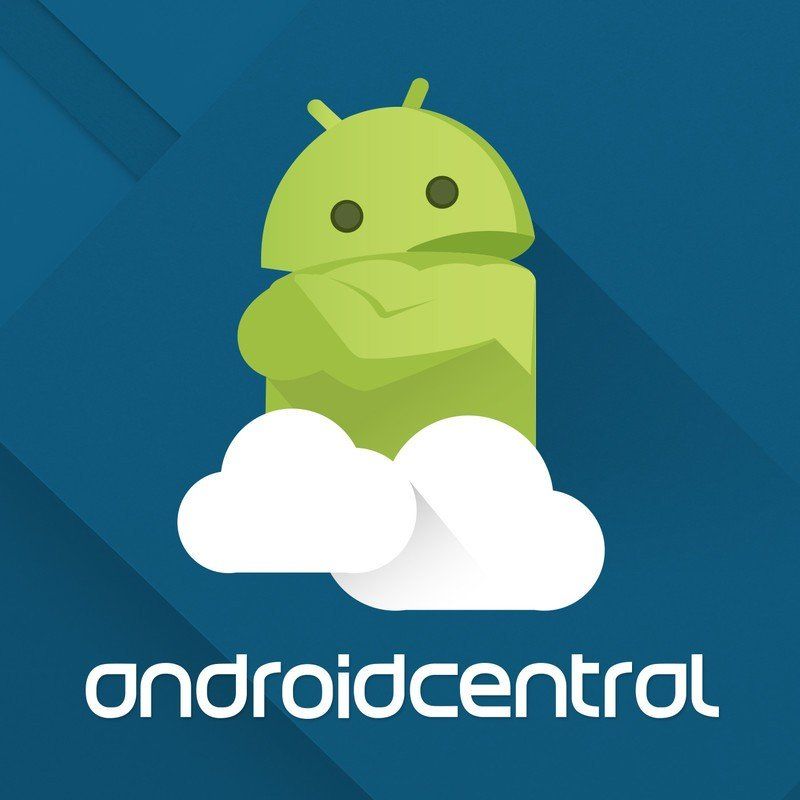 Every week, the Android Central Podcast brings you the latest tech news, analysis and hot takes, with familiar co-hosts and special guests.
Jerry is an amateur woodworker and struggling shade tree mechanic. There's nothing he can't take apart, but many things he can't reassemble. You'll find him writing and speaking his loud opinion on Android Central and occasionally on Twitter.
Now, if they would only deliver it to the UK ... ;)

As awesome as the New Nexus is, I'm still extremely happy with my current one. The LTE model will add something I want when it happens.

I couldn't have put it better myself. :)

i saw the news early in the morning in my bed from my android. got up and rushed to my computer, went into amazon, ordered with saturday delivery =) and yet i get to save $17.66 compared to getting it from bestbuy store today. saved 18 bucks will be used for my screen protector hehe..

Nice, I will be out of town Tuesday, so I just ordered one and 2 chromecasts from Amazon. the N7 should be waiting for me when I get home on Wed night. I didnt even pay for any shipping since I wont be around. After the original N7 shipping issues, I feel better buying from Amazon anyway, not tax and no shipping makes it even better. Note:Chromecasts are backordered, but I ordered 2 anyway. I wanted 3, but there is a 2 per order max.

Ordered mine earlier today used standard 2 day shipping as I am out of town till Wed next week. So I will have a new toy when I get home. Gave my current nexus 7 to my daughter and her htc flyer when to my 5 yo son. Good times! lol Of course im stuck with the archos 70 internet till then but hey. lol

Important Message
Google Nexus 7 FHD Tablet (7-Inch, 16GB, Black) cannot be shipped to the selected address.(Canada) Damn it!!

Sucks to be Canadian...eh? Just kidding.

No 32 GB option yet. Posted via Android Central App

Yes there is http://www.amazon.com/gp/aw/d/B00DVFLJKQ/ref=mp_s_a_1_2?qid=1374854999&s... Posted via Android Central App

Awesome! Thanks for the link. Just ordered mine!

Just ordered mine. I got the 32 GB model, my first nexus device! Posted via Android Central App with the HTC One

Now I have a 16GB with the original box. Working well, how much could I get towards a knew one.... Hmm. Very much looking forward to getting a new toy. Posted via Android Central App

Amazon gave me 140 for my 32gb OG 7 but that was last week, prior to Google's announcement. $71.25, just checked.

Sigh, not as much as I hoped, thank you. Posted via Android Central App

Picked mine up at Best Buy, charging now.

I just ordered the Nexus 7 32GB. I used my Prime account with the free two day shipping but it still says estimated shipping date for July 30th. :(

I just got my Google Nexus 7 on Amazon the 16GB and getting it on sat! YEAH BUDDY!

Just ordered it. I went with the 16gig version, because it's replacing an old iPad that had 16gigs and I never ran out of room on that. Should be here by tomorrow!

Not only that, but it only cost me $85, evidently I had an Amazon card points already on my account that I had totally forgotten about. Things are looking up this week!

Sweet, kind of like finding money in the pocket of an old coat :-)

16GB for $89.99 after trading in the original, can't wait for tomorrow's delivery!

I have to wait broke right now but going on the road for two months ill buy one in late Aug after a few checks come in. Ill be in Cincinnati Ohio then bought the og Nexus 7 when i was in NJ last year or maybe ill get it in Florida the next stop on the trip

Picked mine up! Got the 16GB version for delivery tomorrow! Super excited-never owned a Nexus device before!

I'm waiting for the 4g one since I already have the Nexus 10.1 WiFi only.

Not yet... But I'll have two in the house this time next month :-D Posted From my HTC One running PlayBook 3.0 via Android Central App

Just picked mine up at Best Buy. Ordered it online for in store pickup, walked in, boom done!

what does the new nexus 7 do that the old 1 doesn't what are the differences Posted via Android Central App

The only reason to really upgrade is if you aren't happy with the resolution. I doubt you would notice any performance differences. I'd say it is a great tablet if you don't have one but if you have the "old" Nexus 7 I would wait for the next model.

Oh, it also has a rear facing camera...if that's your thing on a tablet, lol.

And unless I am blind, I think the first gen resolution is just great. It doesn't look pixelated at all. I am sure the new one has a killer resolution and screen, but there are other things that may make the upgrade worthwhile, such as the better specs, the camera etc. That said, my Nexus is fine and I won't be upgrading. I will wait for the third gen.

You should definitely notice performance difference due to the better processor and 2GB of RAM.

What? The New model is like 4x faster in gpu based worklad, almost 2x faster in cpu based workload, and like 3x faster regarding storage/memory performance (which is most important)

I want it for the HDMI Out Posted via Android Central App

I did! Had ordered from Best Buy but cancelled it right after because I forgot Amazon doesn't charge sales tax and I have Prime too so it should get here by the original release date! Now, I'm just waiting for some awesome accessories since I bought some cool cases for my old one. Hopefully Cruzerlite will make them for this new Nexus.

Done and Done! Thanks Jerr!

Got mine at staples and used coupon for 30 off all tablets. 199.99 no tax NH ;) Posted via Android Central App

You really lucked out. I checked with several Staples in the Chicago area, and none would honor the coupon for the new Nexus 7, only the older models. Also, none had the 32gb models, so I bought mine yesterday from Best Buy. Gave my old Nexus 7 to my sister. Sweet! Posted via Android Central App

Just picked mine up from bestbuy. All i can say is wow. visually alone, such an improvement. It's so small and light in the hand. The 1st gen was so thick. The black all round finish make it look so sweet. I was afraid that i may not like the aesthetic because all renders of it make the bezel look so large. Not in person though.

Already received two system updates since setting up.

Had placed the order with Amazon Prime but decided to go to Wal-Mart and it was available so how could I not get it? Ended up being $25 more after tax. Posted via Android Central App

Boom. Got mine! Hmmm, now onto selling my original Nexus 7...

Best Buy just notified me that my new Nexus 7 was shipped today!

Do you think a UK release will be a bit earlier then? Anyone? Posted via Android Central App

Ordered this morning. Got to love local express delivery gonna get it tonight.

OMG I love you guys! I'd been trying to find the new N7 on Amazon instead of going to BB to get one. Already clicked it and picked overnight shipping :D Now, for a case...

Patiently waiting for the LTE version.......

Thanks! snapped one up, and will have it tomorrow!

Looks like a great device and if I didn't have a 5" phone while considering a Note 2 size phone next, I'd be all over it. Really hoping Samsung pulls off a better Nexus 10 this time around.

Having trouble finding Amazon's page for the 16gb model... I'm embarrassed to say. Link anyone? Thx.

Cancelled 3 Nexi last week. Just ordered 3 FHD from Amazon. Trying to give them out as gifts :)

Will be in my paws tomorrow! Here is the link for those asking. http://www.amazon.com/gp/product/B00DVFLJDS/ref=oh_details_o00_s00_i00?i...

Ordered 32 GB model online from Best Buy...but was available for in store pickup.... TODAY! :-) Hoping they have a Chromecast available to sweeten my good fortune. Posted via Android Central App

Walked into Best Buy at lunch and picked up the 32GB. Now if only the rest of the workday was over so I can get to playing with the new toy!

You can now order on the Play Store. Check the Play Store Twitter account.

Ordered 32 GB model online from Staples for $239... They have a $30 off for any tablet purchase.

Not anymore. Staples.com is now showing it "Out of Stock."

Got Mine!!!
Walmart.......I am stunned at the size difference compared to my iPad Mini..
It's charging now.. I will upload some comparison shot with the Mini and The Galaxy Note in a bit on the forums...

Picked up mine at Best Buy at 6pm tonight with 32gb. It is sweet! Bought 2 sets of screen covers from Amazon since nobody has any accessories yet. Posted via Android Central App

Ordered 32gb version... cannot wait to get it
Android Central Newsletter
Get the best of Android Central in in your inbox, every day!
Thank you for signing up to Android Central. You will receive a verification email shortly.
There was a problem. Please refresh the page and try again.