New Moto X 2016 and Droid leak reveals potential dock connector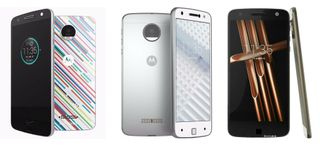 We've already seen what a potential 2016 refresh of the Moto G and its reported Plus counterpart will look like, and thanks to a weekend leak from HelloMotoHK, we could now be looking at this year's Moto X and Droid refreshes.
While a summer announcement is all but a sure thing, this is the first good look we've seen of the 2016 Moto X and its Verizon-only Droid counterpart, which are, year after year, increasingly losing their differentiating features. What we see here is a new rear camera module, with a Moto 360-like "flat tire" that houses the phone's dual-LED flash. Around the side, separate buttons for the volume nubs and power can be distinguished, along with a front-facing fingerprint sensor that — well, it's about time.
Perhaps the most interesting part of the render is on the opposite side of the camera bump: a series of 16 gold dots that, to our eyes, comprise a dock connector of sorts, similar to Apple's Smart Connector that began shipping with the iPad Pro. Whether Lenovo, Motorola's new parent company, has grand plans for a Continuum-like platform — a throwback of sorts for Motorola — remains to be seen, but it could spark the beginning of yet another set of accessories powered by a smartphone.
As with previous years, it appears Motorola will offer both the Moto X and Droid lineups with the choice of custom colors and designs, courtesy of its popular Moto Maker system. Being Canadian, I'm hoping the customization options move north this year, but either way, it's looking probably Motorola will continue the proliferation of funky and unorthodox back cover materials such as wood, leather, silicon and denim.
We likely only have a few short weeks to wait for an official announcement, so stay tuned to Android Central for all the details.
Daniel Bader was a former Android Central Editor-in-Chief and Executive Editor for iMore and Windows Central.
Not feeling it. Once a great company, not so much anymore. Put the sensor in the dimple for crying out loud. I know some like it up front but this looks terrible. Posted from Nexus 6 running Android N

+1
I love the design of my current moto x 2014, and especially the fact that there are no physical buttons on the front, much better, sleeker look. When the leaks came out, many had hoped for the 2014 version to have a finger scanner at dimple, would have been cool, then 2015 version came and still none, not sure if they cared and tried to tap into consumer opinion, oh well, nexus on the radar.

Especially because that's what the dimple was meant for before Apple bought the original finger print company Posted via the Android Central App

Eh, they're out in this market. It'll take years to recover from tanking the little OEM people loved as the underdog. If it's possible at all. And if they're even interested in recovering. I don't think Lenovo cares - they just wanted the market inroad and the name. Zero interest in preserving their values, philosophy or reputation. They tanked the software update legacy and device design, there's probably nothing about this device that does things smarter as with prior generations. Meaning the value proposition is out other than a "roughly the same for lower cost" argument, which is a far cry from, "one of the best, yet cheaper". Cheaper alone isn't a good argument for anything if quality is absent. Luckily they've still got that whole rest of the world market where they're big, because that world is full of people that never used the Moto X line.

Gross design is gross. No dual front facing speakers no buy. If I wanted buttons on the front I'd buy a Galaxy S7.

Holy cow, that design is just....what? Especially the white one. Looks a bit like an owl on the front chin...

Whooooo... designed this? On the bright side, those two black dots look like the IR sensors from the Moto X are making their way down to the G this year. Their fingerprint sensor is just too tiny.

They also ditched the Moto dimple. I honestly thought they would put it there. Also, not feeling the look of the camera module. I am actually hoping this render isn't true. If it is, I'm going to have to bleach my eyeballs..... (I live by 3 words. fastboot flashing unlock)

Keep in mind that leak is for the Moto X isn't it? I don't recall a G leak in white, correct me if I'm wrong :) Posted via the Android Central App

There was a render of it posted on AC quite a while ago. http://www.androidcentral.com/moto-g4-plus-shown-once-again-leaked-render

Ah, but as I said the black dots do not appear on the G, only on the droids/X Posted via the Android Central App

Yeah, I didn't see the black dots on it either, In your OP, you mentioned that you didn't recall seeing a 2016 G leak in white. I thought you meant the phone, not its IR sensors/black dots. XD

I couldn't remember if there was a white render, but I see now there is :) thanks for the link haha Posted via the Android Central App

Haha, no problem, man. ;)

Nokia called.
They want their discarded Lumia designs back.

Please tell me there are front facing speakers somewhere on there. Perhaps they're invisible? Posted via the Android Central App

They already ditched them in the X Force. Now with the HTC 10 not having them, it seems Moto is following suit. Yet the bezels aren't much smaller...

People seem to want front facing stereo speakers, a front mounted fingerprint scanner, and no bezels. Unfortunately, you can only have one of those. Posted via the Android Central App

Not true.. If they were lg and worked on the through the glass scanner..and small side bezels with little larger top and bottom like a n6 it would all work out XDA: Shayneflashindaily

Show me that phone and I'll believe you. Right now, all they have is a proof of concept for a fingerprint sensor under glass. Posted via the Android Central App

Looks like they added the "flat tire" look on the camera to match their watch.

Tire part on the watch does nothing to the watch....it's fully functional. If you disagree, go put a butter knife in an electrical outlet !!!! Posted via the Android Central App

Wow these are hideous. More power to those that wants it I guess.

They had me for a coupe version of the Moto X, then they lost me to the Nexus.... I'm not sure if they have earned a revisit to their line yet.

It's gaudy and tasteless. Lenovo is destroying a mobile legacy. Posted via the Android Central App

Moto did an excellent job of doing that all by themselves.

moto sucked as a company. unprofitable since years ago.

Oh my gosh what the freak is this It's... a monster...

Not liking the camera hump, side button layout and ambiguous fingerprint scanner. Hmmmm...looks like I'll wait to see what Nexus has in store. Posted via the Android Central App

I'm not a fan of this design. I believe this phone is designed with the Chinese in mind. This may be what the Chinese want their phone to look like. Posted via the HTC 10

Proprietary connector? Count me in! It's best to assume I'm being sarcastic. if I'm ever serious I'll type "/s" to make it clear.

Those are always great, right? And 16 pogo pins? That seems exactly the right amount. This is great. Posted via the Android Central App

Good Lord. UUUUUGGGLLY! Goodbye Moto. Hello Sammy. or even HTC AGAIN.

I'm digging the Jerry 5 year throw back. Posted via the Android Central App

There's so much going on on the exterior of these phones. Someone needs to be replaced Posted via the Android Central App

If the camera is great I think it will be great phone. As far as the design, looks fine and I'm not judging it until it's released and how it looks. Usual internet reaction on seeing any leaked picture of phone now a days. Wow that's ugly. Posted via the Android Central App

What an ugly ugly front. Who designs these phones and think they're attractive? At least the black front somewhat hides that hideous bottom bezel somewhat #TeamFrosty Nexus 6P

Utter dogshit Posted from my Nexus 6/Nexus 7 2013/Surface Pro 3

Worst comment since...... your last comment. Nothing wrong with the front, in fact it looks like most phones on the market now. The camera module is certainly in need of refinement. Posted via the Android Central App

No is doesn't. What phone looks like that. I suppose if you mean a cheap generic Chinese phone then you'll be correct #TeamFrosty Nexus 6P

Nope. Those are terrible. M is still there where the FPS should be; speaker is where the nothing should be; FPS is where the speaker should be and why the heck does the camera have a flat tire? Who's smoking all this crack at Lenovo?

The white render looks fake. The button isn't centred at all, and dang it's ugly. So much for Motorola's design language of being shaped to your hand even if it isn't super thin, huh? Also, that Verizon logo on the Droid would leave no room for a 16:9 screen unless there were MASSIVE side bezels, and the clock on black has too much texture to be rendered in a power-saving state. Definitely fake. Posted via the Android Central App

I won't hate on this too much since both the Nexus 6P and HTC 10 looked better once they were revealed. However, the white front with that odd looking fingerprint sensor does not look good.

For the millionth time, stop judging the phone by leaks. I remember people complaining about the s7, g5, and HTC 10. Posted via the Android Central App

We're still kinda ragging on the design of the G5. But the response to the design on the S7 and HTC 10, even through leak renders, have been more positive. There were still complainers, but the general response on those 2 seem to be more positive.

Yeah all three of those phones are kinda ugly in my opinion. The G5 is definitely the worst. The S7 is too flashy in my opinion, and I hate the fact that the back is glass. That wasn't a good idea when Apple did it, and its still not a good idea. The front of the HTC 10 looks good, but I'm not a fan of the giant chamfered edge on the back. The leaked renders in this article are just plain awful looking. If these turn out to be accurate I have to say Motorola is officially done for. The should have never ley Rick Osrterloh go. He really had great hardware designs, and since the Lenovo takeover you can really see they werent letting him do what he wanted.

Yeah, I think Rick didn't like how Lenovo managed stuff and left Moto to return to Google.

They even stole the Moto360 flat tyre for the rear camera Posted via the Android Central App

This leaks just reaffirm what I've always thought of Motorola phone's. They're flat out ugly. Would never buy one. Samsung's beast S7

Curious to see what this connector is for. Posted via the Android Central App on the Moto X Pure Edition

If this leak is legit then Moto is being run by idiots. They should have put an 'M' dimple/fingerprint scanner on the back and kept the front facing speakers. It's always one step forward and two steps back with these folks. Posted via the Android Central App

For all the good that was Motorola, it's a poor substitute we have now from Lenovo. Uninspired would be too kind for this. Insipid comes more to mind. I had higher hopes for this. I see those were misplaced. Posted via the Android Central App

Screw you Lenovo, these designs look hideous! At least I can day that I've owned the last good Motorola, the Droid Turbo 2, now though. Posted via my Nexus 6P on VerLIEzon Wireless but without their shackles.

Moto is Officially dead, may as well Just call them Lenovo phones. Lenovo fires all moto US employees except for an office in Chicago then complains their US support is Lacking? And now this garbage design influence and destroying the entire Moto Brand with no support to customers for their phones or updates. Lenovo had a good company given to them on a silver platter and they just dropped it on the floor and stomped all over it.

RIP Moto design. Despite not being happy with the appearance, I am looking forward to learning about the specs in this phone. Maybe they'll make up for the looks! Posted via the Android Central App

I'm not too sure about the whole wood and leather thing. From the looks of it... those are metal backs. And the droid is the one with the funky stuff.

Bye bye Moto hello Nexus...... Posted via the Android Central App

HOLY ****! That bottom bezel is almost as big as my first Android phone. Yes, that bezel is almost as big as the entire HTC Hero. Including the trackball. Posted via the Android Central App

Would be cool to have "Continuum" in android phones.

The front facing fingerprint scanner are fugly. Posted via the Android Central App from Samsung Galaxy S7 Edge

I'd like to know what the perfect design is currently for a flagship product? Every product that launches gets much more ridicule than praise. Why are android enthusiasts so God damn critical of everything? Posted via the Android Central App

The 2014 Moto X was pretty hot IMO. If they make that same phone with flagship specs, a good camera, and a 3500 mah battery they'd have the perfect phone and it would sell really well. Posted via the Android Central App

That design was pretty perfect.. Incremental design upgrades and that design could've lasted 2-3 years before total revamp Posted via Techmology

Whoa, the LeMoto phone looks...interesting. I wish they were better about upgrading the OS.

At least Samsung still makes nice hardware.. Moto X had the perfect smartphone design for their 1st and 2nd gen. Then lenovo got involved and like we all knew was going to happen, they ruined Moto.. Posted via Techmology

If only there were some sort of existing connector that worked with everything. A universal one if you will... One that could be used to not only connect accessories, but also charge the device. Maybe it could even work either way up? If such a connector existed, maybe we wouldn't need 16 pogo pins on the back of a phone. Posted via the Android Central App

It looks like the iPhone 6 and Galaxy S7 had a one night stand and nine months later this came out. Posted via the Android Central App

Everyone says that about every phone and usually they're wrong, but rarely as wrong as this. Posted via the Android Central App

Looks like a phone. Yeah. That's it. Looks like a phone.

Ugh... This is awful. Part of me really hopes that this is some kind of joke or possibly some deliberately leaked disinformation to throw us off from the actual design. This looks like a blatant rip off of a Samsung S7 and it is awful. For a long time I have really liked what Motorola has done with their designs. But this is just sad, it's like they just gave up on everything that made them unique and interesting and said lets just make it look like a Samsung phone, except more colorful. I'm sorry Motorola but if this is the new Moto X then I'm going to be moving on to other manufacturers with no regrets.

People complained about the 6P, HTC 10, G5, and S7 all being ugly in renders and they all look fine IRL. I'll reserve judgement until this phone comes out.

Now we know why Rick Osterloh left three months before it is being released. I'm using the 2015 Moto X and LOVE IT. This render makes me sad.

That bottom chin looks bigger than an iPhone chin. I didn't think they could get much bigger than that.
RIP Moto.

Wow I can't believe nobody is complaining about the Verizon logo on front of the Droid! Posted via Android Central App

Kill it with fire! XDA: Shayneflashindaily

It is hideous. Just about has hideous as the lenovo i'm typing this on. I was really waiting to see what moto was bringing to the table this year. looks like the only thing is the "M". Everything else is screaming lenovo. Looks like maybe nexus or HTC for me

No front facing stereo speakers? This is a step backwards from where Motorola was going. My 2015 Moto X Pure Edition appears to be my last. Back to the Nexus depending on the manufacturer. Samsung needs to make a Nexus to make up for the horrible Galaxy Nexus.

Why put a fingerprint sensor where a speaker should be instead of on the back where it belongs? At least the volume rocker is still on the right side... I'm really hoping this is not the future of Moto design because it is terrible. Posted via the Android Central App
Android Central Newsletter
Get the best of Android Central in in your inbox, every day!
Thank you for signing up to Android Central. You will receive a verification email shortly.
There was a problem. Please refresh the page and try again.