Nest Hello will work with Google Home to announce who's actually at the door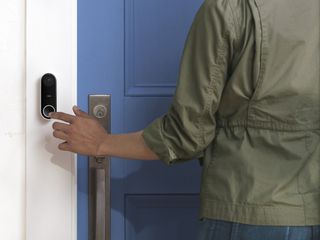 In hindsight, this one should have been obvious. And maybe Nest spelled it out explicitly and I just missed it. But in any event, let's codify it here.
Nest Hello — the upcoming video doorbell from the company best known for its thermostats and cameras — will work with Google Home (and Google Home Mini — really, with Google Assistant) to announce who's at your door. That is, it'll recognize who's there thanks to Nest Aware's "Familiar Faces" feature, and then spit out that info over a Google Home. Nest is throwing in a free Google Home Mini if you pre-order Nest Hello by March 14 (opens in new tab).
https://twitter.com/mdrndad/status/970641241951162369
Familiar Faces is a thing by which Nest recognizes that there's a face (erm, or not) and then asks you to give it a name. From then on when it recognizes that person (or chair) it'll say "Hey, there's Phil. Phil's here. Hi, Phil." Or something like that. The point is that it doesn't just pluck that person's identity off of the internet — you have to personalize things.
But this will solve one of my major headaches regarding connected doorbells. It's great being able to see who's coming, or who's there. But there's still just enough lag time between the doorbell seeing someone and my being able to respond to a notification and open and app and then visually figure out who it is.
This should cut a couple steps out of the process.
For a couple other things on my Nest Hello wish list, check out "How Nest Hello could out-doorbell Ring."
See at Nest (opens in new tab)
Android Central Newsletter
Get instant access to breaking news, the hottest reviews, great deals and helpful tips
Even better if it could recognize logo's and then tell me its UPS, FedEx etc.

I have this covered with an Arlo camera that's cheaper than a nest , it notifies and records . At which point I check my phone to see who it is... I want to see who it is way before they get to the door. I guess etiquette is a thing of the past, I don't know anyone who doesn't call before they would visit to both see if we are home or see if it's a good time for a visit. I know I wouldn't think of visiting someone before I asked them.

I'd only find it handy for UPS or FedEx since they like to play doorbell ditch, I swear they all use to be track athletes because I sit by the door and they are in the truck before I even open most of the time. What little friends I have that come over usually announce themselves so this isn't as big a deal.

When is the nest lock coming.

Great news, nice! I am excited for this, I pre-ordered it in the fall. Can't wait to replace my Ring Pro with Hello. Bring it on!

That's nice to see! Any information on when Nest Hello hits other countries...??
Android Central Newsletter
Get instant access to breaking news, the hottest reviews, great deals and helpful tips
Thank you for signing up to Android Central. You will receive a verification email shortly.
There was a problem. Please refresh the page and try again.