Here's how Nest Hello can out-doorbell Ring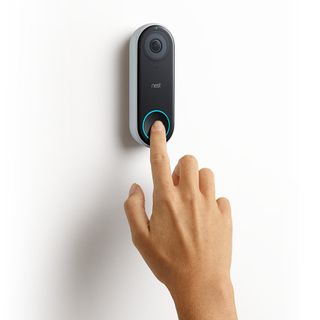 Ring isn't the only company that makes a smart doorbell. It hasn't been for a long time, actually. But the number of competitors that it's had to deal with have been few and far between. And for the most part, almost no one has come out with anything that looks remotely acceptable as a way to greet a stranger at your home. (If I had to answer, I'd say it's the Ring Pro (opens in new tab), then the SkyBell Trim, in that order. And that's it.)
In a month or so, though — Nest Hello is slated to ship in March 2018 — that's going to change in a big way.
I admit I'd completely forgotten about Nest Hello. Announced back in September 2017, it's Nest's take on the venerable ding-dong button. And just like it did with the simple home thermostat and smoke detector before it, Nest Hello not just has the opportunity to make your front door a whole lot smarter — it's going to look really good while it's doing it.
Ring has done wonders for my peace of mind for the past few years, particularly as I was traveling a lot. I can't overstate that. But Nest Hello has me excited in a new way, because I think it'll do many of the same things even better.
Ring Pro and Nest Hello are priced similarly — with the former $249, and the latter $20 less. So here are the things I, as a longtime user of a Ring Doorbell — I've used the original Ring, Ring 2 and Ring Pro — will be looking for when Nest Hello is released next month.
See at Nest (opens in new tab)
A better camera
Nest Hello is surprisingly coy about the resolution of its camera. It doesn't list the resolution in any of its top-level promotions on the Nest website.
Normally that would worry the hell out of me. If it doesn't say 1080p, chances are it's only 720p. A higher resolution is almost always better, of course, and 1080p is what you find in current top-shelf products like the Ring Pro.
And it turns out Nest Hello isn't 1080p. It's actually using a 1600x1200 resolution. While that's actually fewer total pixels than a 1080p camera (1.9 megapixels versus 2.1 megapixels), Nest says there's good reason for that.
Fair enough, and there's definitely room to improve on the image quality we've had with Ring.
No, really — who's there?
These smart doorbells show you someone is there just fine. But Nest promises to actually be able to tell who is at your door.
Nest currently has "Familiar Face Alerts" available with its top-end Nest IQ cameras. It's bringing that same tech to Nest Hello. You'll need a Nest Aware subscription for that, which is $100 a year for the first camera in your home, and $50 a year on top of that for every additional camera, and that's for the 10 days of video history. The 30-day plan takes things up to $300 and $250, respectively. (I'd really love to see Nest consolidate that into a one-size-fits-all plan, and it's gotta come down on that price a bit.)
Once you've ponied up the cash you'll be able to teach Nest whose face belongs to whom, to better suss out the, well, familiar faces from those you really want to worry about.
Nobody else does that.
Smarter notifications
I love that my Ring Doorbell notifies me when it sees motion, so I get an alert before someone even makes it to the door.
I hate that my Ring Doorbell notifies me when it sees motion over and over again when my kids are playing in the yard, or when I'm doing yard work. It's kind of dumb like that. It's just now rolling out fixes for this, but I'll have to wait and see how well it works before rendering a verdict.
In any case, one of the best things Nest's suite of products can do is actually recognize when you're home, and when you're away, thus giving all of its products a general "Home" or "Away" status.
This is guesswork on my part, but I'd be willing to bet that you can tailor notifications for when you're home versus when you're away. Sure, I like to see who's coming when even when I'm home. But there has to be a smarter way of going about this. Fewer notifications when I'm at my house. More when I'm away.
Better software
I've used a lot of connected home equipment and services. It's pretty easy to tell which has a more native "feel" to it, and which is more like a web service all wrapped up in an app, with the lag to go along with it.
That's something Nest does as well as anyone, and definitely better than Ring. If you've used Nest's thermostat before, you'll immediately know what I'm talking about — especially if you've also used a janky web interface for some other thermostat. (I'm gritting my teeth at my own electric utility here.) Same goes for Nest's cameras. Scrubbing through a timeline is akin to video editing software — not some clunky web player.
That's not to knock Ring. It's come a long way the past few years, and its software continues to improve. But Nest is just in another class.
Canned responses are quick, and canned
At launch, Nest Hello is going to come with three "Quick Responses," so you can reply with a quick touch on your screen instead of actually having to talk.
It's like quick replies to incoming phone calls, and it's going to be a welcome addition.
What else I'll be looking for
A few more quick hits of things I'll want to see, or that I'm worried about not seeing.
Doorbells are small. It's hard to cram a lot of electronics in there, and there's not a lot of power to work within low-voltage wiring. Nest Doorbells have been a little finicky when it comes to Wifi strength — and that pretty much affects everything. Hopefully Nest Hello will impress here.
Ring has these cool little "Chimes" that connect to your network and plug into an outlet, so you can hear the doorbell from anywhere in your home. That's great for a large home. And its Chime Pro acts as a network extender for Ring products. Nest, at least for now, doesn't have anything like this.
Back to the low-voltage wiring for a second. Like the Ring Pro, you'll need to make sure you have a low-voltage transformer that can put out enough juice. (I actually had to upgrade mine for the Ring Pro.) This is something a homeowner can probably do without professional help. But if not, there's the whole "Nest Pro" thing.
A reminder that Google's coming out with a slew of "smart displays" — some named exactly that, others with more awful product names — this summer, and they'll work hand-in-hand with Nest products.
Nest Hello is available for preorder now and ships in March.
See at Nest (opens in new tab)
Update Jan. 30 New fine print on Nest's site says the Nest Hello will ship in March.
Android Central Newsletter
Get instant access to breaking news, the hottest reviews, great deals and helpful tips
Any idea if the Nest Hello has to be hardwired? Or can it run on batteries?

... to self-destruct. (Sorry, couldn't help it.)

I pre-ordered soon after the news broke out last year. Just got an email from Nest that it's shipping in March.

I've bought into the Ring echosystem a couple months ago. So far I'm fairly happy. Tired of cats triggering my spotlight cams. The one thing that drove me to Ring over anything else. 1) $100 a year unlimited cameras will also include the security 24/7 when it ships. 2)completely wireless / battery based for my 3 spotlight cams. Floodlight cam is wired. and I guess a 3rd is 1080p for all my cameras. I didn't use a doorbell because my doorbell is sideways to my door. So I have a spotlight cam aimed at my door from behind the person, and one aiming towards the walkway to my house. This will get anyone coming and going. I didn't like the distorted view from the doorbell camera, and the mount location at my place.

Like you, I bought into the Ring ecosystem, but have been pretty disappointed with the actual performance. I recently switched over to the Arlo ecosystem and it's much, much better. The app, the camera performance, streaming speed, etc. I really wish they'd create a doorbell camera so I could finally kick Ring out of our house.

Funny. I'm almost exactly the same. Have a Ring and am just not all that pleased. Package people are usually back in their truck before the app can get the video up. No such issue with the Arlo's I have added since.

It won't out do anything. Their cloud backup costs are still the worse.

But unless you go with a local storage option (and that gets into completely different types of systems it seems), very few offer 24/7 recording. Ring's recording are not great IMO. The delay in notifications usually gets people as they've walked away. I got lucky that the person who stole my stuff just stood there for a bit. I'm on the fence with Nest. I get my 24/7, but it's costly, and not the best at scrubbing through to check something out. And it gets tripped easily by cloud cover (shadows changing). Both are no where near the advertising of "talking to someone at the door". No one but sales people wait long enough.

I still want someone to put out the lock that Goji was trying to make, but I'm betting that it just can't be done efficiently on AA batteries.

I have the Ring Pro. Can't wait for Nest Hello. I pre-ordered.

Pricey if UK prices will be the same in GBP or higher still!

Both are overpriced for initial and continuing costs.

You get what you pay for..there are a TON of cheaper ones from no-name never heard of companies from all over like china...
You want to leave ur safety and ur familes to them...go ahead

Ring software is pretty bad and unreliable and you need a subscription, if there was a decent alternative, I definitely wouldn't buy Ring again.

Yup. This. The app is utterly unreliable. more than 1/2 the the time when the doorbell rings, if I click the notification, the video just clocks and doesn't show. Later I can look at saved videos OK, but it's of no use to me if the LIVE video doesn't work when someone hits the bell. This is the exact reason I pre-ordered the Nest Hello.

I have a ring Pro and the camera and app USED to be amazing. Now the camera quality is crap and the app is unreliable and often has delayed notifications. Has anyone else seen the video quality drop on their ring device? my internet is plenty fast and ring has even replaced my device and it's still bad.every since they went really mainstream the quality has gone bad

I agree. My video quality hasn't deteriorated, but the app is very unreliable. So much so that I ordered the Nest Hello.

I have many Nest Cameras (both indoor and out) and I would definitely consider the doorbell, having bought int the Google ecosystem. But I have to second the notion that Google needs to be more competitive on pricing for multiple cameras. It's just too damn expensive and storage is dirt cheap.

I agree with some of you here. I had a nest and was going to get more, but the pricing on multiple cameras is too rough to handle for me. At least not when I'm shelling out for cloud storage elsewhere that can be used for my personal files. I ended up selling it and going with Blink. They are even releasing a doorbell soon. Cameras are half the price, work on batteries which seem to be lasting well so far and give free storage. I will say that the Nest did provide better notification options with zones, less false positives and always recording feature but for my home, this is working well.

I'd buy one of these, however,someone would probably steal it from my front door. I live in 'that' kind of 'hood.

Am I the only one that thinks it's creepy to have your picture uploaded to Google every time you stand in front of your neighbor's door? I'd be fine having it transmitted to them on their phone after I pressed the doorbell, I guess. I just don't want to be part of Google/Nest's 'familiar faces' database. Something about stealing my soul... ;-)

If you're near my house, you don't need to be anywhere near my door for that to happen. I have a Nest Cam outside so it records 24/7 .. Not sure what's creepy about it really, it's for security and it helps me if someone vandalizes something or tries to steal something , etc .

Guys....if you buy a premium product your gonna pay a premium cost..specially when the product is actually pretty decent. Nest is awesome. The hardware is top notch and the software is a class of its own (better be being google owned). If you think its too expensive, there are a TON of cheaper ones. And guess what...their reviews reflect their price. This is a situation that is you get what you pay for. Its more expensive but its also the best of what is currently out. Until someone makes a better or at least comparable product that is cheaper, there is no reason for the price of the nest stuff to go down. To me 10 days of video is plenty. If you dont get a package or its stolen, your gonna realize it before needing 30 days. And that plan is 100 bucks a YEAR. That is the same as Amazon price. that is the price of netflix a year. That is damn cheap for what you get. I have 3. One in the front..one in the back and one in the living room. Thats 200 a year. Comes out to 16 bucks a month. You know what that is?? 3 less starbucks lattes a MONTH to keep my family safe and packages not stolen.

I would argue that Blink cameras and Yi cameras are equal in quality and have zero storage costs. Add a momentary z-wave button setup to your doorbell and you have your announcement. Or you can just let Blink and Yi cameras send you a motion detection when someone is at your door. Lots of less expensive options coming from someone who owns Nest cameras and does not pay for the storage. Wouldn't recommend the Blink system until Amazon figures out what they are going to do with them.

Yes, but can you say to your Google Home "Hey Google, show me who's at the door on the Bedroom TV"? :P

I have Nest thermostats and Protects but won't get any of their cameras due to the incredibly expensive monthly fees, $10-$30 per month per camera. Ring doorbells and cameras are $3 per month, or $100 per year for unlimited devices. Nest's "razors" are competitive but they kill you on the "blades". No thank you.

Skybell HD. 1080p HD camera w/ night vision, motion detection, 2 way audio, no subscription costs, and downloadable videos. Also the Wirecutter pick. It's great, and a one time purchase. I've had one for almost a year.

I just got the skybell trim and am really enjoying it.

I have 4 Nest cams right now in and outside my house. I subscript to the 10 day recording. Figure if I can't get the footage in 10 days well shame on me. As to cost, those four cameras cost me $26.65 a month. I use to pay more than that a month for an alarm system without cameras. I have already preorder the Hello and can't wait to get it installed. I have one more outdoor camera that I brought when it went on sale, but haven't installed it yet. I need to install another A.P. to increase coverage in the garage area. So these two extra things will raise my bill by $10 plus tax. Still not bad in my book.

Will they give you a free replacement if it's stolen like Ring does?

I am like most on the comment list, unhappy with the time it takes to open the Ring App and quality of the images and video. Battery life is atrociously bad and I am really debationg on digging the wires back out of my door frame and going with the Nest Hello. Nice that they are throwing another Google min in for free.

Well that did not take long, took off my ring doorbell and installed the Nest Hello. Better in evry way, smaller footprint, better image, and I honestly cannot find any fault with it. I also dropped out of "August" and went with the Yale x Nest lock for my side porch. It to is worlds better with its fast connection time and looks.
Android Central Newsletter
Get instant access to breaking news, the hottest reviews, great deals and helpful tips
Thank you for signing up to Android Central. You will receive a verification email shortly.
There was a problem. Please refresh the page and try again.