Here's how Nest Hello can out-doorbell Ring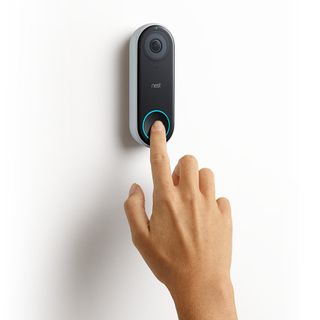 Ring isn't the only company that makes a smart doorbell. It hasn't been for a long time, actually. But the number of competitors that it's had to deal with have been few and far between. And for the most part, almost no one has come out with anything that looks remotely acceptable as a way to greet a stranger at your home. (If I had to answer, I'd say it's the Ring Pro, then the SkyBell Trim, in that order. And that's it.)
In a month or so, though — Nest Hello is slated to ship in March 2018 — that's going to change in a big way.
I admit I'd completely forgotten about Nest Hello. Announced back in September 2017, it's Nest's take on the venerable ding-dong button. And just like it did with the simple home thermostat and smoke detector before it, Nest Hello not just has the opportunity to make your front door a whole lot smarter — it's going to look really good while it's doing it.
Ring has done wonders for my peace of mind for the past few years, particularly as I was traveling a lot. I can't overstate that. But Nest Hello has me excited in a new way, because I think it'll do many of the same things even better.
Ring Pro and Nest Hello are priced similarly — with the former $249, and the latter $20 less. So here are the things I, as a longtime user of a Ring Doorbell — I've used the original Ring, Ring 2 and Ring Pro — will be looking for when Nest Hello is released next month.
A better camera
Nest Hello is surprisingly coy about the resolution of its camera. It doesn't list the resolution in any of its top-level promotions on the Nest website.
Normally that would worry the hell out of me. If it doesn't say 1080p, chances are it's only 720p. A higher resolution is almost always better, of course, and 1080p is what you find in current top-shelf products like the Ring Pro.
And it turns out Nest Hello isn't 1080p. It's actually using a 1600x1200 resolution. While that's actually fewer total pixels than a 1080p camera (1.9 megapixels versus 2.1 megapixels), Nest says there's good reason for that.
Fair enough, and there's definitely room to improve on the image quality we've had with Ring.
No, really — who's there?
These smart doorbells show you someone is there just fine. But Nest promises to actually be able to tell who is at your door.
Nest currently has "Familiar Face Alerts" available with its top-end Nest IQ cameras. It's bringing that same tech to Nest Hello. You'll need a Nest Aware subscription for that, which is $100 a year for the first camera in your home, and $50 a year on top of that for every additional camera, and that's for the 10 days of video history. The 30-day plan takes things up to $300 and $250, respectively. (I'd really love to see Nest consolidate that into a one-size-fits-all plan, and it's gotta come down on that price a bit.)
Once you've ponied up the cash you'll be able to teach Nest whose face belongs to whom, to better suss out the, well, familiar faces from those you really want to worry about.
Nobody else does that.
Smarter notifications
I love that my Ring Doorbell notifies me when it sees motion, so I get an alert before someone even makes it to the door.
I hate that my Ring Doorbell notifies me when it sees motion over and over again when my kids are playing in the yard, or when I'm doing yard work. It's kind of dumb like that. It's just now rolling out fixes for this, but I'll have to wait and see how well it works before rendering a verdict.
In any case, one of the best things Nest's suite of products can do is actually recognize when you're home, and when you're away, thus giving all of its products a general "Home" or "Away" status.
This is guesswork on my part, but I'd be willing to bet that you can tailor notifications for when you're home versus when you're away. Sure, I like to see who's coming when even when I'm home. But there has to be a smarter way of going about this. Fewer notifications when I'm at my house. More when I'm away.
Better software
I've used a lot of connected home equipment and services. It's pretty easy to tell which has a more native "feel" to it, and which is more like a web service all wrapped up in an app, with the lag to go along with it.
That's something Nest does as well as anyone, and definitely better than Ring. If you've used Nest's thermostat before, you'll immediately know what I'm talking about — especially if you've also used a janky web interface for some other thermostat. (I'm gritting my teeth at my own electric utility here.) Same goes for Nest's cameras. Scrubbing through a timeline is akin to video editing software — not some clunky web player.
That's not to knock Ring. It's come a long way the past few years, and its software continues to improve. But Nest is just in another class.
Canned responses are quick, and canned
At launch, Nest Hello is going to come with three "Quick Responses," so you can reply with a quick touch on your screen instead of actually having to talk.
It's like quick replies to incoming phone calls, and it's going to be a welcome addition.
What else I'll be looking for
A few more quick hits of things I'll want to see, or that I'm worried about not seeing.
Doorbells are small. It's hard to cram a lot of electronics in there, and there's not a lot of power to work within low-voltage wiring. Nest Doorbells have been a little finicky when it comes to Wifi strength — and that pretty much affects everything. Hopefully Nest Hello will impress here.
Ring has these cool little "Chimes" that connect to your network and plug into an outlet, so you can hear the doorbell from anywhere in your home. That's great for a large home. And its Chime Pro acts as a network extender for Ring products. Nest, at least for now, doesn't have anything like this.
Back to the low-voltage wiring for a second. Like the Ring Pro, you'll need to make sure you have a low-voltage transformer that can put out enough juice. (I actually had to upgrade mine for the Ring Pro.) This is something a homeowner can probably do without professional help. But if not, there's the whole "Nest Pro" thing.
A reminder that Google's coming out with a slew of "smart displays" — some named exactly that, others with more awful product names — this summer, and they'll work hand-in-hand with Nest products.
Nest Hello is available for preorder now and ships in March.
Update Jan. 30 New fine print on Nest's site says the Nest Hello will ship in March.
Get the Android Central Newsletter
Instant access to breaking news, the hottest reviews, great deals and helpful tips.