This Multi-function Car Jump Starter May be the Most Practical Phone Accessory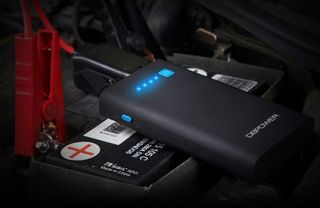 It's a road tripper's nightmare — you make a quick pit stop only to find that your battery has died and you need a boost. If you're lucky your car insurance includes roadside assistance for situations like this.
But if you're prepared with the right tech, you can boost yourself and get right back on the road!
With the summer months just around the corner, now's the time to invest in a multi-functional car jump starter as a failsafe before you're left stranded on the side of the highway.
Anker PowerCore 400A Car Jump Starter
We'll start with the most compact battery on our list. This jump starter from Anker includes a 9000mAh internal battery, two USB ports to charge your phone in emergency situations, along with a built-in LED flashlight.
Designed to jump-start cars with gasoline engines up to 2.8L and can deliver up to 15 jump-starts from a full charge. While it's small enough to be stored in your glovebox, you'll want to remind yourself to charge it every couple of months just so it's ready to use whenever you need it. The kit includes a carrying case, a car charger for the battery pack itself, and of course the clamps for connecting up to your car battery.
If this sounds like the right fit your you and your car, get this jump-starter battery pack by Anker for $80.
See at Amazon (opens in new tab)
DBPOWER 500A Portable Car Jump Starter
If the Anker product is a bit too small to support your vehicle or a bit more than you'd like to pay, consider this option from DBPOWER. With 500A peak current available, you'll be able to jump-start any vehicle with a 3.0L gas engine or 2.0L diesel engine.
Along with a standard 5V/2.1A USB port, they've also included a Quick Charge 3.0 USB port and a USB-C port that lets you quickly charge up if you find yourself needing roadside assistance with a dead phone.
All these features built into a device that's small enough to fit in your glovebox. You know what's also small? The price — just $50 on Amazon.
See at Amazon (opens in new tab)
DBPOWER 600A Portable Car Jump Starter
Another good option from DBPOWER that steps up the specs — with 600 amps of peak current you'll be able to jump-start vehicles with up to 6.5L gas or 5.2L diesel engines. There's also the USB ports included along with a convenient LCD display that shows you the remaining power.
This is a heavy duty option that's still small enough to fit in your glovebox. It includes a flashlight and compass, too, so this makes a great option to keep on the boat at the cabin.
Get yours for just $70 on Amazon.
See at Amazon (opens in new tab)
Weego Heavy Duty Jump Starter
Weego is all about the car jump starter tech — they offer seven different models that start as low as $65 and as high as $191 for a professional model that'll jump start just about anything.
The Weego Jump Starter 22s (opens in new tab) was selected by Wirecutter as their pick for the best overall value, but we'll highlight the Jump Starter Promo that includes a bonus battery pack that's just as handy to keep in your glovebox
Get the promo pack for $69, or check out the other options from Weego.
See at Amazon (opens in new tab)
Beatit 800A Portable Car Jump Starter
Designed to boost vehicles with up to 7.0L gas or 5.5L diesel engines, this is a great option for anyone who owns a big SUV or truck. Featuring a 18,000mAh lithium ion battery and dual USB ports which can be used to charge smartphones, tablets or other devices, and an emergency flashlight, this is a great option.
Beatit says their car jump starter includes "intelligent clamps" which include over current, short circuit, overload, over-voltage, and over-charge protections.
You can pick up yours for $70.
See at Amazon (opens in new tab)
Have you used a portable car jump starter?
What has been your experience? Got a recommendation that didn't make our list? Let us know in the comments.
Marc Lagace was an Apps and Games Editor at Android Central between 2016 and 2020. You can reach out to him on Twitter [@spacelagace.
Or pay 13 bucks for a set of jumper cables. That sits in the trunk and you don't have to worry about charging it

While that is certainly good advice, there have been times when I've been stuck and another car wasn't around to get a jump. Sure, if you're in a well-traveled place like a mall, convenience store, etc, most people are kind enough to give a jump. However, it'd also be nice to be able just to jump the car and go without having to bother anyone - or calling and waiting for a friend or family member to show up. And also, if the car isn't positioned well to link up to another car, having these can make helping someone out of a tight spot much easier. Renting a car? Nice to have when you're traveling and don't have cables and something goes wrong. Are you going to take jumper cables with you everywhere? These gizmos have multiple uses, including device charging. Otherwise, you're either hoping to find someone with jumper cables or waiting for road side assistance to show up. It's not hard to plug it in occasionally while you drive somewhere and charge your phone.

Honestly don't have jumper cables, own a motorcycle. But in my husband's car we have a set of jumper cables. "Are you going to carry jumper cables around with you on rental cars". Na...
But honestly when is the last time you had to have a jump in a rental car. I guess I am lucky last time that happen was in 89.... But if you want this as a power bank for your cellphone or laptop fine and use this to jump your car every blue moon. Ok fine
But there are cheaper alternatives for powerbanks.....for cell phones and electronics.

Different battery's have different ratings and using jumper cables with 2 cars with different ratings can degrade the 2 battery's. This solution is much better as it automatically determines the proper Volts/Watts/Amps needed. No over-voltage, overload or anything to worry about. Some of these can also tell you when the battery is just bad. This is just so much more convenient, faster and safer than cable's and most only cost between $50 and $100. I much prefer to have the peace of mind then having to worry about someone helping me get a jump or calling AAA.

I have had the walkie talkie for about a year now and its a very interesting mix of technology. Only recently was there an official English language update. Before that, it was Chinese only. Have a look here for more of a review. http://notebook.hvdn.org/2018/04/review-xiaomi-mijia-dual-band-location.... +1 on the Xiaomi spatula. ;)

If the largest one has 18K mAh battery, why is there not an option to use my portable battery pack as a car starter? It has a 20,100 mAh battery pack. What's different with these car-starting models (Admittedly, I'm no electrician or auto mechanic! :-) )?

A jump start battery pack has boost converter circuits to raise the voltage from an average of 4 volts to 12, or the cells in the pack may be wired with the cells in series to bring the voltage up to 12 volts with a low voltage shunt to feed the 5 volt USB outputs. Either way, it requires extra components in addition to the heavy duty connectors, cables, and clips.

These are cool, and I had one to help other people out (much quicker than jumper cables). I would greatly prefer a jump starter to cables if the person is on the shoulder of the freeway, as turning the car around can be risky. The one I had worked well, but I gave it to a kid who was having trouble with his car battery, and he gave it away to someone else. My previous car was setup as a mobile sound truck for concerts in parks or other places where there was no power. I designed a dual electrical system with two batteries in back and one in front, and when needed, I could pull a switch under the dash to jump start the car from the audio batteries :) I have a couple sets of jumper cables now to help others out (made one of them myself) but I think they are in the garage instead of the car. Nowadays, most of my rescues come from being called by someone who knows me, so I'll just put them in the car then when I suspect I'll need them.

I helped a neighbor and a stranger all within one week. I still had to call AAA for the stranger because her starter was pulling too many volts for my cheap one to provide. Similar to this one. https://www.amazon.com/HALF-Minute-Power-Emergency-Headphones/dp/B073STM...

I bought these, and can't figure out how to connect them to my Android phone. What? They have nothing to do with Android phones? Then why is this article here in Android Central?
Android Central Newsletter
Thank you for signing up to Android Central. You will receive a verification email shortly.
There was a problem. Please refresh the page and try again.