MrMobile's latest series takes us back to When Phones Were Fun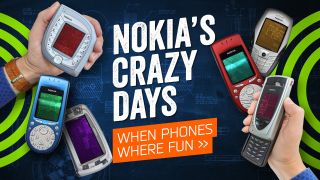 (Image credit: MrMobile / Future Plc)
MrMobile makes some of my favorite tech videos on the Internet, covering the latest trends in smartphones, tablets, and all other things mobile. But lately, he's been shifting his focus a bit to the past with a retrospective new series called When Phones Were Fun. It's been great following along and watching him cover not just phones that I grew up around, but phones well before my time.
Episode 1: Samsung's "Matrix Phone" (2003)
It's the dawn of a new century. China launches its first manned space mission; the human genome is finally sequenced; and in North America, over 50 million people lose power due in part to a software bug. In short: technology has woven its way into so many facets of our lives that movies like The Matrix are coming out to critique … and yes, consumerize that infestation.
The Samsung SPH-N270 "Matrix Phone" was a collector's item that launched alongside The Matrix Reloaded, with the hopes to replicate the success that Nokia saw from a similar partnership with the original Matrix film. Despite a mostly plastic build, the SPH-N270 was well-designed with a slider that snapped up with "speed and conviction." It's a fun device to kick off the series with — give it a watch and relive the good old days of 2003!
Episode 2: Motorola AURA (2008)
A first-of-its-kind circular display. A stainless steel casing that took two weeks to etch. And a Swiss-inspired mechanism that means it opens just as smoothly in 2020 as it did twelve years ago. Motorola didn't get much wrong with its first true luxury phone – unless you count launching it directly into the midst of a global economic recession.
The Motorola AURA retailed for a whopping 1420 euros, but it did a lot to justify that sky-high price. The circular 1.55-inch screen was high-res even by today's standards, with an impressive 300 dpi, and it relied on Motorola's MotoMagx operating system, which was optimized for the unusual shape. Of course, the round screen faced some usability issues, including trouble seeing the corners of the camera's viewfinder and browsing the web. Make no mistake: the AURA is still a sight to behold in 2020.
Episode 3: The Sidekick (2002-2010)
That's right: it's 2002 all over again, and the Danger Hiptop/T-Mobile Sidekick is hot off the assembly line! Join Michael Fisher/MrMobile for a close look at one of the most important and influential smartphones in history, from its out-of-nowhere launch to its slow and inevitable demise. The Sidekick is branded as "the coolest smartphone of all time" on T-Mobile's site (opens in new tab), and after watching episode 3 of When Phones Were Fun, it's easy to see why.
Formed by three former Apple employees, Danger Research Inc. dropped the original Sidekick (otherwise known as the Hiptop at the time) on us in 2002, as an affordable mobile Internet device that let you IM your friends with a handy QWERTY keyboard that was hidden underneath the display and, at least in subsequent models, a flashy swivel mechanism. The Sidekick quickly became the coveted treasure of phone enthusiasts everywhere.
Episode 4: When Nokia Was Crazy
You remember Nokia for the legendary 3310 that no one could break, or for the Nokia N95 that had all the features (before having-all-the-features was a thing). But you might not remember that, for a few years in the mid-oughts, while The Killers were killing the Billboards and Google was first going public … Nokia was going a little bit crazy.
This episode doesn't focus on any one particular device; instead, MrMobile focuses in on a number of Nokia oddities that mostly stayed put in Europe. The Nokia 3650 was a device that could play full TV episodes in a time when most phones in the States were just getting polyphonic ringtones. On the other hand, the Nokia 6600 was positioned as a business phone that took on the famous Motorola RAZR. The Nokia 7650 was the company's first phone with a camera and MMS messaging, and the unforgettable 7710 was a full touchscreen phone with ... well, you should watch the episode to get the full picture.
Episode 5: MrMobile's First Cameraphone (2003)
It's not the world's first camera phone, or Sprint's, or even Samsung's — but the Samsung SPH-A600 was the first camera phone that made taking pictures feel almost as natural as with a point-and-shoot, by using bleeding-edge design that still makes sense seventeen years later. The year is 2003, and the Samsung SPH-A600 had freshly become MrMobile's first-ever cameraphone.
The A600 certainly wasn't a looker with its boxy, brutalist design and Frankenstein-esque bolt hinge, but that hinge held the phone's rotating camera, and made the phone feel more like a real camera. You could also rotate the display along the hinge and close the phone in on itself. Despite the hardware's focus on ergonomics, the A600 didn't take particularly great photos, but there was still a lot to love about it. Find out more about it in the most recent episode of When Phones Were Fun!
Our Techo-Stalgia Series
Here on Android Central, we have our own ongoing series of articles looking back at some of the best, worst, and weirdest moments in tech over the last 10 years. It's called Techno-Stalgia, and it's been a ton of fun to write over the past few weeks.
And stay tuned to MrMobile's channel for more When Phones Were Fun videos, coming soon.
Get the Android Central Newsletter
Instant access to breaking news, the hottest reviews, great deals and helpful tips.
Hayato was a product reviewer and video editor for Android Central.
Oh man the Nokia 6820! That was a FUN phone. Along with the 6800. Man Nokia was the frontline of design. I used to get these phone and people would always be in awe because they were not cliche phones like now a day. Nokia had distinction. To this day the Nokia e71 will always be one of the most elegant beautifully designed phone I have ever owned.

How about the Nokia n900? Talk about features and craziness! Not too much different in design form factor as others, just a sliding keyboard.. But all the hardware was great.. Fm rx/TX, ir rx/TX, and the Maemo os could have been better than Android is now (it was better than Android back then).. Real multitasking, etc etc.. Too bad Mr. "if I sell out Nokia to Microsoft, maybe they will make me ceo" ruined everything for a promising platform.

Mr Mobile has the best content.

No, there was nothing fun banging out text messages, three letters to each Keypad number, in the 1990s... And the hatefully cost of text messaging and long distance.... It all sucked.

If you used T9 it was a non-issue... I used to bang out texts fast as hell without even looking at the phone. Miss those days.