The Moviphone is an Android phone with a built-in projector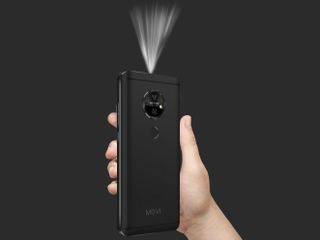 CES used to be a decent showcase for a lot of the major upcoming phones for the year, but as time's gone on, that's changed. Big phone unveilings are now reserved for MWC, IFA, and other press events throughout the year, but if you look hard enough, there are still some handsets to be found here and there.
One company that's at CES 2018 is Wireless Mobi Solutions from San Diego, and it's showing off a product called the "Moviphone." The Moviphone is a mid-range Android handset that doesn't look all that exciting at first glance, but upon further inspection, you'll see there's something unique on the back – a built-in projector.
The Moviphone can project a 720p HD image up to 100-inches in size, and its brightness rating of 50-lumens is right on par with what Motorola's projector Moto Mod offers. However, unlike the Moto Mod for Motorola's Moto Z devices, you wouldn't know there was a projector on the Moviphone if we didn't already tell you. It really is amazing just how much the Moviephone looks like any other random Android phone, and while its design might not be very inspiring, the fact that there's a projector packed inside a familiar form factor is commendable.
Other specs for the Moviphone include a MediaTek MT6750V processor, 4,000 mAh battery, 16MP rear camera, 8MP front camera, 1280 x 720 display, rear-mounted fingerprint sensor, and Android 7.0 Nougat.
You can buy the Moviphone now from Wireless Mobi Solutions' website for $599, but the company is hoping to expand it to other retailers and wireless carriers.
Joe Maring was a Senior Editor for Android Central between 2017 and 2021. You can reach him on Twitter at @JoeMaring1.
Meh. Samsung did this already as well as the MOD for Moto that was mentioned. 50 Lumens you're better off just watching on the screen. Also it'll be more enticing $100 less.

Ok. So it's not for you. Still not bad without having to add a 'mod', and have a normal size phone. Grabbing your phone and popping up a 20 - 30 inch screen on a wall or surface is pretty cool.

That's what Chromecast is for.

Chromecast vs physical projector ,= apples And oranges

If I wanted a 20-30 inch projection on a wall to watch a movie, that's what i have Chromecast for.

I had no idea Chromecast could project images onto walls without a display or TV!

Maybe be a little less asinine and you'd understand the point that I'm making.

Guess that is also one of the points. You don't have to carry around a 20-30" tv along with you.

Is not everything more enticing if $100 less?

I don't know. Ask Essential

Nice implementation, but "Cast" like solutions have resolution of your smart tv. Also, heat would seem to be a problem (like leaving your phone "flashlight" on for twenty minutes - -meltdown!) We'll see on upcoming reviews... hope it works out!

It's not going to be any different than any other pico projector. 50 Lumens is not enough to heat this thing up.

Wow, $600 with that processor and resolution? Nope.

Let us know when it goes down to $199 please.

Not even comparing specs, but the Moto Mod projector has a built-in stand, and auto-adjusts the skew on the picture. Does this? I don't see any way to stand it to project up. Does it need to sit flat? What about the sound, where are the speakers located? Okay, I'll compare specs too. The Z Play line is a 1080p screen, 6xx line Snapdragon, with 32GB of space. Battery life of the Z Play, with the projector mod, is higher than this. The Moviphone seems a decent competitor but is highly overpriced.

But how annoying will it be to check your Snapchat whilst your projecting a film?

The Moto insta projector mod was free with the purchase of any other mod at Verizon. I also got the Moto z play droid for $20 after all promotions from a previous deal. For me, I won't be upgrading to this, and I use the term upgrade loosely.

Specs look awful for such a high price.

These phone specs are misrepresented and aee false. Its infringing on Akyumen Hawk. Akyumen Hawk is the authentic Projector Phone device. www.akyumen.com.

This phone looks nothing like the ones on that website. Also, "the authentic projector phone"? You realize realize Samsung had a projector phone nearly 6 years ago, right? Begone. Peddle your wares elsewhere.

No partnership with AOL = instafail.

Welcome to Moviefone!!
https://youtu.be/qM79_itR0Nc?t=21s

Came here just to post that. Well done!

A nice toy, but how about something that's actually useful? Like an IR blaster built into your phone? The buttons on my remotes for some of my electronics are starting to go with age. I'd love a learning cellphone that I could use an app (from an OEM or other) to create my own remote layout and then have the app learn all the remotes in my house...

Samsung already has that built in. I can control any TV or cable box in my home. It allows me to define a room and the devices in that room. Been doing this for 5 years now.
Android Central Newsletter
Thank you for signing up to Android Central. You will receive a verification email shortly.
There was a problem. Please refresh the page and try again.