These are all the Moto phones Motorola is releasing in 2018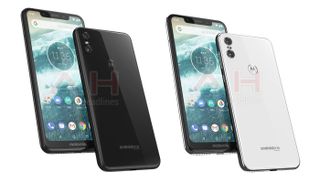 Ever since its acquisition by Lenovo, Motorola's turned into a company that's not shy about releasing a lot of different phones each year. This allows for a lot of choices, but it can also make trying to pick the perfect phone a bit headache-inducing. No matter your opinion on Motorola's release cycle, however, there's no denying that 2018 is already shaping up to be an exciting year for the company.
We've seen a ton of leaks, rumors, renders and more for Motorola's lineup of phones for 2018 ever since the beginning of the year, and this is everything we know so far.
The phones that are still on their way
Motorola One / One Power
Motorola One Power (left) and Motorola One (right)
The wildcard on this list easily goes to the Motorola One and One Power. We didn't have any idea these phones existed until late June and May, respectively, and based on what we know so far, it looks quite they'll be quite a bit different from the rest of Motorola's 2018 handsets.
First off, the overall design language isn't anything like the rest of this year's Moto phones. There's a giant notch at the top of the screens, vertical dual cameras on the back, and what appears to be a glass design for the Motorla One and a metal unibody for the Motorola One Power.
Android One branding suggests that these phones will be among the first Motorola handsets to get software updates and new security patches, and the full-on "Motorola" branding is unique from the short-hand "Moto" tag on the rest of the company's products.
The Motorola One Power
Shortly after the One Power broke cover for the first time, even more press renders and a hands-on photo surfaced along with alleged specs. According to Andri Yatim on Twitter, the One Power will come equipped with the Snapdragon 636 processor, 6GB RAM, 64GB of storage, a large 3,780 mAh battery, and NFC for Google Pay support. Then, on June 21, TechInfoBit shared multiple hands-on pictures that showcase the phone from various angles.
As for the camera situation, the two sensors on the back include a primary 16MP shooter with f/1.5 aperture and a secondary 5MP f/1.9 one. As for the front-facing camera, it's 16MP with f/1.9.
Specs for the regular Motorola One are still unknown, but it's noted that it'll be considerably smaller than the One Power.
Moto Z3
Next, let's talk about Motorola's highest-end and most premium phone for 2018 – the Moto Z3.
Just like last year, we're expecting Motorola to release two entries in its Z-series in 2018. The regular Moto Z3 will be the most powerful of the two, and it's expected to come with a 6-inch FHD+ display. Like we saw through a lot of 2017, bezels surrounding the screen should be cut down considerably. The Z3 is said to have the slimmest bezels of the two, but the Z3 Play still looks a lot more modern when compared to the Z2 Play.
Along with showing off the phone itself, the image of the Z3 also reveals a new Moto Mod. It may not look like anything at first glance, but the "5G" branding near the bottom suggests that this Mod will allow the Z3 to get 5G data speeds. Furthermore, the monthly data allotment page is taken right from the Project Fi app and could be a hint that more Moto phones will find their way to Google's MVNO.
Moto X5
If you're not about the Moto Mod life but still want a quality phone from Motorola, the X series has proven to be the way to go. Our first look at the Moto X5 shows a very similar design compared to the X4, but there are a couple key differences.
Just like the Z3/Z3 Play, we're looking at a tall display with slim bezels on all sides. However, unlike those two phones, the X5 appears to have a notch near the top just like another phone with an X in its name. This is one trend I was really hoping wouldn't catch on, but if it has to make its way into one Moto phone, so be it.
The screen on the X5 is said to measure in at 5.9-inches with a FHD+ resolution, there are dual cameras on the front and back, and there's also mention of "Moto's Smart AI."
Unfortunately, it's possible none of this will mean anything. A report surfaced in early March suggesting that Motorola had canceled the Moto X5, meaning it won't be released at all. As a big fan of the X4, this would be incredibly disappointing if it turns out to be true.
The phones that have been released
Moto Z3 Play
Following up last year's Moto Z2 Play, Motorola's released the Moto Z3 Play. The overall design is mostly the same due to the phone supporting all existing Moto Mods, but the bezels surrounding the 6.01-inch 2160 x 1080 AMOLED screen are considerably smaller.
Inside the Z3 Play is the Snapdragon 636 processor, 4GB RAM, 32 or 64GB of storage, and a 3,000 mAh battery.
Motorola's introducing dual cameras to the Z Play line this year, with the Z3 Play featuring a 12MP + 5MP sensors. The front-facing camera captures pictures at 8MP, a fingerprint sensor can be found on the right below the volume buttons, and Motorola's has a new on-screen gesture system not unlike what Google's messing with in Android P.
Despite all these improvements, the Moto Z3 Play will be faced with a lot of stiff competition — especially with a starting price of $499 in the U.S.
Moto Z3 Play hands-on preview: Three's company
Moto G6/G6 Plus/G6 Play
Motorola's Moto G series has been its most popular (and profitable) since the very first Moto G that came out in 2013, and this year's entries have proven to be some of the best so far.
For 2018, Motorola released three G phones — the Moto G6, G6 Play, and G6 Plus. The Play is the most affordable of the bunch, with the G6 Plus being the flagship entry and the regular G6 finding home in between the two.
While the G6 Play is made out of a shiny plastic, the G6 and G6 Plus both have glass bodies that look and feel much nicer than their asking prices. Add that together with dual cameras, 18:9 screens, and Snapdragon processors, and there's a lot to like here.
Moto G6, G6 Play, and G6 Plus: Everything you need to know!
Moto E5/E5 Plus/E5 Play
Similar to the G series, Motorola released three entries in its E5 series this year in the forms of the Moto E5, Moto E5 Plus, and Moto E5 Play.
The E5 Play is the cheapest phone in Motorola's 2018 portfolio, touting a plastic body, 16:9 display, removable battery, and pretty low specs.
The E5 and E5 Plus still won't blow your socks off, but they're a bit more modern with glass designs, big, 18:9 screens, and respectable specs across the board. Oh, and did we mention the E5 Plus has a gigantic 5,000 mAh battery? 😳
If this year's G6 phones are too rich for your blood, the E5 models are absolutely worth a look.
Moto E5, E5 Plus and E5 Play: Everything you need to know!
Updated June 28, 2018: Added new details about the Motorola One.
Android Central Newsletter
Get instant access to breaking news, the hottest reviews, great deals and helpful tips
Joe Maring was a Senior Editor for Android Central between 2017 and 2021. You can reach him on Twitter at @JoeMaring1.
That better not be a micro usb port that I see. That's absolutely at the top of my no-buy list in 2018.

My no-buy is a curved display which is shown on the Z3 render.

Why? I've been waiting for a good replacement for my s7 edge. A curved screen plus moto mods makes the z3 tempting.

The curved screen is the worst trend in recent smartphones. They don't add much in the way of utility, the form factor can be described as "unique" at best, useless at worst, and adds a huge decrease in durability, case and screen protector design, and a huge increase to repair cost.

I tried the curved display when I bought the BlackBerry Priv and I love the look of the curves but I made the phone a whole lot less durable and is the first time I ever broke a phone was one with a curved display

Agreed. Curved screen edges are a no go for me.

Absolutely agree. Curved screens suck.

I fully expect the 2018 E line (and C, if they do a second gen) to use micro USB. It just makes sense for those price categories.

Agreed. At the lowest price points the buyer's top priority is amount spent, not USB type.

the z2 has usb c why would the z3 have a micro usb . my suggestion is get some glasses

The E pictured probably has micro USB port.

I'm kind of done with journalists taking serious creative liberties with the word "bezel-less."

They make alot of different phones for everyone....... Wow

Samsung used to do this. Now they've somewhat simplified. They still have a lot of different phones. Moto's done the same thing but everyone is still confused.

Too many choices. Plus drop the Play variants. 3 phones is sufficient

I would suggest that the Play variants are the best sellers. Gosh if people get confused deciding which phone to buy they should never go to a car dealership with hundreds to choose from. They would probably go into overload and begin an endless series of reboots.

I bet on the X / Z series series the fingerprint reader is either inside the display or in the power button like an Xperia

Or they are going to just use facial scanning. Though I would prefer fingerprint.

I hope it's not facial recognition.

I wonder what that button thing is at the bottom of the display. Could be finger print scanner. The phone is taking a lot from the iPhone X and other phones so I wouldn't be surprised if it goes with facial rec. which is already included in security settings on current Moto phones. I personally have NO problem with finger print scanners.

It's probably a virtual 'one button' Navin.

Anyone notice the nub just above the chin?

My guess is either: Feedback on the swipe up gesture was negative so they added a visual. Or An a animation for in-screen fingerprint sensor pops up from there.

Maybe they've gone to gestures? They tried it with the G5 and Z2 line

Oh that's right. The X4 has it too, right? No on screen buttons.

I see a huge issue with that notch on the X5. The notifications coming down when they arrive can be an issue, but what about the array of icons in the menu bar? Looks like that's going to a no go with the notch. The iOS for better or worse does not have the icons displaying when a notification comes, instead relies on the badges on the icons. Are the badges going to be what Motorola does to mitigate this? Either way, there are a lot of questions that need to be answered.

How does Essential handle it?

I believe it doesn't change the layout of the notifications on the top bar. Perhaps limits them after getting a lot. However, with the Essential, the cut out is far smaller compared to this one.

G6 Plus would make a great replacement for my work phone (a Droid Maxx ugg....personal phone is a panda 128 GB Pixel 2XL).

Talk about flooding the market. Lenovorola is making me punch drunk! Wow, a phone for one & all. Who invented this notch anyway. He should be hanged in his town square! Yikes!

I'm sure Apple had to do with that stupid notch. No notch is best. Besides the only notch I like are notch'0's!

Notches are just stupid. Until someone figures out an in-screen earpiece we have to have our bezels. And are bezels just so bad? I mean a big honk'n huge one sure, but trim it down until it's only wide enough for an earpiece, a selfie camera and perhaps a notification light and that'd be a good enough bezel for me...

No wireless charging? Also I see every phone has branding on the front which I'm not a fan of. Looks so much cleaner without it

I don't expect the Zs to have wireless charging built in. There's a Moto Mod for that.

And none of them will get updated. Liking the more modern designs, but my g5plus is still sitting on 7.0 with a very old security patch.

It'll always be a problem work these Android phones. My z2 force did get updates to 8.0 recently but the roll out was so slow. Updates rolled out much faster on my iPhone 7 and Nexus 5.

You want Google and Apple update speed?

Lol, Apple has to get them updates out so that you will be forced to buy the X because they just slowed down your phone for" battery optimization"
Got to love them updates from Apple.

Yeah, god forbid you support your products for 5 years

I really wish they'd get better about that cuz they do SO MANY things right.

They just may. I would think (hope) these will be Treble phones.

Every device launched with Oreo has to support project Treble.

Lenovorola's stance on Android updates is:
E series phones get no OS updates, quarterly security patches only.
G series get one OS version update.
Z and X get 2 OS version updates. My ZPlay should get Android 8 before too long. Security patches come out quarterly and are about 60days older than the Google release date. E.g. the August security patch was dropped in October. This means the November patch should be coming soon.

I'm still on August in the US on my G5 plus, though I know India and Canada got November recently (and the UK got no security updates since January 2017). The current thinking is that Oreo will come with the January update, which means quite a wait for me unless they skip November. About the phones themselves, while the G6 series looks enticing, I won't be getting a new phone this year unless something happens to my current one, and then, if e5 matches the g5 plus in specs, I'd get that one. Next year... we'll see. I am not at all loyal to the brand. I'm just looking for the best for the price I'm willing to spend, which might be a bit higher than last year (again, assuming my G5 Plus survives the two years). Since Motro has a big price gap between the G and X series, it might be a Nokia instead, but that's as of right now. Who knows what late 2019 phones will look like.

No updates for G5S Plus since mid-2017. Inexcusable. Motorola is dead to me. https://forums.lenovo.com/t5/Moto-G5S-Moto-G5S-Plus/Security-patch-updat...

G5 is cheap . The Z line has already been updated to 8.0 Oreo

Current Z (Z2) Force has Oreo.

Has it my z2 play sill on 7.1 I'm in the UK though

My Z2 Play (retus) is also still on 7.1. And I didn't realize until recently that its running 32-bit mode on a 64-bit processor. Why, Motorola? Why?

So the connector seems different on the Z3, guess existing mods won't work then? Surprised they are still committed to the mods. I have both a Z Play and Z2 Play and don't even use mods-both are excellent phones on their own.

Layout is the same. Design for the pins is new.

I'm planning to use some mods like the projector and battery mods, and I will get that keyboard mood when it's released

This looks terrible. I'm just hoping the Z3 Play at least retains the headphone jack. If not, I might get a BlackBerry KeyTwo for the keyboard. I'm very disappointed with Motorola going 18:9. It is unnecessary. If not, I'll get a bluetooth receiver and a Z2 Force. I'm not liking this for the mods. I hope it is fake.

"Yesterday's technology today at tomorrows prices". That pretty much sums it up.

Z3 looks like a S8 with a battery case lmao

That's a 5g Moto mod on the back. Notice the dimple around the camera. My guess is a 5g hotspot, probably with a built in battery.

It's too late Moto G6 Plus and X5. The Honor 7X and V10 caught my attention already. Not to mention those bezels need to die already!

The 7X will probably not be supported any better than Moto. Probably worse. And you have to put up with EMUI.

Huh? I don't care about updates, it's a $200 phone(The Honor 7x). LOL. I had a Galaxy S7 before it had Grace UI and that didn't bother me much so I don't expect this to either.

Honor 7X would be getting oreo update so will g5 series. I guess that will be last for both!
Features wise what Honor offers moto or stock Android is no where near. I had used g5, thinking stock Android would be good. But I always found it too basic or rather say lacking from features point of view.
With advent of Xiaomi and Honor in India, I guess ppl are caring less about stock Android. What we want is more features at low cost and looks.
Given increasing cost of moto line up, plus uninspiring design I guess days of moto r over unless they take some action. Ppl thought Nokia could be threat to moto but it's also in same boat (or rather say worse than moto).

IF your in the states you better hope they [ the telecoms] dont block those phones from being used altogether. HUAWEI AND ZTE are on the governments hit list for giving backdoors to the Chinese Government.

Looks like the fingerprint sensor is in the power button on the Z3.

Looks like i got off the Moto train at just the right stop

Many seem critical of some of the things Moto does, but let's just step back and appreciate how CLEAN their software is, and how they're still showing commitment to no bloat or skins all over the place. That's gold to me.

I can deal with bezels, just so long as they're not atrocious which is subjective to the owner of the device. It also means when it impacts something during a drop, it's not impacting directly on to the display whether or not it ultimately matters to the force of impact. But I really don't mind the bezels if it gets me clean software. No bloat, no skin, no manufacturer forced apps (had an LG Stylo once, was loaded down with what LG thought I should have in the way of apps - no thank you...).

The G series is getting expensive. I mean one of the reasons that the G series is often at the top of the mid-range pack if not the king of the mid-range pack is you get so much in your device for little cost. I had a G1, it wasn't a 'hundred-fifty dollars and yet I bought just recently a G5 Plus for about two-thirty... Now the G6 and G6 Plus are rumored to be $240.00 and $330.00?

Every line is getting expensive.

If these early images hold true, I really like that blue Moto G6 Play!
Curious what processor it will come with though.
Love the choice of phones Moto/Lenovo offers.

Why must the G line get ever bigger? Why can't they make the G6 the same spec as the G6 Plus? I want a phone with a similar width to the Nexus 5 but with smaller bezels. This would mean a 5.2" screen perhaps?

I replaced my X Pure with an S7 Edge but I could be tempted back to Motorola *if* the Z3 ditches the stupid scratch magnet ShatterShield, or the X4 steps up to a more powerful SoC.

According to this, Motorola is succumbing to the 18:9 bezelless display demands of the smartphone market. I hope they have some new software user experience innovations in these new phones instead of focusing on the trends of 2017 (screen notches, multi-cameras, curved displays). Motorola phones of the past were ok with not being as pretty as Samsung flagships and they put their development efforts elsewhere but now they are feeling the pressure of the market. Is the market killing Motorola? And are the renders that pretty?

The G6 Plus if not the G6 as well (in the US) had better get NFC this time. That was the only thing missing in the G5 (and G4 before it).
I'm truly baffled as to why Moto put NFC in the G5 everywhere else in the world except North America.

Yeah I was reading European articles about how G5 Plus has NFC, so I said great, mine must have it too! NOT! Dumb mistake, Motorola!

I really like the looks of the X5, very modern, and I'm OK with the notch, as long as the background is black to match the black camera........it looks like they stop the user function screen area properly (unlike the iPhone X ---- hate how that notch looks). And that looks to be a software button just above the chin....wonder what that does.

Any idea what soc will be in the z3 play? 636 instead of the 630 would be cool.

I wonder if there will be an Android One version of the X5. Very interested in that one.

G series is my first choice whenever someone asks me what phone to get.
If they don't know what phone they want i think the G will suit them.

I used to get the G series but not anymore. g5 was a big problem. Support is horrible now. Wifi calling issues and they will not respond to many complaints. They got rid of the notification light, so basic functionality is missing.

Meh. Moto's lack of software support isn't doing it any favors in my book. Id rather keep an eye on Nokia and wait for them to release better hardware for 2018.

I totally agree about Motorola's lack of software support, but moving on to Nokia? Not so sure about that.

Are you guys bought Moto from carrier? Since I never had problem with software support. Having a Z Play since it came out, no problem so far.

I'm excited for the Moto X5. I replaced my Moto X Pure with a Huawei Mate 9. No issues at all with the Mate 9 (love the battery & camera) but I miss the Moto software. Huawei priced me out of the Mate 10 Pro, so if the X5 has a strong battery then it could be my next phone.

shouldn't at least the x line also have Moto mods?

Why do these slim bezel devices have to have 5.9+ inches screens? -_-

I'm still happy with the G5+ and will likely roll with it until 2019. But the X5 looks nice. If it comes with stereo speakers and a headphone jack I may have to jump. Especially after it's been out 6 months or so and the right deal comes along.

I love a lot about my g5+ but getting Nov 1st security patch on February 15th over a ¼ of year after it was post....
And the e4+ having new os....

Same thing with my wife's phone. Ridiculous

If the Z3 has all the right features I may come back to Moto.

If the g6 plus has nfc, I'll probably be getting one.

Motorola are a garbage company now since Lenovo bought them.

"The plastic back has been ditched in favor of one that's made out of plastic" Uh, wut?

I have no interest in anything from Motorola, Lenovo has ruined them as a company.

None will get timely updates. My wife has a G5 plus and I was happy to see a security update last week. Which brought her up to he November 2017 security patch. (In Feb 2018)

Why the branding on the front, that alone is a deal breaker for me. Who wants to stare at a company name all day while looking at their phone?

If that's what you do all day long... It's very very sad

Moto g6 play? FHD+ with 16:9 ratio?
I thought FHD+ is reserved to 18:9 aspect ratio.

Finally getting rid of the front fps. Now I might consider them depending on camera quality.

Went from a Note 3 to an X Pure last year, love Moto's take on Android. Would like a faster processor but I knew what I was getting going in. I esp like the 21 mega's, tired of 12 being the new trend. However I must admit the N9 is starting to catch my eye...should be an interesting year for phones.

After owning the orginal turbo & turbo2 plus the Zforce I have given up on lenovorola phones. They broke my heart with the z2force. The downgraded battery, no OIS with the camera & the peeling display which scratch's with a simple fingernail. Very sad indeed. I don't fancy the Lenovo takeover. I really disliked walking away but I felt I had no choice. Their much improved camera can't hold a candle to my s8+. So actually they did me a favor!

Well at least they still put out at least one phone that has a removable battery since no one does that anymore totally ridiculous. My V20 was giving me problems and on the market for a new device again so I may have to consider a E5 play definitely cheaper than the new devices with those glass backs.

Anyone know if the E5 Plus is going to available unlocked in the US? It's dropped as a Sprint exclusive right now :(

Its going to be available from many US prepaid carriers such as Cricket Wireless so im betting it will be available unlocked from Amazon et al.

Pretty sure the X got canceled.

i was SO excited to read 'Motorola ONE' and then i see an iPhone X.
WTF, Motorola?

After what Lenovarola did to my OG Moto X, it will be a very cold day in Hades before I give them any of my Benjamin's. I almost bit with the X4 but that very non commit to actual updates from them soured any hope. My one hope is that if these are launching with P the ability to update will be easier. Leah I know those pigs better be flying.

Sir Motorola one power launch India date of time please
Android Central Newsletter
Get instant access to breaking news, the hottest reviews, great deals and helpful tips
Thank you for signing up to Android Central. You will receive a verification email shortly.
There was a problem. Please refresh the page and try again.