Motorola Droid 3 available in store today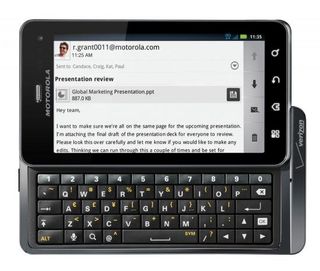 Just last week Verizon made the Motorola Droid 3 official, and a few days after that we started to see some devices arriving at the homes of people who placed their orders early, and today it is available for anyone who wants to walk in and grab one. If you have been waiting for this 4inch, Gingerbread running, 1GHz powered big brother to the Droid 2, your time has finally arrived. Be sure to head into your local Verizon store today, and pick one up for yourself. And hey, if you do, be sure to let us know what you think about it in our forums, will ya?
Jared started off writing about mobile phones back when BlackBerry ruled the market, and Windows Mobile was kinda cool. Now, with a family, mortgage and other responsibilities he has no choice but to look for the best deals, and he's here to share them with you.
Sweet can't wait to try out that new keyboard.

I Have to agree If someone on Verizon wastes their money on that? SMH Wow did we go in the way back machine? With so many better phones on the horizon Why would anyone waste their upgrade on that Just wait on the Bionic or opt for a Charge

Why would anyone waste their money or upgrade on this for? Because people A)Like the Droid series B)Want a dual core phone with a physical kybd and C)Not everyone wants or needs a 4G phone. Especially the last year specs on the Verizon 4G phones. Sure the D3 isn't 4G but who cares I won't be on the internet 24/7 and I can always connect to Wifi. Which would be liking having 4G anyways. But yeah your right, god forbid anyone wasting their money and upgrade on a Global Dual Core Processor 3G phone. That has a 5-row kybd, Great Resolution, 8mp camera, 1080p video, HDMI port and is running Ginerbread. SMH

The original Droid was groundbreaking and awesome. Its successors? Not so much. "Mediocre" is the word that comes to mind. Add Motoblur to the mix and the Droid 3 becomes even more "meh". And Motorola's obnoxious bootloader-locked-down-like-a-Vietnamese-POW-Camp policy makes it even less appealing. (My Droid 1 has been running gingerbread for months now)

& still nothing about the MILESTONE™ 3
Looks like i'll go with the Atrix™

Went keyboardless and won't go back. Besides Moto seems to want to keep locked Boot Loaders when other brands are unlocking boot loaders. My trusty DX will keep going on and on.

How about samsung galaxy S2? What about that, Verizon?!

My DX has still got me smiling. Nice keyboard though.

Is it not the best Android keyboard phone on Verizon? If you are talking to Blackberry converts who bang out messages all day long - this is the best choice to come into this world? No? Android, Nice 4" screen, great keyboard, dual core, improved camera, solid 3g network...

My daughter and I have had our phones for a week now and love it!!! We are both coming from the OG Droid and have been waiting for a phone worth upgrading too. The Droid 2 wasn't enough of an improvement to make it worthwhile to upgrade....the Droid 3, however, is. Love the larger screen....phone is running fast (esp coming from OG Droid which had really slowed down) nice roomy keyboard (yes there are still plenty of us out there that love a physical keyboard!!) So far no problems with it....hopefully it will stay this way. Like the front facing camera (hoepfully Skype will be able to work on it soon to video chat) Do not care about locked bootloader since I am not interested in rooting my phone. The new MotorBlur is fine...hardly noticeable compare to the Droid 2's MotorBlur. My other daughter who has the Droid 2 will now be upgrading to the Droid 3 since it is an improvement over hers. I recommend getting it or at least trying it....you have 15 days to return it if you don't like it. Only other phones coming out shortly are all touch, so if you are a physical keyboard person, I think you will be satisfied.

zzzzzz.... Worthless to even release for VZW. Bionic on the way, all the other Droids work fine. Just wait for Bionic or SGII, otherwise, keep your OG Droid/x2/etc. Not one reason to buy :( VZW has the crappiest release schedule and product development by far of any cell phone carrier

Everyone is making a big deal out of the bionic but isn't it pretty Much the same phone as what we see here? Larger screen and way worse battery life? Isn't the 1 gig of ram just like the atrix and only 512 is actually usable by android? Help me understand cuz other than the larger screen I don't see the bionic as really that superior to the d3.

Yes, yes, and yes again. People can be pretty ignorant sometimes. Everyone keeps saying, ZOMG!!11!!111!! 1GB of RAM, but are clueless about how it is actually utilized. They are essentially the same phone. It's just keyboard vs. 4G as the main difference. But by all means, for those blindly knocking the Droid 3, in favor of the Bionic, enjoy your similar spec'd, nearly tablet sized, battery gulping phone.
Android Central Newsletter
Get the best of Android Central in in your inbox, every day!
Thank you for signing up to Android Central. You will receive a verification email shortly.
There was a problem. Please refresh the page and try again.