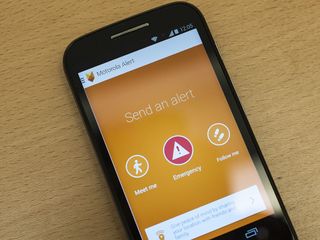 Send emergency messages and sound the alarm with the new Motorola Alert app
Emergency alert apps — as in the kind that will let designated contacts know you're in trouble — are the new hotness for smartphones, apparently. Samsung has a pretty intricate one built into its Galaxy S5. There are numerous third-party apps. And now Motorola's got its own in Motorola Alert, which launched on the Moto E but will also be available on the Moto G and Moto X.
The gist is this: Motorola Alert lets you designate contacts to receive its emergency broadcasts. You then send out alerts for those contacts to meet you at your current location, you can broadcast your current location to them at specific intervals, or you can have your phone blare out an "OH CRAP!!!" siren and also send emergency messages to your designated contacts. And, finally,
To be clear — and as the name of the app certainly should imply — Motorola Alert is about emergency situations. It's not meant to be used as a kid (or parent) tracker.
Let's take a quick look at how it works.
Setting up Motorola Alert
Image 1 of 8
Image 2 of 8
Image 3 of 8
Image 4 of 8
Image 5 of 8
Image 6 of 8
Image 7 of 8
Image 8 of 8
First off, Motorola does a great job explaining what the app is going to do, and what it needs access to on your phone. That shouldn't be understated. Android app permissions are tough for even the best of us to understand, and Motorola has done a great job with transparency here, explaining what the app does, and why it needs to access your contacts and location — and it does so first thing in the setup process. There's also a conspicuous link to Motorola's privacy policy.
Every app should do this on first launch. Accept the terms, and Motorola gets down to business.
First you'll need to pick your friends and family who will be alerted by the app. We highly recommending telling them that they've been designated as one of these emergency contacts, and that's something perhaps Motorola Alert could automate. Otherwise, they're going to get a scary-looking message later on and possibly not know what it is. (Editor's note: Also don't test this app with your wife as your contact and not warn her first. Trust me.) Moto Alert starts by listing your favorite contacts, but you can easily search through your entire list, too.
You also can choose a local emergency services number and an emergency contact to add as quick-dial options.
Motorola Alert also has a big red button. The EMERGENCY button. You can set it to ether dial your emergency number, sound an alarm, or do both.
That's it for the setup.
So what's Motorola Alert like to use?
Setup takes just a couple minutes. Then you're into the app proper.
Here's how it works.
Motorola Alert is free and available in Google Play for certain Motorola devices.
Image 1 of 8
Image 2 of 8
Image 3 of 8
Image 4 of 8
Image 5 of 8
Image 6 of 8
Image 7 of 8
Image 8 of 8
More: Moto E hands-on
This is something that needs to be standard on every OS. Also, do you have to type out your location, or could the app send your location if you have GPS enabled?

Uses GPS. Posted via Android Central App

I've actually been wanting something like this for a while. Being able to send out a location quick should be integrated too. Can't wait until this comes to the moto g and moto x. Hope they get it at the same time too. That and drive mode for moto g ;) Posted via Android Central App

As much as I love my Droid Maxx (less so after KK upgrade), it seems like the Droid Ultra line of devices is more and more the black sheep of the Moto family. I hate that.

Moto devices are the future of Motorola. Unfortunately for droid users, they are being left in the dust. Upgrade to the Moto X successor when it releases. Posted from my Motorola Moto G

Not compatible with my Moto X! Is it because it is US only?

Cant get it for my MAXX either...but i have white icons now

It's only on the new Moto E for now. Coming soon to Moto X and G. Posted from my Motorola Moto G

yup, just tried on my G also. seems i need to downgrade to an E to get it?

You just need to wait. Posted via Android Central App

Thanks! Should have read the article more precisely.

I am in the US and I also get the message it is not compatible with my Moto X Posted via Android Central App

Wait. Posted via Android Central App

We have a lot of the great features of the Moto X, voice controls/Moto Connect/Active Display, just not the latest OS release. I love my MAXX, but would also love if they would release Moto apps to all Motos. Moto Assist is fine, but my Droid 4 had a better version with Smartactions. Ah well, I'm sure there is a reason for it. Still loving my MAXX after 6 months of having it! Cheers!

agree, i absolutely love my MAXX. no complaints.. oh except for the double home tap that came with 4.4

So no outcry that this isn't available on Other phones because we love Moto, right?

Samsung has something similar built into the GS5, and there are third-party apps that do this, too. So, to answer your question, no.

does anyone know of something similar that would work on non Moto devices Posted via Android Central App

You might try Beacon (the one with the red/yellow lighthouse graphic) and request any features that you need.

I'm just waiting for the next Moto X release. Getting tired of these larger phones. Posted via Android Central App

It is supported on moto e but not in moto g.plz make it available for moto g. Posted via Android Central App

Phil already said that it will come to the G and X. You just have to wait Posted via Android Central App

It's a bummer it's not ready for the Moto X. I'd make use of it (potentially) traveling abroad. Posted via Android Central App

I don't think it will be too long before it is available for the Moto X :)

I want the mp3 version for my alarm Posted via Android Central App

My daughter and I both have had Moto X for a couple months. She recently moved to Texas, and the same day she did, she set up Motorola Alert App. I nearly shat my pants when I received the following texts:
1) "I'm in danger. (Address provided)" with a link to Google Maps of her location.
2) "I'm safe now. I'm out of danger."
I freaked out and called her immediately, thankfully with a healthy reply. I'm glad (after the panic attack) for the app and that it worked. However, a warning or test message first would have been appreciated. I, too, will use this app...but will "Alert" my emergency contacts first.

Moto Alerts 'Follow me' feature is very good.
if you install https://www.androidcentral.com/e?link=https%3A%2F%2Fwww.anrdoezrs.net%2F... on your recipient mobile phone you should be able to see the track on the Map. And whats more, it works perfectly without internet connection.

use ZTrack app on your recipient phone, and use Moto Alert's 'Follow me' feature, you will get the tracks plotted on map automatically. https://www.androidcentral.com/e?link=https%3A%2F%2Fwww.anrdoezrs.net%2F...

My wife and I have recently stowed our idiot phones and moved to the smartphone world. I have had a minor cardiac event a couple of years back and have to ask about this Motorola Alert feature on this phone. #!. Does this feature use the GPS (location) function to determine my location in an emergency if I am unable to enter it? #2. I have 4 numbers entered as emergency contacts. Will this feature dial all 4 numbers? #3. Does the WIFI have to be activated for this feature to work? Please send replies, tips, or hints to my email address fjgoslin@gmail.com Thnx
Android Central Newsletter
Get the best of Android Central in in your inbox, every day!
Thank you for signing up to Android Central. You will receive a verification email shortly.
There was a problem. Please refresh the page and try again.