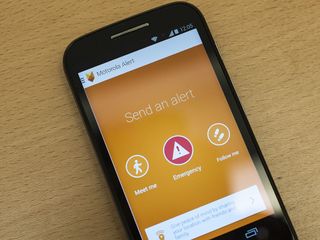 Send emergency messages and sound the alarm with the new Motorola Alert app
Emergency alert apps — as in the kind that will let designated contacts know you're in trouble — are the new hotness for smartphones, apparently. Samsung has a pretty intricate one built into its Galaxy S5. There are numerous third-party apps. And now Motorola's got its own in Motorola Alert, which launched on the Moto E but will also be available on the Moto G and Moto X.
The gist is this: Motorola Alert lets you designate contacts to receive its emergency broadcasts. You then send out alerts for those contacts to meet you at your current location, you can broadcast your current location to them at specific intervals, or you can have your phone blare out an "OH CRAP!!!" siren and also send emergency messages to your designated contacts. And, finally,
To be clear — and as the name of the app certainly should imply — Motorola Alert is about emergency situations. It's not meant to be used as a kid (or parent) tracker.
Let's take a quick look at how it works.
Setting up Motorola Alert
Image 1 of 8
First off, Motorola does a great job explaining what the app is going to do, and what it needs access to on your phone. That shouldn't be understated. Android app permissions are tough for even the best of us to understand, and Motorola has done a great job with transparency here, explaining what the app does, and why it needs to access your contacts and location — and it does so first thing in the setup process. There's also a conspicuous link to Motorola's privacy policy.
Every app should do this on first launch. Accept the terms, and Motorola gets down to business.
First you'll need to pick your friends and family who will be alerted by the app. We highly recommending telling them that they've been designated as one of these emergency contacts, and that's something perhaps Motorola Alert could automate. Otherwise, they're going to get a scary-looking message later on and possibly not know what it is. (Editor's note: Also don't test this app with your wife as your contact and not warn her first. Trust me.) Moto Alert starts by listing your favorite contacts, but you can easily search through your entire list, too.
You also can choose a local emergency services number and an emergency contact to add as quick-dial options.
Motorola Alert also has a big red button. The EMERGENCY button. You can set it to ether dial your emergency number, sound an alarm, or do both.
That's it for the setup.
So what's Motorola Alert like to use?
Setup takes just a couple minutes. Then you're into the app proper.
Here's how it works.
Motorola Alert is free and available in Google Play for certain Motorola devices.
Image 1 of 8
More: Moto E hands-on
Be an expert in 5 minutes
Get the latest news from Android Central, your trusted companion in the world of Android