The Moto X4 could be part of Android One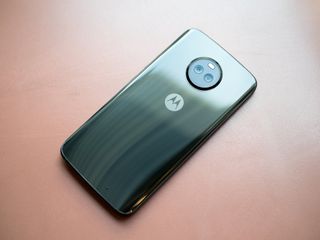 After leaking through the summer, the Moto X4 was finally announced recently, adding yet another mid-high end option from Motorola. One of the more intriguing rumors about the device was that it would be the first non-Google device available for Project Fi subscribers. The phone announcement has come and gone without mentioning Project Fi, so that's still in the rumor realm for now.
Another interesting tidbit comes from @evleaks who tweeted a photo of the Moto X4 sporting Android One branding. While Android One initially began as a way to sell sub-$100 devices in emerging markets, that has changed recently with Google and Xiaomi offering the Xiaomi Mi A1 with vanilla Android for $230. Still inexpensive, but not quite as ambitious as the initial offerings.
With the Moto X4 in its lineup, Google may be introducing the Android One branding to the U.S, offering mid tier devices with minimal bloatware and (presumably) updates straight from Google. It sounds intriguing, and it'd be interesting to Play with these Editions of OEM devices.
Would you be interested in using the Moto X4 on Project Fi? Let us know down below!
Android Central Newsletter
Get instant access to breaking news, the hottest reviews, great deals and helpful tips
I hope Google follows this one up with a budget Android One, say the Moto E4+.
It would be nice IF Google would extend the automatic OS updates to a full 3 years.
Also mandate global LTE chipsets in ALL Android One's. That would provide more choices worldwide.

I would be interested. The problem is there is no Project Fi where I am...

The Moto E4 plus already exists.

I think he meant as an Android One phone. Go Gamecocks?

In 2015, Moto produced the same phone twice but with different software: The Moto X Style and the Moto X Pure Edition. There's precedent.

If this really is available on Fi, I'm certain my partner will replace her 5X with it on day one.

I like this phone, but it's still wrong to cut the RAM to 3Gb, and the storage to 32Gb for the US market. HELLO 👋🏻, US market Moto G5 Plus with 4Gb RAM/64Gb storage, and an almost assuredly lower price than the X4. Otherwise, I really like the X4, but that irks the hell out of me.

I would be all over this phone with Google updates.

If the price is right , i could get this on Fi

I already have the Moto G5 Plus w/4 gig ram - 64 gig rom and I absolutely love it to death!!! I have had top-tier phones since Android phones came out. This phone has definitely convinced me not to pay over $700 for an Android. I looked at the Moto X4 and the only difference is dual cameras, (really). If it was 5.5 inch, I would be all over it!! But to have it as a Android One would be spectacular.

Well at least then one moto device would get fast updates.

It would be great for peace of mind for existing Fi subscribers too. I fear the day if something happens to my Pixel and my only recourse is buying a new Pixel. A $200-$250 alternative would be awesome.

Wow if priced great, could be a great phone with regular fast updates without crappy carriers being involved and great mid range phone. Potential for a great hit.

I often wondered why Google Play edition phones went away. I would actually consider a high end Samsung or LG phone if it had stock Android software. Had they still been available, I probably would've bought a One M8 GPe when it came time to replace my Nexus 4. Instead, I got my 2014 Moto X.

My Thoughts are, the Google Play Edition phones, at the time, were not well received by the "majority" phone buyer, because they were mostly sold for full-price, through OEM websites. One must remember that the carriers were still subsidizing 'carrier specific' flagship phones at that time. The GPe phones were not subsidized or sold through carriers, for the most part. This created a larger initial investment, to the phone buyer, which the "majority" couldn't see the value in.
Today the carriers do nor offer the same subsidized value they once did, and the average phone buyer is now more used to paying full price for their phones, through carrier payment plans.
I think the GPe would be better received today, by the "majority" phone buyer, in this current phone market, because OEMs now offer payment plans, just like the carriers do. ~ Side Note: Several of the OEM specific software features did not work in the GPe models . For some this could be a big surprise, "My S-pen don't work on this device" "My tap to wake don't work on this device"

I was a big fan of my M8 GPE, until the camera went **** up due to vibration on my motorcycle mount. Ended up getting the Sprint Harman Kardon edition as a replacement and never got over having to go back to the Sense UI. That's when I switched to a Nexus 5X then a Pixel. I agree that they would have better success now than they did previously; but that would also create internal competition for the Pixel line, so I doubt we will see it again.

I hate the look of motos camera's these days. My opinion only (Make with the down votes) but they're hideous

Looking at my Moto X Pure, you're absolutely right. Just looks like an afterthought.

Not sure about you but I spend most of my time looking at the screen..

If this X4 ends up getting updates directly from Google, I'll be all over it. Can't pass up something with those updates, water resistance, a battery friendly processor, wide angle camera, and a low price tag!

Given how poorly Moto has carried through with the Pure edition I have my doubts that his would be part of the Android One phones.. I hope it does, it might make me consider it.

Agreed. It's not just the updates either. My charger port went bad the first year and even though I had paid for moto's extended warranty when I bought the phone they gave me a big hassle and wanted me to pay a fee, send in my phone and then they would send me a replacement after. I finally got the advance replacement after convincing them I didn't care about my wood back or custom colors, I just need a working device. Now I've got a bad port again and I'm gonna go the DIY route even though it looks to be a royal pain compared to other devices I've repaired.

I'm interested in the One series of phones, as I'll be replacing my HTC 10 in the next 6-12 months. I'll get a S8 soon from work, so I won't need a flagship for my personal device. Just something that will be near vanilla Android, and hopefully Google supplied updates. I'll keep an eye on this lineup of phones, and how long the wait is for the next update, whether OS version, or security patch.
Android Central Newsletter
Get instant access to breaking news, the hottest reviews, great deals and helpful tips
Thank you for signing up to Android Central. You will receive a verification email shortly.
There was a problem. Please refresh the page and try again.