Moto G6 Play vs. Moto E5 Plus: Which should you buy?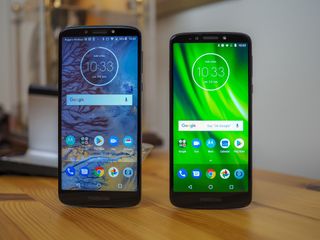 If you're starting to get confused by Motorola's lineup, don't worry — you're not alone. The company's two budget offerings, the Moto G series and the even-cheaper Moto E family, just got refreshed last month with three new models each. The Moto G6 and Moto E5 are the standard issues of each series, but there are also Play models, which prioritize battery life, and Plus models, which come with slightly better specs and designs.
Starting to make sense? Maybe, but let's make this even more confusing. Because the Plus models are basically souped-up versions of their suffix-lacking counterparts, the Moto E5 Plus begins to spill into the range of the Moto G6 Play, both in price and performance. In fact, depending on where you buy it, the Moto E5 Plus could even cost more than the Moto G6 Play. So which one should you buy?
Specifications comparison
First, we start with the basics. Here's how the spec sheets stack up:
Swipe to scroll horizontally
Category
Moto G6 Play
Moto E5 Plus
Operating system
Android 8.0 Oreo
Android 8.0 Oreo
Display
5.7-inch IPS LCD, 1440x720 (18:9)
Gorilla Glass 3
6-inch IPS LCD, 1440x720 (18:9)
Gorilla Glass 3
Processor
Snapdragon 427 1.4GHz quad-core
Adreno 308 GPU
Qualcomm Snapdragon 430 octa-core
Adreno 505 GPU
Storage
16/32GB
32GB
Expandable
MicroSD up to 128GB
MicroSD up to 128GB
RAM
2/3GB
3GB
Rear camera
13MP, f/2.0
12MP, 1.25-micron, f/2.0, laser AF
Front camera
5MP, LED flash
8MP, 1.12-micron, f/2.2, LED flash
Connectivity
Wi-Fi 802.11n, Bluetooth 4.2 LE, FM radio
GPS, GLONASS
Wi-Fi 802.11n, Bluetooth 4.2 LE, FM radio
GPS, GLONASS
Audio
Single loudspeaker
3.5 mm headphone jack
Single loudspeaker
3.5 mm headphone jack
Battery
4000mAh
Non-removable
5000mAh
Non-removable
Charging
Micro-USB
TurboPower 10W
Micro-USB
TurboPower 15W
Water resistance
Water repellent coating
Water repellent coating
Security
Rear fingerprint sensor
Rear fingerprint sensor
Dimensions
154.4 x 72.2 x 9 mm
175 g
161.9 x 75.3 x 9.35 mm
200 g
What the Moto G6 Play does best
The Moto G6 Play would seem to be the better phone, at least on paper, than the Moto E5 Plus. That's the way it's worked for years with Motorola's budget lineup — G aims for great but is really just good; E aims for good but is really just OK. But the formula is getting shaken up this year.
Yes, the Moto G6 Play is better is some respects than the Moto E5 Plus, but it's not the trouncing you'd expect. The 5.7-inch 720p panel is slightly denser than the 6-inch screen on the E5 Plus, and the entire body — made of a shiny, grippy plastic — is a little more streamlined.
The 4,000mAh battery and 13MP rear camera are also very good for the price, and you can't go wrong with Motorola's incredible software, even if it's unlikely to receive many updates over the course of its life.
Indeed, the major advantage the G6 Play has over the E5 Plus is one of design: it's sold unlocked and will be available practically everywhere, from Motorola's own e-commerce store to Amazon (though its Prime Exclusive program) and many other retailers. It's also compatible with every major U.S. carrier, something the Moto E5 Plus can't boast at this point in time. At $199 for the version with a Snapdragon 427 processor, 3GB of RAM and 32GB of internal storage ($189 from Amazon), the Moto G6 Play is a bargain.
Where the Moto E5 Plus pulls ahead
Despite getting unfairly overlooked because of its position in Motorola's lowest tier of phones, the Moto E5 Plus is a formidable device. It's a formidable device, featuring a larger 6-inch display with the same 18:9 aspect ratio and 720p resolution. But while its spec sheet almost perfectly matches the Moto G6 Play's, there are some major advantages to buying a Moto E5 Plus — including the more powerful 15W TurboPower charger included in the box.
The E5 Plus also has a larger battery than the G6 Play — even though the Play moniker specifically represents long battery life. The 5000mAh battery inside the E5 Plus topples the G6 Play's already-massive 4000mAh cell, and should lead to some of the best battery life in Motorola's lineup. You might not love the persistence of Micro-USB on the Moto E5 Plus, but the same cost-saving measure affects the Moto G6 Play as well.
Then there's the faster processor: the Snapdragon 430 inside the Moto E5 Plus is an octa-core chip, not quad-core like the Snapdragon 427, and has a much more robust Adreno 505 GPU compared to the G6 Play's Adreno 308. (On the flip side, the Snapdragon 427 is optimized for connectivity: it supports all four U.S. carriers, and can carry download speeds up to 300Mbps, double that of the E5 Plus's modem.)
The cameras in the Moto E5 Plus are also better: the rear camera is a 12MP sensor with large 1.25-micron pixels and an f/2.0 lens. The front camera is an 8MP sensor with large pixels, too. The Moto E5 Plus is clearly optimized for camera performance, too.
If you're accustomed to Motorola's Moto Actions that allow you to quickly launch the camera or flashlight, rest easy — they're all here. In fact, the Moto E5 Plus is almost identical to the G6 Play in software, running the same build of Android 8.0. Inside and out, you're sacrificing very little with the E5 Plus, and even gaining a bit in graphical power, battery life, camera quality, and screen size.
The only issue is, if you're in the U.S. at least, the Moto E5 Plus isn't being sold unlocked — it's only available through carrier channels.
Which is right for you?
The E5 Plus almost sounds like an overall better phone than the G6 Play … so why would you buy the latter, unless you were that concerned with getting slightly better build quality? For starters, in the U.S. at least, the E5 Plus is only available through Sprint or Cricket (Cricket calls it the Moto E5 SUPRA for some reason, but it's the same phone) — and if you're buying from the former, the E5 Plus actually $88 costs more than the G6 Play. When the phones only cost around $200 to begin with, that's a pretty substantial difference.
If you're willing to put up with the carrier side of things, or are already a Sprint or Cricket customer, the Moto E5 Plus is a better phone overall. But if you want to keep your options open by purchasing an unlocked device to use on any U.S. or international carrier, go with the Moto G6 Plus. Either way, you won't regret it.
Have you been using one of these phones? Are you thinking about picking one up? Let us know in the comments!
Get the Android Central Newsletter
Instant access to breaking news, the hottest reviews, great deals and helpful tips.
Hayato was a product reviewer and video editor for Android Central.