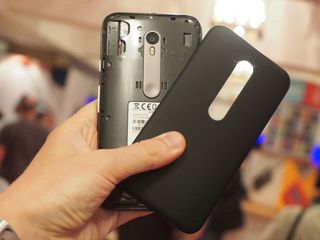 Motorola updated the Moto G to a 2015 model, sticking to the same model that has served it so well in the previous generations. You're getting a lot of bang for your buck here with solid specs, SD card support, Lollipop on board and capable camera specs. Here's how the full internal spec sheet breaks down:
Category
Features
Display
5-inch, 1280x720 resolution (294 ppi), Corning Gorilla Glass 3
OS
Android 5.1.1 Lollipop
Processor
Qualcomm Snapdragon 410 quad-core @ 1.4GHz
Adreno 306 GPU @ 400MHz
Storage
8GB or 16GB, SD card up to 32GB
RAM
1GB or 2GB
Rear camera
13MP f/2.0, dual color correlated temperature flash, auto focus, burst mode, auto HDR, active viewfinder
1080p video at 30fps
Front camera
5MP f/2.2, display flash, auto HDR, burst mode
Battery
2470 mAh non-removable
24 hours mixed usage
Cellular (GSM XT1540)
GSM 850, 900, 1800, 1900MHz
HSPA+ 850, 1700/AWS, 1900, 2100MHz
LTE Band 2/4/5/7/12/17
Micro SIM
Cellular (CDMA prepaid XT1548)
GSM 850, 900, 1800, 1900MHz
CDMA 800, 850, 1900MHz
HSPA+ 850, 1700, 1900MHz
TD-LTE Band 41 TD2500
LTE Band 2/4/5/12/17/25/26
Micro SIM
Connectivity
802.11n Wifi, Bluetooth 4.0 LE, GPS + GLONASS
Sensors
Accelerometer (2), ambient light, proximity
Speakers
Earpiece, loudspeaker, dual microphones
Dimensions
142.1 x 74.4 x 11.6 mm, 155g
Water resistant
IPX7
Colors
Black, white
Shells (sold separately): Black, Navy, Cabernet, Golden Yellow, Lime, Cherry, Blue, Turqouise, Raspberry, Chalk
Flip Shells (sold separately): Turquoise with Dark Teal, Blue with Navy, Raspberry with Cabernet, Crimson with Cherry, Licorice with Charcoal
Andrew was an Executive Editor, U.S. at Android Central between 2012 and 2020.
Apparently, that camera is the same one found on the Nexus 6. The N6, while it didn't have an amazing camera, is actually not that bad and I think it's the first Nexus phone in quite some time that has a camera that is actually pretty capable. Seeing it on the Moto G 2015 is actually pretty good news to me. Add in an IPX7 rating along with 2GB of RAM for the 16GB version, and this is much more than just a bigger Moto E 2015 LTE. I'd say job well done!

+1 Posted via the Android Central App

I'm got one small complain on the new G just like my first gen G. No Gyro to capture amazing Photosphere. Posted via the Android Central App by OnePlus One

CDMA prepaid version! Wow! If this comes to Verizon, this will be my next phone. Finally!

read those bands, there's no band 13. no vzw. LG G2
Nexus 5

For all the coverage it has, staying with that blasted CDMA just makes Verizon a toilet sometimes

Anyone actually seen official pricing on the 2gb/16gb version? And will this have wireless charging?

It's on Motorola's website. No wireless charging Posted via the Android Central App

You can always pick up a wireless receiver for $10 on ebay

Was hoping for 1080p and somewhat better processor, but not terrible specs if the price remains low. It's at least in the running to replace a second aging Nexus 4....along with ZF 2, LG G2, and Idol 3. Decisions decisions..... Posted via the Android Central App on LG G2

No nfc... Kind of hard to buy this when the alcatel idol 3 is only a little bit more Posted via Android Central App on 1+1

Does the UK version have dual sim? It doesn't mention it on the Moto UK website, but I'veI've also seen a few articles where people are saying its an option.

I am not seeing which of Motos new phones come with OIS, anyone know? Posted via the Android Central App

Can't order, says in stock and then when you go to place the order it says not in stock. Tried on my PC, tablet, and phone. Posted via the Android Central App

Is this equal or less or better than the HTC One M7? Sent from a bunker that only the NSA can find.

I asked this in another article, specifically about the processor... Got this back from trwnh... 'It's going to be weaker all around (lower clocked CPU, lower-powered CPU, uncustomized cores, lower GPU), so probably a bit slower and not as responsive as the M7. But still not bad for $200. Don't expect to be playing many (high-end) games on it. It'll get you through basic smartphone tasks like messaging and social media just fine, though. Arguably moot advantage of the 410: it has 64-bit support.' Here's the link... http://www.androidpolice.com/2015/07/28/motorola-officially-unveils-two-...

M7 is still a better option.

Am I reading that right? It looks like the XT1540 will get HSPA+ in Syracuse AND Dublin. Awesome! Not that I go overseas often, but it kinda sucked being on EDGE speeds when I went to Ireland with my 2013 G.

So would this work on verizon as is? does gsm unlock mean no verizon?

Ahh that is the question. The spec sheets says it does support CDMA. I have already had an online chat with both Motorola and Verizon and neither of them knows the answer, if you can believe that. Verizon is only the largest carrier in the U.S...You would think there would already be an answer for that question... I am going to call Motorola. I will report back...

Can I use this on sprint? I'm tired of the G3's gawd awful battery life.

Waitwaitwaitwait. Memory expandable up to 32gb? Only? SDHC in this day and age? Wow. Sony Xperia Z2
Nvidia Sheild
Xperia Z3 Tablet Compact

I'm sure you could go higher don't worry. They also support 64 and 128 gigabytes Posted via the Android Central App on my Nexus 5 or Nexus 7 2013

This makes a great insurance/back up phone for my s6 edge. Love the price! Posted via the Android Central App
Android Central Newsletter
Get the best of Android Central in in your inbox, every day!
Thank you for signing up to Android Central. You will receive a verification email shortly.
There was a problem. Please refresh the page and try again.