Moto E shows its face, back and everything else ahead of grand unveiling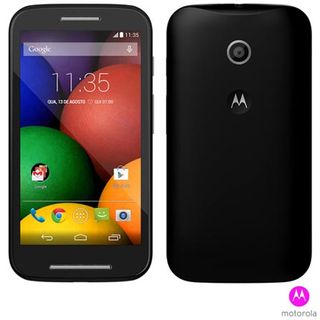 Motorola is all set to announce its latest budget friendly device, the Moto E, this coming Tuesday at an event in London – we'll be there of course! – but it has already shown itself off in full in a leak out of Brazil. Having been listed early at Fastshop.br we're treated to not only what it looks like, but also a purported specs list as well.
The renders look identical to the live image leak we've previously seen, and the Moto E has a definite family resemblance with its older sibling, the Moto G. Specs include a 4.3-inch display, 1.2GHz dual-core Snapdragon CPU, 4GB onboard storage, 1GB of RAM, a 5MP rear camera, 1980mAh battery and Android 4.4 KitKat.
Like the Moto G, the Moto E looks set to have swappable rear shells in a variety of colors which so far include white, turquoise and yellow.
So, that's what we've got so far. For more pictures be sure to hit the source link below and stay tuned to Android Central on Tuesday May 13 for everything from the event floor!
Source: Fastshop.br (opens in new tab) via AndroidOS.in
Judging from the picture of the back of the phone the long bar on the bottom of the front is definitely a speaker Posted via Android Central App from my Motorola Moto G 16GB with stylish blue flip cover

I was really looking forward to buy a few but 4gb is way too low. VZW Moto X

Agree, the race to the bottom is OK but you can't compromise on storage without the option of an external memory card. Posted via Android Central App

There is no sd card? My lumia 520 has one and comes with 8gb storage. The new 630 has a bigger screen. I just wish google would bring its ecosystem to windows phone. It is a pain trying to play google play music. Posted via Android Central App

Good for your Lumia. Posted via Android Central App using an LG G2.

This phone was never meant for you. Posted from the Avengers: Age of Droid Ultra

It was meant for someone who is on the budget - both for phone and monthly plan, just like my cousins overseas.
Now, if the data plans are expensive as they are (calls too) , one can't rely on cloud services (can be outdoors without reception too) and if the phone comes with the 5mp , how many photos and videos can be stacked under less than 1 GB and how to fit music files in there.
In this case, SD card is a must or else you got yourself a 100$ of inconvenience. Most of the people would trade that extra speaker for 4gb extra internal storage. My point is that I don't see it as competitive (vs Nokia X) as Moto G is for most of the mid range device.
VZW Moto X

Wrong. The fact that you don't see it as competitive as the Moto G shows that you have no clue where this phone is targeted. Its targeted at people who see the Moto G, and then look at its price tag and realize that if they saved as much as they possibly could for the next year they still couldn't afford it. People who see 4GB and are blown away at the possibility of getting a phone with that much storage because they thought those phones were only for the wealthiest people in their country.There are 5 billion people in the world who will be blown away by a phone with "only" 4GB of storage because it will be a huge improvement over what they've been offered before at a price point they can afford. You think of this as a "budget" phone, but for many, many, many people, in many, many, many countries, this is a far far better phone than what they ever thought they would be able to get.
That is who this phone is meant for.

Nokia has more to offer -
That's what I had on my mind.
And when I talk about "those people" they are the ones I talk to daily, more than enough to get the whole picture. VZW Moto X

So what's the point here?
Is the Moto G not cheap enough? Posted via Android Central App

Nope. Sent from my Galaxy S4 running SlimKat 4.4.2

I will suppose this phone is not aimed to the US where $200 is cheap enough, in latinamerica that price is still a little high for some and $100 is a very sweet spot, many people could get a very good phone for free on subsidy on a cheap plan (like $30 a month or something)

The G isn't cheap enough for the markets that this is going to target.

Beraking news: USA is not the only country in the world.

Screw the swappable shells.... how about an SD card slot or more storage? Seems like that would be preferable, assuming we didn't live in a world full of retards who only care about how sexy the phone is.

Or a world full of retards who think every phone is designed for them and don't realize there are people who don't need more storage but do need an inexpensive phone Posted from the Avengers: Age of Droid Ultra

lol! Posted via Android Central App (Moto X)

I second his notion,good sir! And anyway,if you have a problem with storage,just use a USB flash drive to help out with the lack of storage. Posted by a tuba playing,nexus 5 and 7 carrying future hacker.

'there are people who don't need more storage but do need an inexpensive phone ' Is there anyone reading this who wouldn't prefer an extra 4gb of storage or a bigger battery to a swappable shell? In an inexpensive phone, I'd hardly call that a 'must have' feature, unless you're marketing to a bunch of mouth breathers.

Its called an option. If you have the money to get an extra shell then you get one. If you don't have the money, you don't get one but you can still get a much better phone than you previously could have gotten. If they put in more storage or a bigger battery then it raises the cost of the phone and eliminates it as an option for many of the people they are targeting. and yes, those few extra dollars for a bigger battery or more storage would make a difference to a lot of people. And if you're reading this...you probably aren't the target of this phone anyway.

Well said lol Posted via Android Central App

Moto E 4.3 screen is protected with Corning Gorilla Glass and spill-resistant layer, targeting a superior durability.
Awesome specification in Low price

I ve just read that it will have micro sd support and that apparently comes from a source close to Motorola
Posted via Android Central App from my Motorola Moto G 16GB with stylish blue flip cover

I hope so... Posted via Android Central App

Does it have a front facing camera for video calls.

It's a rendering, a pretty lazy one, I think. Apparently it doesn't have any sort of sensors, so you will have to lock the screen manually when you take a call... :)

That's gonna suck ! www.droid-bug.blogspot.in

Nope there are real images of it which show no camera on the front just sensors. Posted via Android Central App from my Motorola Moto G 16GB with stylish blue flip cover

Nope its doesn't ! www.droid-bug.blogspot.in

Well looks like this is a good competitor to nokia lumia 630, only thing is this will be priced much cheaper. Posted via Android Central App

This is awesome! Especially if it's priced right. I can see a device like this being perfect for the crowd that just surfs the Internet, gets on Facebook and makes some calls. I.E. Someone like my 67 year old dad that loves his Android Tablet "Made by Nexus" (makes me laugh every time) but still wants a smart phone. If you could pick this puppy up @ Walmart for $99, man, that'd be sweet. When is the last time a cheap device had basically the most recent version of Android (that was Google certified)? Posted via Android Central App

I was thinking lumia 520. The $99 one. Posted via Android Central App

Front Facing speakers. 2000MaH battery (This is A LOT for a phone with these specs/screen size) I'm going to say that the battery on this thing might last 4-5 days with light use, 2-3 days with moderate use, and 1+ day with heavy use. Good Job Motorola. If they can get this under $150, then they really got something here.

Those front facing speakers are the microphone and earpiece... For making phone calls... Posted via Android Central App

Dam I was hoping to see a successor to the moto x not the moto g :(. Well see I guess Posted via Android Central App

The Moto X does have a successor on the way: the Moto X +1. Just Google it and see for yourself.

That Moto E really leaves nothing to the imagination, does it? *sigh* phones these days... Posted from my 1st gen Nexus 7 via Android Central App

IMO, this phone is aimed to be a gateway for the folks that still have a dumb phone... Hence the flip phone posts from Motorola Mobility's G+ page. Posted via Android Central App

The next 5 billion. Posted via Android Central App (Moto X)

Good backup/emergency phone! via my LG Optimus G Pro. Still rocking Jelly Bean(s) like President Ronald Reagan used to :-)

Looks like this phone is going to compete against the Nokia X and below. Posted via Android Central App (Moto X)

Another budget phone that seems to be on the right track. There are people out there that dont need a bunch of storage because they use the phone for what it is meant to be- a communications platform, not a gaming console/mp3 player/personal computer/etc.
Who knows, google might offer extra drive storage as well like they did with the G/X for people that have learned to use cloud storage to their advantage.
Either way, i wouldnt mind picking up one of these as an inexpensive phone for my son and maybe even my mother.

This will probably have an FM radio like the Moto G. Posted via Android Central App (Moto X)

In the market this phone was designed for it will be a really good phone at its price point. People need to keep in mind that this phone was designed for a specific market and the specs & feature set reflects that. Posted via my Nexus 10 using the totally awesome Android Central App

I like how solid it looks. Even more solid than Moto X.

What a piece of junk. It is useless, wouldn't even use it for a paper weight. If AC is going to Brazil to check that out I suggest don't wast the plane fare. Look what OnePlus One is building and selling for $350.00. That is the best deal in any Smartphone to date.

That's right. A smartphone that has a camera, can connect to the internet and handle making and receiving calls and text messages at a price point that is likely going to be around $100 is completely useless. /sarcasm Could people like you just stop commenting on articles like this? Please. This phone isn't for you, obviously. It's for markets where anything over $100 is just too expensive. It's also for people who wouldn't mind having a phone like this as a backup phone for when there's kicks it. I personally have a Moto X, I'm looking to upgrade to the Moto X+1. That said, the moment this is on sale I'll be picking up a pair. One for myself and one for a friend, so we both have a backup phone should the worst happen to our phones. (My Moto X and her Moto G, respectively.) Oh yeah, and the only piece of junk and useless thing in this post is your comment. Keep it to yourself, you do not speak for anyone else.

Served. Lol Posted via Android Central App

While you are correct,your blasting of him makes you no better than the man you ousted. Posted by a tuba playing,nexus 5 and 7 carrying future hacker.

I never claimed to be a better man. : ) But it is really annoying to see comments like that on every single post about lower priced and lower specced phones. "This phone doesn't meet my requirements. Ipso facto it sucks." That's annoying and uncalled for. And did I really blast him? Or just point out what his comment actually is? Useless and a piece of junk. Besides, I still think I'm better than him. I am able to realize that this phone isn't for everyone and am man enough to not knock it because it doesn't meet my high end needs. That alone makes me better.

If I could embed clips I'd put that one from Firefly. "Mercy is the mark of a great man. [pokes guy with scord] Guess I'm just a good man. [stabs man again] Well, I'm alright." At least I'm not bitching about a phone that doesn't meet my high end needs though and saying it's useless and a piece of junk. So I stand by my statement, still better than Tweedle Dee.

What one might consider junk another man or woman might consider a real gem. I own both a LG g2 and moto G and I consider them both capable phones. I would go so far to say that the majority of smartphone users really don't need all that processing power 1080p screens and extra fluff that you get on a high end smartphone. You clearly won't be buying the moto E but to call it junk is an insult to Motorola and their marketing strategy. It's pretty evident that Motorola is trying to get a big chunk of the world's dumbphone users out there. So far they have had a huge hit with their moto G. In the UK they came from 0 to 7% in just a few months in market share. That's pretty impressive if you ask me. They are now building up their brand as a great smartphone maker in the lower tier. People will buy their phones like hotcakes. Posted via Android Central App on my LG G2

"What a piece of junk. It is useless"
I'm guessing you're referring to your comment and I would have to agree with you

You obviously didn't even read the first couple of lines of this post then. The event is in London, where we often go for events (all British people live in London, right?). Comparing this to the OnePlus One is simply ridiculous.

You mean London isn't in Brazil?!? Posted via Android Central App

Awwwwww Posted via Android Central App

Before smartphone time, Motorola had a phone called E1 ROKR if I'm not mistaken. It focused on sound performance (speaker + music player). Will this phone focus on that area as well? Posted via Android Central App on Nexus 4

Its kinda weird. Cheap phone in low 200 can have waterproofing and dual speakers. But flagships cant. How about they make moto g with dual speakers and give it sd card slot. Add 29 bucks to the price and ill buy it. Posted via Android Central App

+1 Posted via Android Central App

I just contacted Motorola, and I tricked the representative there into confirming that the Moto E will be announced on May 13! Posted from my Nexus 10

It looks like it has no flash on the back. This will be a very budget friendly phone with no bells and certainly no whistles. Still waiting on the Moto G successor... Posted via Android Central App

That's one fugly phone... Posted via Android Central App

4gb is pitiful even if it budget a device, I don't think budget conscious means you don't want to install apps and games. Memory literally is cheap so to go as low as 4gb which only 2 maybe 2.5gb will be usable you better plan on not Installing much apps and games(apps and games are considerably bigger than they use to be too. Some are easily couple of hundred mbs). Since when did budget phone mean barely any storage. Even phones being targeted at us whixh cost like £500 plus we get low storage like 16gb or if your lucky maybe 32gb as a base model. If budget means 4gb then a flagship should be 64gb. These budget phones imo always get ruined by low storage.
Posted via Android Central App on nexus 7 (2nd gen)

You are missing the target audience of this device by a very large margin. We (Android Central's community) are a very diverse group, but not everyone here is looking for top of the line specs. This device (if priced well) will have a huge impact on the smartphone market. This is why I love Motorola right now (biased opinion).

On the moto g 8gb, only 5.5gb are left available...with 4gb is already a miracle if they can leave 1gb free... Posted via Android Central App

What about 6mm thick? Haha Posted via Android Central App

It should run 4.4.3 if im correct Posted via Android Central App

Micro SD is included Posted via Android Central App

I like it, but why can't it have an LED flash..... Posted via Android Central App
Android Central Newsletter
Thank you for signing up to Android Central. You will receive a verification email shortly.
There was a problem. Please refresh the page and try again.