More evidence that the next Nexus 10 may be ASUS-made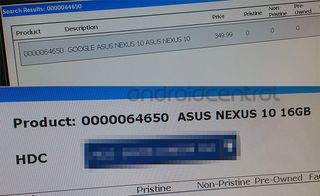 It's been a little over a month since we first caught wind that Taiwanese manufacturer ASUS might be making the next 10-inch Nexus tablet, and now a fresh flurry of retail leaks brings some corroborating evidence. Yesterday a PC World employee tweeted a screenshot showing the tablet's name in the UK chain's systems; today we've received some more details from an anonymous tipster at Currys, a UK retailer owned by the same company.
The images given to us corroborate the £349.99 price point for the device, and suggest that this could be the price for the 16GB model. (By comparison, the current 16GB Samsung Nexus 10 sells for £319 on Google Play.) It's still far from official, but the buzz around the purported tablet certainly seems to be growing. While we wait on an official announcement, hit the comments and let us know what you'd like to see in an ASUS Nexus 10.
Thanks, Anon!
Alex was with Android Central for over a decade, producing written and video content for the site, and served as global Executive Editor from 2016 to 2022.
This is terrific news :-)

Except for the 16GB part. Seriously? Are we still on 16GB? Posted via my thumb(s) and the Submit button

Not everybody needs more than 16gb, not everyone loads thier complete music collection onto their tablet, its not oike a samsung galaxy note where almist half is swallowed by OS, im pretty sure you get about 13gb free space, which for most is enough Posted via Android Central App

But if they made tablets with 64gb, then the people who need it can use it, and the people who don't use it don't have to worry about it. The cost of putting 64gb in instead of 16gb isn't all that much; storage is pretty cheap these days. Posted via Android Central App

You act as if 16gb will be the only available capacity when it goes on sale, we both know it won't be Posted via Android Central App

There is no possible way at this point that 32GB of internal memory costs a significant enough amount for a manufacturer to not make it standard in today's devices. Especially with 16GB microsd cards costing $7 plus shipping and the fact that in most cases the 32GB storage is split between 2 16GB chips.... AND being in a device this large. Posted via my thumb(s) and the Submit button

I have been impressed with all Asus products so if this does prove to be the case Yipee!

I wish they had SD card.... Then this would be a perfect phone. I understand why they don't have a removable battery, but an SD card reader? Come on!

This is a tablet Posted via Android Central App

Thanks... I didn't realized that. Either way I hope they change their mind on not including an SD card slot on all Nexus devices.

You thought this was a 10 inch phone? Posted via Android Central App

i LOLed at this conversation

This entire convo is full of fail.. Posted via Android Central App

Lmao Posted via Android Central App

Nexus and micro SD card support isn't going to happen, but there are readers that can connect through micro USB. Posted via Android Central App via Moto X through Spacetime

Those card readers required the device to support USB OTG. I don't know about the current Nexus 7s / 10s, but the Nexus 4 doesn't do USB OTG. Hopefully this new Nexus 10 doesn't go in the direction of the Nexus 4.

The reason for USB OTG for tablets is for controllers like keyboard, mouse, gamepad ect. How many people want to use those things on a phone? I bet the new N10 will have USB OTG.

I read this comment as a NEXUS 7S and 10S. I knew what you meant, but thought:
"Oh no Google, don't go the way of Apple. Next we will have a cheap A$$, Nexus 7C. model"

I used to use SD cards until my Nexus 7. I got over it soon, and all for the better. SD cards are becoming an older technology that is being replaced by the cloud. Like it or not, that is how it is. Posted from the incredible new Nexus 7

Agreed. Nexus = No SD Card and I am fine with that :)

I recall that the Samsung Nexus 10 had better capacitive stylus support for some reason. Apps like LectureNotes worked better.

It's nice, but if I were Google, I would really want to keep Samsung on the Nexus train. Posted via Android Central App

I suspect that's what the Google Play editions are for.

Because Samsung made Android viable Posted via Android Central App

Not to mention the huge number of quality control issues that ASUS can't seem to get right with their Nexus line that Samsung doesn't have an issue with. In the first Nexus 7, there was a huge issue with the internal power cables detaching, now in the new Nexus 7 - there's lots of cases of terrible light bleed, multi-touch issues and the GPS bug - none of which have been wiped out across the board with an update as the problems seem to be related to components which are different depending on when/where they were produced. I myself have a new Nexus 7 - didn't have the multi touch bug, but the GPS bug was present - an update fixed mine but others haven't been so lucky. My unit does have a horrible amount of light bleed on one corner though - I just don't care enough about a $200 tablet to pursue trying to swap it out - only to get another (worse) issue from doing so.

At least Asus fixes their quality control issues. Nexus 10s with ridiculous backlight bleed and uncalibrated displays are still shipping now. Posted via Android Central App

Really?? Tell that to the Transformer owners and let's see what kind of high pitched maniacal laughter ensues.

Asus can't figure out how to use glue. First with the screens popping up on the original nexus 7 and then the sticky power button on there second attempt. They released the Nexus 7 and every tablet before with crap memory that for about six months rendered the device nearly useless before Google released a software workaround that made the device functionable again. Not to mention not doing any testing on the Transformer Prime to find out that GPS is completely useless with a metal frame. The worst was when I sent my Prime to be repaired and they sent it back to me unable to be unlocked, along with countless other users. Which the transformer prime ran slower than a kindle fire running stock roms. Asus makes nice looking products, but there tablets have all been junk.

Double post. Posted via Android Central App

Samsung may also have felt that their Note Tablets are their new direction and not the Nexus direction. Posted via Android Central App

Well Asus did a great job with the nexus 7 for 2 years in a row. I might think about picking one up if the hardware and price point match up. Sent from my HTC One

I really dont know what they can do to make the N10 better. Ive been contemplating since I saw original leak , but it already has super high resolution, good performance (esp with android updates) and terrific speakers for entertainment. Maybe they give it qi support..? But I honestly dont know what else you need in a tablet hardware wise. It checks all the boxes,at least iMO.

How about a keyboard dock like the Asus Transformer?

Qi would be nice and the S800 would boost the performance and battery life. I hope they carry over the display resolution and the front-facing speakers. A keyboard dock would be supreme, but that's not going to happen. Honestly, if they improved the battery efficiency, the N10 would be perfect.

The N10 has some well documented performance issues.

That's news to me. I've loved every moment with my Nexus 10. The screen could rotate a little faster, there could be less light leakage at the bottom bezel and the battery life could be better, but those are my only three real complaints. I don't even touch my Nexus 7 (2012) anymore except to install updates. The home screen UI lags—this isn't even debatable. I'm not going to dance around the subject, because the Nexus 7 (2012) just flat out has UI lag. I'm not thrilled with Tegra processors either, and I'd prefer Samsung continue to manufacture the Nexus 10 after reading about all the nightmares surrounding the Asus Nexus 7 (2013). Also, I recall the accusations of Asus using cheap memory in the original Nexus 7. I don't think it's necessarily Asus' fault considering the selling price, but better safe than sorry.

As a former Asus Transformer Prime TFT201 owner, this decision makes KEEPING my current Nexus 10 an easy one. Asus is absolute, unabashed garbage. They use cheap screens (hello LCD mura that forms randomly after months of use), CHEAP memory (hello constant lags, freezes, and slowdowns), and offer terrible customer support. I'm staying away. Thanks for making this an easy decision for me, Google.

Yeah... it's not like the Nexus 7 exists. Posted from my pure Google Nexus 4 using the AC app.

No see he's had one bad experience so he's definitely qualified to call the company, and all future products garbage. Makes total sense.

If you took the time to look at feedback from a large sample size of owners of Asus products, you'd see that Asus consistently puts out garbage hardware and doesn't support it. Take a look over on XDA if you really care about it. They're a shady company that somehow has gotten a better reputation among the uninformed masses than they deserve.

No, see, he's just not an Asus fanboy, he's just spent hard earned lettuce on a crappy, falsely advertised piece of Transformer junk that Asus absolutely took a dump on. Well documented nightmares with Asus tablet hardware AND nonexistent CS are available, if one only cares to look.

Exactly. I can tell you also made the mistake of buying a Transformer in the past. I probably spent close to $1,000 for the 64 GB TF201 and a bunch of accessories when it first came out and before I knew I was being bamboozled. GPS literally did not work at all. Asus "fixed" this by removing it as a listed feature from the box. After enough backlash, they eventually sent out a gigantic, awful GPS adapter that didn't let you charge the tablet while using GPS, because, you know, using GPS and having the screen on while using it doesn't quickly drain your battery. There was a class action lawsuit and settlement over the GPS fiasco. WiFi also was absolutely terrible because of the aluminum back. It didn't work if you were more than about 2 feet away from your access point. But who needs WiFi on a tablet, right? They used cheap memory to save a few bucks, which caused massive lags and freezing. They also used a cheap LCD that resulted in many people suffering from LCD mura, which are defects that can show up after not being present for months. And after finally accepting some responsibility for the mura, and making me pay for shipping for an RMA, the idiots took their sweet time getting my tablet back to me, and when they finally did, they sent me a 32GB model to replace my 64GB model. Absolute incompetence. I got to repeat the whole RMA process again and was without my tablet for months. So yeah, Asus sucks.

If it would come with a transformer style keyboard dock then I would chuck my money at them.

I love my Nexus 10, but a keyboard dock would be awesome! Asus has some good experience with that, although they didn't bring it out for the original Nexus 7. I just hope the screen and speaker quality don't take a step back. Samsung really did a good job in those departments!

I think the main reason they did not release any accesories was because of poor sales. Probably because of the poor UI. It was obviously meant to have many different attachments/covers/keyboards, with the removable section of the back. And the pogo pins on the bottom that were only used by a cable sold on ebay.

I own a Nexus 10 right now. Should I sell it and wait? Is it really a good move to switch or should I wait another year to take v3?

That SKU makes no sense, 064 is audio not tablets... Posted via Android Central App

I'm so satisfied with my N10, I see no reason to get the new one this year. Maybe next year. I have a Bluetooth keyboard case that works perfect if I need a physical keyboard. Just in the last couple months a few 10 inch tablets have appeared that finally match its screen resolution. I ordered my N10 on launch day and believe it was my best tech purchase of the last 12 months.... Well, the Chromecast is right up there too! I just hope Google takes a true step forward with the new N10 like they did with the N7. I'm waiting for a Motorola Nexus Tablet! Hope that's what happens in 2014! Posted via my Nexus 10 using the totally awesome Android Central App

Thank you good sir. You made me decide on the fate of my N10. Bought on launch day too. Posted via Android Central App

Moto's track record with tablets is pretty laughable, though I will be interested to see if Google taps them to create something akin to the Moto X for the tablet space.

Xoom seemed to be well supported. From Honeycomb to 4.2? Not too shabby.

It's seemed to me the high price was the thing slowing sales of the Nexus 10. Now they go and raise it? I was hoping they would try to hit either $299 or $349 (American dollars) as a base.

With the specs the N10 had and the specs this will have that is not a reasonable request. The price wasn't holding the N10 back, the fact that there was 0 ads is what held it back. For the money the N10 was one of the best tablets you could buy.

Surprised so many people said Asus did a great job on the N7 when it's had so many quirks for two years in a row :-P
I don't remember people complaining about much about issues w/ Samsung's N10 last year...

The N10 is a great device. But it lacks accessories. That is mainly why I personally think an ASUS device would make the difference. Samsung N10
- The pogo cable is aftermarket.
- The cover came late, can't fold to a stand and it out of stock in Canada since god knows when.
- The dock is nowhere to be seen except in a xmas commercial. It was the same thing for the GNex. - Nothing for pogo connectors.
- Dock was early discontinued and was priced $90 ...

Agreed but Asus is not that much better.
Sure, they released the cover early but idiots forgot to add the magnet to it!!!!
The cover for 2012 was very cheaply made.

I feel you on the dock, but why do you need an offical Samsung case for the Nexus 10? I have a case from i-Blason that's fantastic! http://www.amazon.com/gp/product/B009RZPH1G/ref=oh_details_o01_s00_i00?i...

I hope they will have a much better quality control on Nexus 10. 2013 Nexus 7 is plagued with touch screen issues. I finally found a working one after 4 returns but I hear some still have issues.

I have the ASUS Nexus 7, and I just bought an ASUS laptop (coming from an HP), they are now my trusted brand I feel the most comfortable buying from. No issues with anything. Seems to be a quality build for every product and no bloatware crap. Yes I know the Nexus don't have bloatware but their laptop only had minimal extra programs that can be easily uninstalled, but haven't been cause they're useful to me. Really impressed, although I don't need a Nexus 10 as I have the Nexus 7 and hope to get the new Nexus 5 in the future, in will recommend it to all my friends looking for that larger device that isn't an iPad. Posted via Android Central App

Pass - think I'm going to end up going with the Note 10.1 this next generation. I'll have a look at the Tegra 4 Note - but the low resolution isn't going to win them any favors with me. I'm at the point that I want this ability in my tablet - to take handwritten notes - and it's just not possible without the specific hardware in the Note line (to this point)

If that's the case I need to go buy a Samsung Nexus 10. I was waiting hoping the new Nexus 10 was going to be Samsung. I have two OG Nexus 7's that were steaming piles of quality control-less crap, and I've had a TF300T that was a collection of great parts connected by a bus from a 386 PC. I'm over ASUS...

Let's hope there's one with 3G/4G!

unless they release a 64GB version, the lack of micro SD card slot is absolutely inexcusable. a lot people are sticking with Samsung Android smartphones because Samsung defends our right to have micro SD card slots.

Oh lord... Just google the new nexus 7 and all the issues I can't trust ASUS anymore so the nexus 10 is definitely out of the question for me..

I've had the new Nexus 7 since launch day and not had a single problem other than the OTG bug but that is android 4.3 not the device. I even managed to solve that problem! The 7 inch format is ideal for me and I found my old 10 inch zoom 2 too big for practical use. I also owned the original nexus 7 but couldn't pass on that 1920 x 1080 screen. Posted via Android Central App
Android Central Newsletter
Get the best of Android Central in in your inbox, every day!
Thank you for signing up to Android Central. You will receive a verification email shortly.
There was a problem. Please refresh the page and try again.