Mophie announces new battery cases for the Galaxy Note 8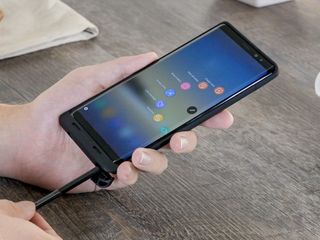 Samsung knocked most things out of the park with this year's Note 8, but one aspect of the phone that left some users feeling a bit cheated out is with its battery. The 3,300 mAh unit isn't technically small and offers enough juice for most folks, but compared to the Galaxy S8+ and last year's Note 7, it does leave a bit to be desired.
Thankfully, mophie is coming to the rescue as it just announced its juice pack and charge force case for the Galaxy Note 8.
Starting first with the juice pack, this is the more expensive of the two cases with a price tag of $99.95. The juice pack comes equipped with a built-in 2,950 mAh battery, and mophie says that this should provide over 36 hours of additional talk time. Mophie added wireless charging to the case so you can continue to wirelessly charge your Note 8 just like you would if it didn't have a case on, and it features secure magnetic positioning for use with mophie's charge force stations.
Mophie juice pack (left), charge force case (right)
As for the charge force case, this features a much more affordable price of $49.95 with the exception of not having a built-in battery. This makes the case much slimmer than the juice pack, and it still offers passthrough wireless charging and compatibility with all of mophie's charge force accessories – including the powerstation mini, desk mount, and others.
Both cases are available to order from mophie's website starting today, but at the time of publishing the article, the juice pack is already out of stock.
Joe Maring was a Senior Editor for Android Central between 2017 and 2021. You can reach him on Twitter at @JoeMaring1.
Hell I just bought a 10,000mah battery case from ZEROLEMON

Rate it your Zerolemon case
out of stars what should you give it?

Thatta boy ... Smart move.

Too big. I need Samsung to bring back the Qi backpack battery case. That was the best in that it was a good design that didn't add any length to the phone with my s7edge.

My thoughts exactly. I'm into bigger phones and have 0 issues with the size of the Note 8, but adding the either case turns it into a brick. If battery life is that important and quick charge isn't sufficient at the office or in the car, I'd suggest people look elsewhere. My Pixel 2 XL isn't for everyone, and we all know its shortcomings, but it'll get most people through the day, even with moderate to heavy use.

I just tie an actual brick to my phone for extended battery aesthetic effect.

I bought the SGS8+ charge force case ~6 months ago to keep wireless charging and optimistically hoping Mophie would switch their powerstation mini to USB-C (refuse to buy a micro-USB one) - they still haven't. More people should write them requesting it; i've seen a handful of questions/comments on their site but apparently it hasn't been enough yet.

Samsung 5100 fast charger has been a good fit for me.
Android Central Newsletter
Get the best of Android Central in in your inbox, every day!
Thank you for signing up to Android Central. You will receive a verification email shortly.
There was a problem. Please refresh the page and try again.