Mint Mobile is introducing higher data plans (and higher prices)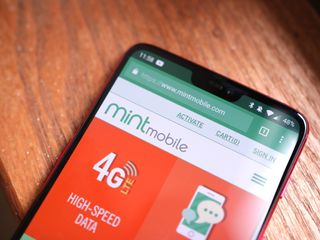 (Image credit: Android Central)
One of the things that makes Mint Mobile stand out against the competition is its unique pricing structure; instead of paying for one month of service at a time, you buy months in bulk. Each plan comes with unlimited talk, text, and 2G data, and you simply select your 4G data allotment and bulk amount — three, six, or twelve months at once — and pay a lump sum that's sometimes even cheaper than a single month with a major carrier.
Starting January 29th, Mint will be refreshing its plans with higher data allotments and slightly higher pricing. Mint's baseline three-month plan, which previously netted you 2GB of LTE each month for $23/mo, is being bumped up to $25/mo with 3GB, while the 5GB plan is going from $30/mo to $35/mo with 8GB. The top-end 10GB plan is moving from $38/mo to $45/mo with a whopping 12GB of LTE data. Presumably, Mint's lower introductory rates for first-time customers will stay the same.
The six-month plans are also increasing a bit in both price and data provisions. The previous $18/mo 2GB plan is now $20/mo for 3GB. $24/mo for 5GB becomes $25/mo for 8GB, and $30/mo for 10GB becomes $35/mo for 12GB. If you're buying your service a year at a time, the prices actually aren't changing at all — you'll get the higher data allotments for the same $15/mo, $20/mo, and $25/mo bundles.
The good news is that if you already have Mint service, you'll be grandfathered into the current pricing and still get the new, higher data allowances. That also applies to new customers that sign up before the changeover on the 29th — meaning this is a great time to sign up for Mint (opens in new tab) if you've been considering it. So long as there's solid T-Mobile coverage in your area, it's a great option to save you a ton on phone service.
Read more: Mint Mobile review: Cheaper, better prepaid cellular plans
Hayato was a product reviewer and video editor for Android Central.
Love Mint, been using them since launch and great prices. The only bad thing is the best prices are the annual ones and you have to pay entire amount upfront but if you can do so, that's the way to go.

In my particular situation, i am paying $30/ line on my new Verizon plan unlimited with ten los. Verizon and other carriers have promotions if you are willing to stick around for 2 years vs the one year for mint. So looking at the cost of service plus phone, i am paying $895 for Verizon for unlimited data plus the iPhone XR over two years. For 12gb on the yearly plan on mint plus iPhone XR, i would be paying $1350 over two years. Mine certainly might be a minority situation but the point is don't expect prepaid to be cheaper than post paid in every situation. Do the math and determine what works best for you.

And don't forget that with Mint, you won't be given priority when LTE becomes congested. T-mobile post-paid customers will get priority and you'll be left with slow, nearly non-existent data connection. I signed up with Mint when they first started and sure enough I encountered this problem. Also, LTE on Mint isn't as fast as you'd get on T-mobile as a post-paid customer. So basically you're paying up front for sub-standard service.

I've been using mint for close to 6 months and bought the 1 year 10GB monthly plan and it's great. Can't beat $25/month especially if you're not needing unlimited. Speeds haven't changed/fluctuated compared to my previous T mobile service. Can't be mad about getting an extra 2GB per month!
Android Central Newsletter
Get the best of Android Central in in your inbox, every day!
Thank you for signing up to Android Central. You will receive a verification email shortly.
There was a problem. Please refresh the page and try again.