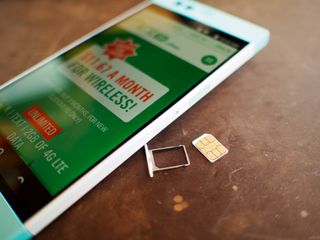 (Image credit: Android Central)
We know that our readers are pretty savvy folks, and want the best deal for mobile data they can find. Mint Mobile, which you've seen mentioned a lot on the site in recent months, is an alternative carrier that promises great LTE speeds and coverage for less than any other carrier.
But people were skeptical — what's the catch? Why is it so cheap? And are there any downsides? We decided to let the AC community decide for itself. Four forum members, some of whom were provided Mint Mobile service in exchange for moderating the forum (but were not influenced for a review in any way) had this to say.
On setting it up
All four reviewers had a very easy time setting up Mint Mobile because it is essentially "plug and play." You get a SIM kit in the mail, which takes a couple of days, and go to the company's web page to activate the SIM card. Here's what DecAway had to say:
The others noted that the APN — the address that allows the SIM to connect to the Mint Mobile network — should automatically work, but on some phones, it may need to be entered manually. That's easy enough since instructions are in the Getting Started guide. dpham00 said this:
How to set up the APN on your phone
On performance
Here's where things get interesting. All four reviewers agreed that performance was good, not great and that it varied wildly depending on the time of day and the location. dpham00 said that his experience was inconsistent:
He notes that, indeed, because Mint Mobile is an MVNO — an alternative carrier — it must piggyback off a larger network, which in this case is T-Mobile. While it's unlikely that T-Mobile is actively deprioritizing Mint Mobile traffic, it not be privy to the network's fastest speeds, especially during times of congestion.
DecAway had a similar experience, but found that performance was mainly very good, and quite reliable:
Update: DecAway returned to his Mint Mobile service four months later and noted that it's still quite good. "For the most part, the service has been reliable, and efficient – especially for the price." He noted that it appears reliability and speed had increased, and that it was "generally just more efficient ... the difference is appreciated and I am definitely happier with the service than I was in the beginning."
Those are pretty good speeds. VDub2174 had a similarly good experience, but remarked on the excellent Mint Mobile coverage:
He also enjoyed access to Wi-Fi Calling, which is a hallmark T-Mobile feature that made the jump to its MVNO partners.
User Golfdriver97 also enjoyed the wide coverage provided by T-Mobile's network, saying he didn't have a problem with speed or network availability anywhere he went.
On value
All four reviewers noted that Mint Mobile, even with its sometimes-spotty LTE data speeds, is a good deal. From dpham00:
Golfdriver97 agrees:
That's another sentiment shared by all reviewers: Mint Mobile is alright as a primary number — VDub2174 said his number was recycled and received a lot of spam calls — but better as a secondary number primarily for data usage. While Mint Mobile doesn't support tethering, it's a good way to watch media on the go for less money. VDub2174 sums it up nicely:
DecAway said that Mint Mobile is great for most situations:
In his four-months-later follow-up, he noted that Mint Mobile, despite having increased its prices a little, is still great value for the money. "The prices have shimmied up a little bit from their initial offering, but they are still lower than the competition."
His conclusion speaks for itself:
So there you go. Mint Mobile is a great choice for people who don't need a lot of add-ons, and can deal with a few occasional slowdowns when it comes to cheap wireless data service.
Head to our dedicated Mint Mobile forums to ask questions and get more information!
Update, September 6, 2017: This article has been updated to reflect new information from a four-month-later review update.
Sign up for Black Friday email alerts!
Get the hottest deals available in your inbox plus news, reviews, opinion, analysis and more from the Android Central team.