Microsoft launches remote desktop Android app to coincide with Windows 8.1 release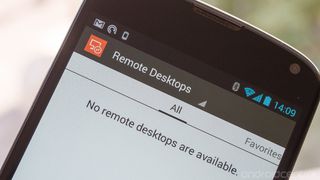 Microsoft released Windows 8.1 today, and to coincide with the launch it has released a first-party remote desktop app on Android (and iOS). Just like many other third-party remote desktop offerings, Microsoft Remote Desktop lets you connect to a remote PC from your phone or tablet anywhere you have an internet connection.
The app offers a solid set of features, including multi-touch and gesture support, giving a better way to interact with touch-enabled devices when viewing Windows 8 desktops. Additionally, the app provides a secure connection using Network Layer Authentication. Microsoft claims that video and sound streaming from remote devices are improved by compression as well.
The app itself is pretty basic but follows Google design guidelines, with a simple interface to choose between your remote desktops, remote resources, gateways, certificates and trusted hosts. The app is free in Google Play from the source link above.
Andrew was an Executive Editor, U.S. at Android Central between 2012 and 2020.
That's really good of them to do that, hope it has some decent functionality though Posted via Android Central App

this will only work with windows 8.1?

I think with 7 too Posted via Android Central App

It's been confirmed working with Windows 7 as well.

Nice one for the confirm was wondering, I'll DL and give it a try then! Posted via Android Central App

I think it has to be windows 8 pro

Yes. This will not work on a home edition OS. Windows Server, XP Pro, Win 7 Pro and up, Win 8 Pro, etc.

It seem great ,i downloaded it and using it now Posted via Android Central App

I'm very happy that Microsoft is bringing good software to Android. I'm a loyal Google user, my Chromebook is my favorite laptop, but I have to use Windows and Office for work and school and have a high end windows gaming laptop. It is nice to have more and more cross platform services. Plus having another big player developing cross platform apps that run on Android will only push Google to make their apps better. Posted via Android Central App

Now if only Google would extend the same courtesy to MS. Win8 / WP users like YouTube and GMaps too you know!

My thoughts exactly. I would love to have a YouTube gmail and Google+ apps on windows. Posted via Android Central App

Agreed. Its unfair that they don't do this already. They shouldn't be scared of windows8/windows phone 8 especially since they own the market Posted inside a time machine 30 years in the future

Just open a browser to use Google's programs.
I was using these programs on my PC before Google even bought Android.

"...a solid set of features" none of the important ones. How ridiculous of an oversight was it for Microsoft to not include a resolution setting? It blows my mind, it really does. Yes, Microsoft, I really did want to view my desktop at 1080p ... on my phone. On top of that, there's effectively zero quality settings, thus ensuring your experience on the go is terrible (because, you know, it's not like that's where you'll be using it 90% of the time). I was really hoping Microsoft was going to release a first-class application for RDP, but until they get their crap together, I'll stick to Jump Desktop.

Don't forget, no right click.

Long press to right click

First version of a free app, chillax. We can only hope MS sees fit to improve it.

Thank you. Someone here actually has brains to understand that the first release of a FREE product doesn't mean things won't change. Relax people. Posted by the man who makes things happen...

I need 100k, make it happen ----------------------------------------------------
My S-Pen went through hell to deliver this important message to you

No program is free. Do you work for free?

For those that need a little help trying this out, this is instructions for Windows 8/8.1 Pro. 1. On your metro start screen type in "Remote Access". Press enter on the tab that says "Allow Remote Access to your Computer". In that menu tick "Allow remote connections to this computer". Then click select users and make sure your email is listed there. Now open your command line and type "ipconfig" look for your IPv4 address. It'll probably something like 192.168.x or. Goto your app, enter a name, enter in the computers IP address and for your login credentials enter in your email address you use to login and your password. Should establish a connection immediately. Sorry if I missed anything, figured someone could benefit from this!

i'm pretty sure that Windows 8 won't work. you need Windows 8 PRO. someone please correct me if i'm wrong.

Look above. You've ready been corrected Posted via Android Central App

Only Pro can be remote access server. Normal Windows 8 can not if you have that installed. They both however come with the ability to remote into other servers.

I can connect within my wifi network with instructions D3lusi0n4L posted but switch and try using 4G on my android I'm pulling my hair out with why i cant seem to enter the right settings.

Well presumably you have to get through your router/firewall from the outside, and that involves opening a port on your router/firewall, and mapping connections from that port to your 8.1 machine's IP address. This, by the way is not a wise thing to do. RDP is not all that robust as far as security is concerned, and opening an internet port directly to RDP is not recommended. It also provides a direct path to your machine for hackers to fuzz that port. If you want to do this, set up a vpn on your android device to your broadband router.

Dammit D3luSi0n4L, I tried this very thing 10 times last night after My Surface Pro upgraded to 8.1 last night and it wouldn't work. But following your steps (which was essentially what I was doing, or so I thought) and it worked right out of the gate. Mostly I use my Pro for software testing for my Day Job, and traveling, and therefore had never discovered your trick of simply start typing on the Metro to do a search. Maybe that was my problem, digging through control panels to find the same place. ;-)

This is where MS keeps failing. Great idea, but usability sucks. With splashtop I take a picture of a QR code and walaa...connected and ready to go. I'm no IT expert but do consider myself a power user and I can't get the freaking thing running. MS is failing at this. That said, a little step by step from AA would be appreciated :)

I also can't get mine working. All of my credentials are good, yet the connection fails every time. Win8.1 Pro.

For whatever reason I can't either when I use my Live ID. I just created a local account and that worked. If you create a local account you'll need to explicitly allow it access in the remote desktop settings on the computer or add the local account to the local administrators group on that computer. Good luck!

I am having issues too. The steps and crap you have to go through is ridiculous. They are on the same WiFi network. It should be easily discoverable and then just ask for a password. Instead you have to hunt down an IP address, configure your firewall, change some confusing settings and then it still doesn't work.

Cool just connected to my terminal server via a gateway on the SBS 2011, all very quick and easy. :) especially for a free app! Posted via Android Central App

Just tried it on my Note II to access my PC at work. Works great so far. Thanks, Microsoft!

8.1 is solid. This app is a good start. Sent from my Motorola side view pager 4-5683-968

It is about time MS released an official RDP client. I paid a ton for two other clients, but this free one works way better. Used it with Win2008R2 this evening with my VPN. Nice work MS, thank you for supporting Android apps. Posted via Android Central App

They blocked the Android back button from the 'New Connection' screen. Naughty... Posted via Android Central App

Not working on SG4, just crashes when hitting the + button to add a desktop, anyone else have this issue? Posted via Android Central App

Windows 7 Pro AND Windows XP Pro working for me! At home, on Wi-Fi, from GS3.

Windows 8.1 Facebook app got it's placement in Windows app Store check this out guys for more info visit Techyclick

If cisco would release a vpn client that is compatible with Chrome OS. Then I could vpn in to work and use this to RDP into my pc. Then I would have a light weight laptop to use for on-call. :)

I am very glad to see MS doing this. I think they could help themselves out a lot by integrating better with Android & iOS devices.
I ditched my laptop a couple of years ago in favor of an ASUS Transformer. I find using an Android tablet with keyboard and mouse with a good remote control app gives me an excellent Windows experience. The desktop has all of the horsepower I need, and the tablet runs for hours and hours on a battery.
That said, there are a lot of good RDP and other remote apps already, so MS has some competition. None of them do it all perfectly though. I switch between a couple of remote apps, depending on what I'm doing.
Android Central Newsletter
Thank you for signing up to Android Central. You will receive a verification email shortly.
There was a problem. Please refresh the page and try again.