MetroPCS offers two lines with unlimited talk, text and 6GB of 4G data for $60 a month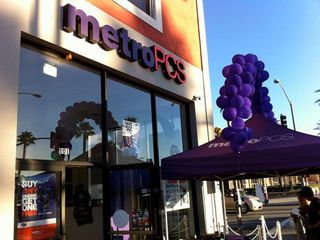 T-Mobile's no-contract carrier subsidiary MetroPCS has launched a new promotional offer. This one gives customers two lines, each with unlimited talk, text and data and 6GB of 4G speeds, for a total of $60 a month.
T-Mobile says (opens in new tab):
The promotional deal begins today for a "limited time" but a specific end date was not announced.
Same deal as tmo Posted via the Android Central App

Fair point, but it sounds nice though.

What? T-Mobile's deal was $80/mo right? I just put it on. Where/how can I get it for $60?

Where is TMo with 2 lines for $60.... Only way is 2 lines for $80, and if you managed the 4 lines with 10GB each, that is still $70 for 2 lines.. better value if you can get 2 extra people over Metro's.

One difference being is if you watch alot of video, this does not 0 rate video like tmobile. Just optimizes it.

TMobile has a limited time offer for 80/month for two lines.

I take it, that it excludes byod devices... Posted via the Android Central App

I don't think so, never had any problem with byod when dealing with metropcs, other than having to call in to change the imei on their systems.

Try getting the $30 plan with byod, they won't allow it. You have to start at $40 and up if you want to byod.

Interesting, to be honest, I only have have experience using the $60 unlimited plan on metropcs and I exclusively used byod devices on metropcs. I have never used any of metropcs's devices. they have a pretty lackluster phone inventory. unless you just want the latest Samsung S device. But I did look at the terms on metropcs's website (because I'm kind of interested myself) and I didn't see any mention of having to use a metropcs device.

Why am I seing this stuff on AC Canadian Edition?

Same reason I see news about Rogers and Bell in the States I imagine Posted via the Android Central App

Do you agree that it should be precisely the purpose of those filters or not?

I don't see the point in the filter but if it exists I assume that would be its purpose, however you do get what you pay for. I'm personally just glad to have a place to keep informed and discuss with people.

This is similar to the Wal Mart Family Mobile plan I've had for 3 years now. Same price. But, can anybody verify the truthfulness of the rumor that regular T-Mobile customers get first crack at signals and data, and others who use their network (like Wal Mart and Metro PCS) get secondary? Posted via the Android Central App

That is true it's in metros terms & conditions Posted via the Android Central App

I use a Tmobile mvno, I don't have any problems.

It's just 4g (no lte)? Posted via the Android Central App

4G=LTE Blackberry Priv
Nvidia Shield "Portable"
Sony Xperia Z3 Tablet Compact

"Requires at least one port-in of existing number not currently activated on the T-Mobile network" So in other words if you're already on T-Mobile network you can't get this deal. Also, it's only available in stores. The two other negatives as compared to T-Mobile's 2 lines for $80 is that you do not get binge on just data optimizer and you do not get data stash. Too bad.

Gosh, that's not a very good price :| Blackberry Priv
Nvidia Shield "Portable"
Sony Xperia Z3 Tablet Compact
Android Central Newsletter
Get the best of Android Central in in your inbox, every day!
Thank you for signing up to Android Central. You will receive a verification email shortly.
There was a problem. Please refresh the page and try again.