The Meizu Zero is the world's first phone without a charging port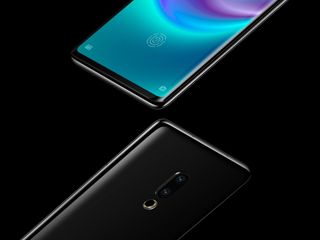 Chinese smartphone brand Meizu releases a lot of phones throughout the year that often go unnoticed by consumers in the West, but with the release of the new Meizu Zero, people all around the globe are taking note of the new device. Why? It's the world's first entirely holeless phone.
When Meizu calls the Zero "holeless", it really means it. The Meizu Zero doesn't have a SIM card slot, physical buttons, a speaker grill, or even a charging port. Instead, it's just a sleek, uninterrupted slab of metal and glass that looks downright fantastic.
A holeless phone has to do things differently in order to make up for its missing buttons/ports, and that's something Meizu has thought a lot about. Since there's no port for charging or data transfer, the Meizu Zero features Meizu's patented Super mCharge Wireless technology that delivers wireless charging speeds up to 18W. Additionally, the Wireless USB feature "exceeds the limit of transmission speed."
In the absence of a speaker grill, the Meizu Zero uses mSound 2.0 to blast audio out from the 5.99-inch AMOLED display. In addition to the display doubling as the Meizu Zero's external speaker, it's also housing an in-display fingerprint sensor. The physical buttons have been replaced by a "Virtual Side Button" that uses the mEngine 2.0 haptic feedback to mimic the feel of an actual power/lock button and volume rocker, and with no physical SIM card slot anywhere, the Meizu Zero relies on eSIM technologies.
The Meizu Zero will only be sold in China, but as of right now, it's unclear when the phone will actually come to market or how much it's going to cost.
Would you use a holeless phone? Let us know in the comments below!
Joe Maring was a Senior Editor for Android Central between 2017 and 2021. You can reach him on Twitter at @JoeMaring1.
This best be water resistant.

It's probably mWaterResistant.

And what about the microphone and earpiece? Do you just listen and talk to the display?

There is a hole for the microphone and the sounds resonate through the glass. Yes it is waterproof. And yes, I find this interesting enough to research it and be on top of the latest news about it. This is the kind of advancements that need to happen in the phone industry, not the notch type silliness that has been going on.

I disagree that this is an advancement. If anyone lends any weight to the fact that not having a headphone jack is bad, then I think that this is just as bad. Getting this thing into recovery mode will be quite difficult.

Interesting but I'm guessing this uses eSim?

Read?!
Reeeead?! *souljah boy tone*

The article doesn't say whether it uses e-sim... only that it does not have a SIM slot... technically... it could just be a 6' wi-fi tablet....

Somehow I skimmed too fast and missed that. Well, thanks for that.

I wonder what you're supposed to do if the phone becomes unresponsive and needs a reboot. Throw it up against a brick wall maybe. Thats always helpful.

That happens on Android 7.0+? I haven't seen it happen on my V40 and I'm currently at 26 days of uptime. Haven't seen it on my V30 either.

I've had apps cause my phone to freeze on Android 8.0. I could probably wait or wait for my battery to die, but I don't want burn-in on my OLED.

I'm sure there is a way to use the wireless charger and the screen to put it into recovery. I remember using a 9 volt battery and a piece of wire to jump start my HTC Wizard. There is always a way to do it or just take Apple's approach and buy a new phone:)

Fast wireless charging sounds nice but not the data transfer. If you want to offload any files you'll have to have the pad with you at all times. You could use a cloud service to upload the files to and download them to the target computer, but plugging in a cable would take seconds instead of hours to transfer videos of a concert or your kid's performance. The only way wireless data transfer could work is if computers, external drives, and phones adopt a standard method and it's a standard feature in those devices. We will get to a point where no charge port or buttons is the standard, but now is not that time.

I do agree that wired transfers are still usually the quickest, but there are also ways to transfer files over local wifi networks.

Yeah I don't think this will catch on.

This seems like a good idea if the battery life is excellent. I don't want to have to start carrying a wireless charger around with me everywhere.

Interesting concept. I really like it. It may not be everyone's cup of tea or totally practical but it is a bit of innovation and it's nice to see that from the Chinese instead of just trying to copy Apple.

Yes, it is an interesting concept, even if it's just an exercise. The mic requires a tiny hole, and you can see it in the picture of the edge. Kind of necessary because using the screen as a mic would sound awful. Funny that AC is not throwing up a red flag about using digital buttons like HTC. Interestingly, after we bought the iPhone XS Max last week and were underwhelmed, I bought the U12 Plus and it arrived yesterday. The digital buttons worked fine out of the box before any updates, and the whole phone is turning out to be a beast.

Wireless Android Auto would have to be a reality before I considered this. It's actually the only thing I currently use my port for as it is, but I use it daily.

I love the concept, and kudos to them for going with it.
Unfortunately it's too ahead of its time for us now, we are still reliant on holes and plugs.
Maybe when apple "invent" it next year, then it will gain traction and be the new standard.

This seems like crappy user experience to me. I use my physical volume buttons without looking at the phone all the time. How do you turn on the phone in the dark when you can't even feel what side is up? Also: eSIM are a bad idea on watches and an equally bad idea on phones.

but if it doesn't have holes... where is my 9 month old going to successfully inject enough saliva to kill it???`

They should add this as a feature!!! Baby saliva proof! 🤣

I know your pain all too well! I'm thinking of investing in a JCB phone next!
Android Central Newsletter
Thank you for signing up to Android Central. You will receive a verification email shortly.
There was a problem. Please refresh the page and try again.