Honor View 20 review: Hole-in-one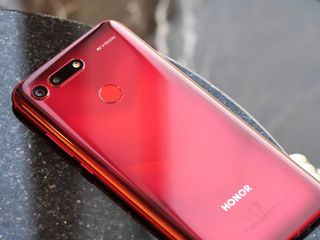 As good as the Honor View 10 was, it was not what you'd call an exciting phone. The year-old handset was a run-of-the-mill 18:9 slab, just as that design was starting to seem pedestrian. The fingerprint scanner took up front-facing real estate and looked dated. And the dual camera array was nothing special. Although great value for money at $499 in the U.S., it felt like a no-frills handset.
In these most crucial areas, the Honor View 20 feels like an enormous upgrade. It's still an "affordable flagship" -- a OnePlus competitor, if you will. But a lustrous new glass design, futuristic hole-punch display and legitimately great 48-megapixel camera make for a much more exciting product.
Pros:
Gorgeous design
Expansive display
Fast performance, generous specs
Dependable battery life
48MP camera is legit
Headphone jack!
Cons:
'Magic UI' is basically EMUI with changed colors
No water resistance
Mushy haptic motor
No clear U.S. release plans
About this review
We're publishing this review after just over two weeks with a global Honor View 20 (PCT-L29) with 8GB of RAM and 256GB of storage in the "phantom red" color. The phone has been used primarily in Las Vegas, Nevada while roaming on AT&T and in Taipei, Taiwan in a dual SIM configuration on FarEasTone and Chunghwa Telecom. Our review device received a software update out of the box to version 9.0.1.126, based on Android 9 Pie with the January 1, 2019 Android security patch.
Legit
Honor View 20 Hardware and Design
From both the front and the back, the Honor View 20 is strikingly beautiful. Over the past year, both Honor and parent brand Huawei have figured out how to make glass-backed phones interesting again, with iridescent hues and unique laser-etched patterns. The latest iteration is the View 20's unique laser-etched V pattern, which paints the back panel in a dazzling dance of chevrons that flicker up as the phone tilts through the light.
I've been using the View 20 in "phantom red," in my view the prettiest of the three. There's also a "phantom blue" and a plain old black, which appears dull at first glance, but shows off with a rainbow effect in its V-pattern.
Honor's new, all-caps logo decorates the rear, while the top portion houses a dual-camera setup incorporating a giant 48-megapixel unit with a 3D TOF (time-of-flight) sensor and LED flash. This is also one of the few phones from a major Chinese brand to eschew an in-screen fingerprint sensor, instead opting for a traditional capacitive sensor around the back. Considering the very mixed performance of current in-screen fingerprint sensors, I'm absolutely fine with that.
Image 1 of 5
The View 20's in-hand feel is comfortable, thanks to the rounded back panel, and the chassis overall feels markedly less slippery than the OnePlus 6T. In my couple of weeks of using it, I've never feared it flying out of my hand as the 6T often threatens to do.
Around the front is where this phone really looks the most futuristic. We're going to see countless Android phones with hole-punch displays in 2019, but Honor is the first to bring this design to the West. There's no notch -- instead, the speaker grille lives in the border between the screen and the metal frame, the ambient light sensor has been moved out the top bezel, near the IR blaster, and the camera peers through a 4.5mm hole in the screen. The technological approach here is completely different to what Samsung is doing with its next-gen OLED panels -- and, Honor claims, superior.
To recap from our time with Honor's engineers in China ahead of the phone's announcement:
With the added context of two weeks with our review unit, light bleed isn't entirely nonexistent around the cut-out. There's some barely-visible shading around the hole that's only really noticeable on a solid white background, as well as down below near the bottom bezel. That's unfortunate, but not particularly bothersome.
Image 1 of 4
Trade-offs like these are required as we nudge closer and closer to the futuristic ideal of an all-display smartphone. The only part of the View 20's front panel that could reasonably be described as a bezel is the chin area; even that is only a scant few millimeters taller than the other screen borders.
The quality if the display also impresses. It's a Full HD+ panel, but the added subpixel density of an LCD versus OLED display means this isn't a huge deal. You're not missing out on much visible sharpness compared to a QHD+ OLED panel. Honor's panel provides bright, punchy colors and white balance controls in the software for manual tweaking. And the panel's max brightness made it clear enough for easy use even under the bright Nevada sun.
Audio is not afterthought either. In addition to being one of the few flagship phones to still include a headphone jack, the View 20 also packs a decent bottom-firing speaker setup. Regarding volume and bass, it's close to the front-facing speakers of the Pixel 3 XL.
On the inside, Honor takes the core specs of the Huawei Mate 20 series, with the proven Kirin 980 chipset at the heart of the phone, along with ample memory and storage, and a reassuringly hefty battery.
Honor View 20 specifications
Swipe to scroll horizontally
Category
Features
Display
6.4-inch 19.25:9 LCD (Full HD+)
Rear Cameras
48MP Sony IMX586, f/1.8 lens, 78 degree angle
3D TOF (time-of-flight) sensor
Front Camera
25MP in-screen camera
Processor
Huawei Kirin 980
RAM
6GB / 8GB
Storage
128GB / 256GB
Battery
4,000mAh, 4.5V/5A Super Charging
Software
Honor Magic UI, Android 9 Pie
Dual SIM
Yes
Headphone jack
Yes
Colors
Red, Blue, Black
Water Resistance
No IP Rating
The only major feature missing from the View 20's impressive spec list is official water resistance. There's no IP rating listed, like current OnePlus phones, however Honor says it should be sufficiently splash resistant to survive a rainy day or an unexpected drink spillage. As a point of contrast, the View 20's SIM tray doesn't include a rubber gasket like you'd find on a OnePlus 6T. It's unclear how much this affects the phone's susceptibility to water damage compared to its competitor, but it bears mentioning.
Finally, one unfortunate hardware compromise you will have to make compared to traditional expensive flagship phones relates to the View 20's haptic motor. Vibration feedback from the phone feels mushy and soft, in contrast to the sharper taps you'd get from an iPhone or a Pixel. Perhaps that's why vibration feedback for on-screen keys is disabled by default in software.
Legit
Honor View 20 Cameras
The Honor View 20 is the first phone to hit the West with Sony's new IMX 586 48-megapixel sensor. It's a major milestone in terms of sheer resolution in a smartphone camera, but the reasons to care about this camera go beyond the impressive megapixel count. The camera spits out 12-megapixel JPEGs by default, with pixel-binning used to treat four pixels on the sensor as one, thus giving a brighter, clearer image. (As well as more wiggle room for digitally zoomed shots, naturally.) Plenty of other phone cameras have used this approach over the years, most recently the Huawei P20 Pro and Mate 20 Pro.
And just like those phones, the View 20 produces consistently great-looking photos, with low-light performance that approaches the quality of the Mate 20. Honor's AI shooting mode, first seen in the Honor 10, is also onboard -- in part to impress you with its object and scene recognition.
Even with the AI disabled, I found Honor's camera had excellent dynamic range, though with highlights a little over-brightened compared to the high-end competition. On a similar note, colors were consistently a little cooler than pics from Google and Samsung's recent high-end phones. Neither is a deal-breaker, though, particularly in a much less expensive phone camera.
Many of the photo tweaks made by Honor's AI are genuinely pleasing, such as the slight saturation bump given to food pics, or the vignette effect often added to portrait shots.
Speaking of portraits, I can't say I found the View 20's depth detection features to be markedly better than its rivals, even with the much-hyped TOF sensor flanking the main camera. The TOF sensor is supposed to improve the accuracy of the depth maps that make up portrait and aperture-effect photos, however in reality the phone produced the same mixed results I've seen from countless other devices.
Image 1 of 16
The handheld long exposure mode (a.k.a. Night mode) is back too, and more closely resembles the same mode from the P20 and Mate 20 series now, as opposed to the Honor 10's less capable night capture mode. I noticed some significant differences in white balance between the Mate 20 and View 20's night modes; otherwise the two were fairly close in overall image quality.
Video quality from the View 20 has also been surprisingly great, with the inbuilt AI stabilization doing a great job of smoothing out motion from handheld pans and walking shots. (Though this does result in some motion blurring in darker indoor scenes.) Nevertheless, video from the View 20 is impressive considering the mixed results we've seen from the Mate 20 Pro in that area.
Selfie performance from the 25-megapixel camera is largely dependent on where you're taking those pics. Like many sub-flagship selfie cameras, quality degrades rapidly in darker conditions like bars and restaurants, though in these cases it's the background that appears grainer, as opposed to the subjects. The simulated flash from lighting up the display can help here -- but like any flash, this can also lead to uneven, over-brightened images. Another small gripe: Honor's camera likes to brighten and soften skin even with its inbuilt beautification settings leveled out at zero, leading to pics that look a touch unrealistic in places.
So 48MP AI mode only works in good light and takes a couple seconds to process. It's not your everyday shooting mode. But this level of detail is pretty insane. (Full image + two 1:1 crops from the #HONORView20) pic.twitter.com/xEeCytr45lSo 48MP AI mode only works in good light and takes a couple seconds to process. It's not your everyday shooting mode. But this level of detail is pretty insane. (Full image + two 1:1 crops from the #HONORView20) pic.twitter.com/xEeCytr45l— Alex Dobie (@alexdobie) January 8, 2019January 8, 2019
If you want to show off, though, you'll want to dive in the settings to activate the 48MP AI Ultra Clarity mode. This is the best way to take advantage of the sheer resolution on offer in that new Sony sensor. Similar to night mode, Ultra Clarity takes a few seconds to capture and process, but in the end you're left with a far superior image regarding sharpness.
Obviously, the longer capture and processing times will rule this out as a day-to-day shooting mode. But when you can just zoom, and zoom, and zoom for almost more detail than your eye can see, it's hard not to be impressed.
Magic UI, supernatural longevity
Honor View 20 Software and Battery Life
As the Honor line becomes more differentiated from the offerings of the Huawei mothership, Honor is rebranding its smartphone software. And so out of the box, the Honor View 20 runs version 2.0.1 of the brand's "Magic UI." (If you were wondering what happened version 1.0, cast your mind back to the original, China-only Honor Magic from early 2017.)
Right now Magic UI is pretty much just EMUI 9 with a fresh coat of paint. Going forwards, Honor says it intends for Magic UI to become more differentiated from EMUI, but didn't offer any specifics on what that means, or when to expect it. As such, many of the core traits of EMUI still apply to Magic UI: Heavy iOS design influences, aggressive background app management, a ton of features, and aesthetics that sit uneasily next to Google's Android design language.
Image 1 of 3
We've gone into much more detail in our Mate 20 Pro review on what's new in EMUI 9, so we're not going to backtrack here. But suffice it to say Magic UI isn't the prettiest Android skin, but it is fast, usable and mostly inoffensive. That said, some annoyances from EMUI hold over. For instance, I'm not a fan of Huawei's gesture navigation system, which is unchanged from the Mate 20, because it breaks slide-out navigation menus in many apps, requiring you to swipe in from the very top of the screen.
If you were concerned about the camera hole breaking compatibility in certain apps, then, fortunately, that doesn't seem to be the case. Magic UI simply shows the standard Android status bar, only with
A handful of other noteworthy software changes compared to the Mate 20 Pro's EMUI 9:
The task-switching animation when using three-button navigation (as opposed to gestures) looks way nicer than the Mate 20 Pro implementation. Instead of clipping awkwardly to the right, the most recent app smoothly animates to the right of the main carousel. This sounds like a tiny thing, but it's horribly jarring on the Mate 20.
UI scaling is more consistent on the View 20 compared to the Mate 20. On the Huawei flagship, scaling down to a smaller layout will downscale parts of the UI inconsistently.
And finally, there's a bug in the current firmware which results in the on-screen keys becoming off-center when you rotate clockwise into landscape mode. Rotating counter-clockwise or rebooting the phone fixes this; the bug should be fixed in a future firmware version.
Huawei and Honor phones have historically boasted excellent battery life, and the View 20 is no exception, with its ample 4,000mAh cell. In both trade show duties at CES 2019 and everyday use outside of the show, the View 20 ranks as one of the all-time best. I found the View 20 allowed me to easily push 7 hours of screen-on time, and never had to worry about the phone dying in less than a full day however much I threw at it. On lighter days, depending on your usage patterns, this could easily be a two-day phone.
For fast refills, the phone also supports Honor/Huawei's 4.5V/5A Super Charging standard (that's the older version that debuted on the Mate 9, not the faster 40W version from the Mate 20 Pro).
Worth the money
Honor View 20 Bottom Line
The Honor View 20 delivers just about everything you could reasonably expect from a less expensive flagship phone, while benefiting from a design with more flair than its predecessor. With its unique shimmering back panel and hole-punch display, it also offers a glimpse of the future for significantly less than the competition.
Image 1 of 3
There are a few things you still don't get in a less expensive flagship: true water resistance, wireless charging and a QHD display. But none of these are deal-breaking omissions, and it's tough to fault the overall package that Honor offers here. That's particularly true of the camera, which outperforms the OnePlus 6T and comes close to offering photos of the same quality of the Huawei Mate 20 Pro's main camera.
4.5 out of 5
It's one of the best affordable flagships you can buy, and for that reason, the Honor View 20 earns an enthusiastic thumbs-up from Android Central.
Be an expert in 5 minutes
Get the latest news from Android Central, your trusted companion in the world of Android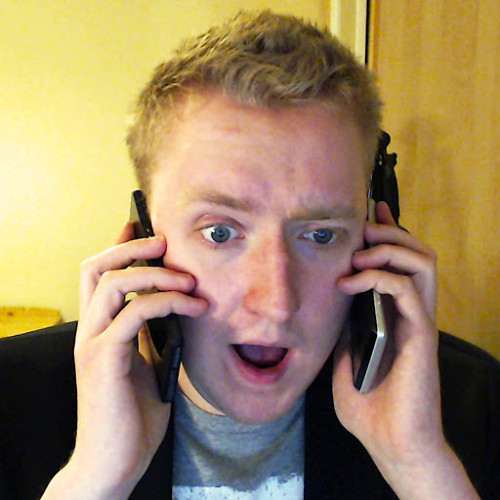 Alex was with Android Central for over a decade, producing written and video content for the site, and served as global Executive Editor from 2016 to 2022.