6 reasons to use the Samsung browser on your Galaxy S8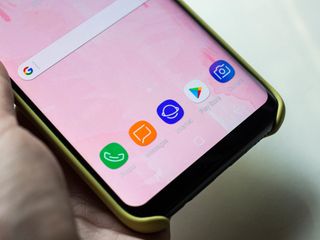 (Image credit: Android Central)
The bundled applications aren't usually our favorite part of Samsung's smartphones, but with the Galaxy S8 and S8+, the Samsung Internet (opens in new tab) browser is worth using.
It's nothing new: the browser has long been optimized specifically for use with Samsung's smartphones, which is partly why it's such a solid choice for a browser, particularly if you're glued to the Samsung ecosystem. And like Google Chrome (opens in new tab), the Samsung Internet browser is linked to your Samsung account, which unlocks a host of features you won't find in Android's default browser. Here's a look at some of those features.
No pop-ups
Obstructive pop-up advertisements have officially become a nuisance on Chrome for mobile, so it's nice to know that the Samsung Internet browser will let you enable a Pop-up blocker from inside the advanced settings panel.
You can also download an extension to rid of those follies before they even surface. Samsung's browser features a variety of content blockers, including Adblock and Adblock Fast. At the very least, they'll help rid of any rampant advertisements that may take over your mobile browsing experience.
Extensions
Samsung's browser has other extensions, too, including the Amazon Assistant, which offers product matches as you're browsing through the browser for things to purchase. There's also a QR code reader, a video assistant overlay to help with browser playback controls, and a feature called CloseBy, which offers information and recommendations based on nearby Bluetooth beacons.
It's better on DeX
The latest version of Samsung Internet features enhancements specifically for running the app on Samsung DeX. There's also a secure mobile payment feature built into the Samsung browser for DeX. According to its developer documentation (opens in new tab):
Anecdotally, I can say I was surprised at the relatively smooth experience of using the Samsung Internet browser on DeX versus using Google Chrome. Websites seemed to load faster, while multitasking mechanisms like copy and paste were easier to use with the mouse input.
It has a super Secret mode
Samsung's browser offers a Secret mode that's a bit more discrete than Google's incognito mode. Granted, Google also won't track your whereabouts on the web or log any URLs into the history, but Samsung's browser will let you password protect any webpage data you might want to save after your browsing session. The password is different from your initial login code and it can be as short as four letters.
It offers a reading mode
Like Safari on the desktop and some Chrome extensions, the Samsung browser offers a quick-convert reading mode for turning the cluttered text on webpages into legible, linear paragraphs. It takes a second to show up in the search bar and only works with certain pages, but it pairs exceptionally well with the Galaxy S8's rounded corners.
It works with Google
Just because you're using Samsung's browser doesn't mean you're opting out of what Google has to offer. You can set it as the default search engine, for instance, so that you're always querying Google.
You also don't have to stop using Chrome on the desktop. Download the Samsung Internet extension for Chrome so that your bookmarks stay synced across platforms.
Android Central Newsletter
Get instant access to breaking news, the hottest reviews, great deals and helpful tips
Florence Ion was formerly an editor and columnist at Android Central. She writes about Android-powered devices of all types and explores their usefulness in her everyday life. You can follow her on Twitter or watch her Tuesday nights on All About Android.
I side loaded the Samsung browser on my LG V20. I prefer it to Chrome.

I just did the same. What is the current version do you know?

I tried to install it, but I get an error. How would one install it?

I also prefer it over chrome :) I love the biometric login feature ;)

Yeah, I usually stay away from Samsung apps but the browser is top notch. Glad I downloaded it. Very fast.

Nice will have to try it again. The beta version and from what I know it was the only one available was super buggy. So nice to see a stable version finally out.

Samsung makes a lot of needless duplicate apps, Svoice is simply awful, Bixby is more duplication with less function and a freaking dedicated hardware button at that. With all that being said, Samsung's internet browser KICKS ASS. I've been using it since they made the beta version available for use on the Pixel's, and switched over to the regular browser version when made available last week. Very fast, good ad blocking, conveniently scaled size, nicely presented content, and then some. Very good job on this, Samsung.

Been using it instead of Chrome for over a year now. I find the Samsung browser faster, easier to get to bookmarks (bottom tab without extra clicks to get to it), uses biometrics to take care of passwords (super convenient!), And ad blocker built in is great. Highly recommend!

I've been using it for awhile and it became my main browser. It's much faster than Chrome, has extensions and ad blockers, a QR code reader, etc. I recommend at least trying it out.

How does it compare to Brave? I have been using that instead of Chrome.

I've been using Brave too mainly for the ad blocker, but it seems the benefits go beyond that (e.g. using biometrics instead of passwords). I think I'll give it a try in the next few days.

Yeah, I read that. I just switched over. I'll see how it works. Thanks,

The author missed the biggest feature, integration with Samsung Pass. This is a great feature and solves some of the login issues with apps that haven't implemented Android Imprint (US Bank for example). Samsung Pass works great with fingerprint/iris recognition and also all websites.

That's exactly why I use it

I love it, i've been using it since the BETA, now that the official one is out i already got it. My favorite features are Pop up blocker, Secret Mode (password protected), Video History, simplify bookmark, special menu to access new tab and fonts size on screen (three dots) and the best one is the little button on the bottom and middle of the screen to quickly scroll up.

My favorite feature of Chrome is syncing tabs, history, and bookmarks across every device everywhere. This is why I can't use any other browser - I rely on syncing too much.

That's exactly what I was thinking. I'll give it a try but I love being able to sync between all my devices

Download the Samsung browser extension for your chrome desktop browser. It'll keep your bookmarks synced.

I take it you didn't read the last reason why you should use it it has a Chrome extension that does all that. Please read the full post before making idiotic rebuttals to why you won't use it

No need to be rude. I don't see where it mentions tabs and history are sync'd across devices including Windows and Chromebook.

Hm. Well then. Looks like I'm giving this a whirl.

I use Samsung Browser because I can authenticate websites with biometrics.

Was it even that bad? Because I tried it with the Note 7 and I honestly thought that it was better than Chrome in a lot of ways,

that password protected secret mode is killer

I just got a S7 as a work phone and didn't pass too much time on it since I also have my own phone configured the way I like. I tried the Samsung Browser and I admit, I like it. Didn't use Chrome once so far on that phone.

Used this for the first time on my S8. Just side loaded it into my V20. Very solid browser.

All I use. I don't care about Chrome. Waste of space for me honestly.

It's also the only browser that supports S Pen hover scrolling (hover near edge of screen to scroll) on Note devices (phone or tablet). Cool little feature! :)

Which ad blocker is recommended?

Desktop bookmarks or tabs don't show up or sync for me. *nevermind, figured it out. ;)

hi, i am having trouble syncing bookmarks to samsung internet on my 6p. was wondering how you got it to work

I think the only reason I use Chrome is because it syncs all my passwords and stuff like that. I really don't care for it otherwise. It doesn't seem to run very well .

is there any way to sync passwords from Chrome? That's the main reason I don't use the Samsung browser.

It's nice, but like any other browsers I've tried, whenever I go back to the previous page, it reverts to the top of the page instead of the same spot I was before. Still sticking to Opera 25.

I've been using it on my s8 and much prefer it to Safari and Chrome.

Reader mode. Everything else is meh.

Does this Samsung internet extension exist for Android or just desktop? I used the Samsung browser on my S7 80% of the time but since getting the S8 it's been vice versa

definitely one of samsung's better apps, love it better than chrome...especially with Adblock fast (no root needed)

The lack of AdBlock renders chrome unusable for mobile browsing. The web is just a utopia with a Content Blocker. There is no way I could ever go back to that.

I'd like to give it a try but Google Play tells me it's not available for my device. I use a OnePlus X with Lineage OS 14.1. Are there any requirements I'm missing?

I liked the browser, but when I last used it, I found that it had issues with the Lastpass App Fill functionality (ex.- fill dialog doesn't pop up, won't recognize username/password blanks on sites, etc.). Chrome certainly isn't perfect, but it's fairly consistent.

Wow, the hypocrisy with point 1, suggesting we use Samsung Browser for it's possibility to have adblocking extensions, while reading this on a webpage that forced me to turn off my adblocker, just to be able to read this article. Yes, I only got registered on this website to make this comment.

The video player button is SO helpful. Whenever you're on a page that has a video embedded, a little button appears asking you to POP-OUT or GO TO FULL SCREEN. Absolutely one of the BEST features of this browser.

On Samsung phones, that's all I use. It's better than Chrome. Especially because of one reason: Adblock.

I ditched the Chrome Browser a year ago on my Galaxy Note 5. Now, with My S8 Plus, the Samsung Browser is even better. Chrome, as nice as the browser may be, is too slow and uses too many resources. The Samsung Browser is not only fast, but it works well with the rest of the phone's other apps - especially on note devices, where you can write on web pages.

Sometimes it is not showing download progress. I think it depends on the link type. This is my only problem so far with this browser, I'll have to go to My Files just to see if the file size is still increasing which means its still downloading.

Thanks but no thanks. I will stay with my Opera Browser, it does all of the above.
Android Central Newsletter
Get instant access to breaking news, the hottest reviews, great deals and helpful tips
Thank you for signing up to Android Central. You will receive a verification email shortly.
There was a problem. Please refresh the page and try again.