6 reasons to use the Samsung browser on your Galaxy S8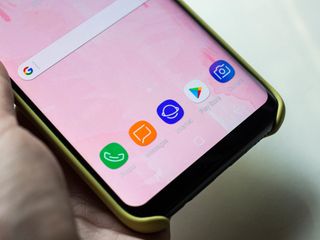 (Image credit: Android Central)
The bundled applications aren't usually our favorite part of Samsung's smartphones, but with the Galaxy S8 and S8+, the Samsung Internet browser is worth using.
It's nothing new: the browser has long been optimized specifically for use with Samsung's smartphones, which is partly why it's such a solid choice for a browser, particularly if you're glued to the Samsung ecosystem. And like Google Chrome, the Samsung Internet browser is linked to your Samsung account, which unlocks a host of features you won't find in Android's default browser. Here's a look at some of those features.
No pop-ups
Obstructive pop-up advertisements have officially become a nuisance on Chrome for mobile, so it's nice to know that the Samsung Internet browser will let you enable a Pop-up blocker from inside the advanced settings panel.
You can also download an extension to rid of those follies before they even surface. Samsung's browser features a variety of content blockers, including Adblock and Adblock Fast. At the very least, they'll help rid of any rampant advertisements that may take over your mobile browsing experience.
Extensions
Samsung's browser has other extensions, too, including the Amazon Assistant, which offers product matches as you're browsing through the browser for things to purchase. There's also a QR code reader, a video assistant overlay to help with browser playback controls, and a feature called CloseBy, which offers information and recommendations based on nearby Bluetooth beacons.
It's better on DeX
The latest version of Samsung Internet features enhancements specifically for running the app on Samsung DeX. There's also a secure mobile payment feature built into the Samsung browser for DeX. According to its developer documentation:
Anecdotally, I can say I was surprised at the relatively smooth experience of using the Samsung Internet browser on DeX versus using Google Chrome. Websites seemed to load faster, while multitasking mechanisms like copy and paste were easier to use with the mouse input.
It has a super Secret mode
Samsung's browser offers a Secret mode that's a bit more discrete than Google's incognito mode. Granted, Google also won't track your whereabouts on the web or log any URLs into the history, but Samsung's browser will let you password protect any webpage data you might want to save after your browsing session. The password is different from your initial login code and it can be as short as four letters.
It offers a reading mode
Like Safari on the desktop and some Chrome extensions, the Samsung browser offers a quick-convert reading mode for turning the cluttered text on webpages into legible, linear paragraphs. It takes a second to show up in the search bar and only works with certain pages, but it pairs exceptionally well with the Galaxy S8's rounded corners.
It works with Google
Just because you're using Samsung's browser doesn't mean you're opting out of what Google has to offer. You can set it as the default search engine, for instance, so that you're always querying Google.
You also don't have to stop using Chrome on the desktop. Download the Samsung Internet extension for Chrome so that your bookmarks stay synced across platforms.
Get the Android Central Newsletter
Instant access to breaking news, the hottest reviews, great deals and helpful tips.
Florence Ion was formerly an editor and columnist at Android Central. She writes about Android-powered devices of all types and explores their usefulness in her everyday life. You can follow her on Twitter or watch her Tuesday nights on All About Android.