Martian smartwatches now available on Amazon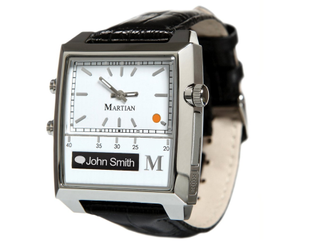 Listed at $299, Martian watches look to bring a smart watch with a touch of traditional style
If you're interested in smartwatches, but wanting something that looks a little more classic on your wrist, Martian smart watches may be what you're looking for — and now they're available for everyone via Amazon (opens in new tab).
Mixing a small scrolling OLED screen with a traditional analog dial, they look like, well, a watch. A watch with an Android app (opens in new tab), and out-of-the-box the Martian watches will handle calls, texts, Facebook, Twitter, email and more. Another listed feature is an on-board accelerometer that can be used to do things like send calls to voicemail with the flick of the wrist. A built in speaker and microphone allow for making and receiving calls, as well as sending SMS and using other voice commands.
Available in the more traditional Passport model (opens in new tab) (seen above) or a more sporty Victory model (opens in new tab), the watches list at $299.99. I've ordered a Passport model to put through the paces, so be sure to hit me on Google+ with any quick questions and keep an eye out for a real-world review after a week or so with this one. Hit the break for the full press release.
Martian Watches
Fashion-savvy Martian Smartwatches Invade Amazon.com
Martian Watches Stylish Line of Award-Winning, Voice-Command, Bluetooth Smartwatches -- Communications and Notifications with a Glance on Your Wrist – Now Available on Amazon.com
Irvine, CA - November 6, 2013 - Martian Watches, a California-based developer of unique personal wireless communication products, including the world's first Bluetooth voice-command smartwatch, today announces immediate availability at the world's largest online retailer Amazon.com. The Martian smartwatches are now available at Amazon in various colors and styles, offering notifications and voice-controlled support for both the Apple iOS® and Android® platforms. Available models are listed here: http://amzn.to/1aTZ9TY (opens in new tab)
Communicate From Your Wrist
Although the Martian Watch looks like a classic analog timepiece, once it is paired with a smartphone, it puts a scrolling notification display and a powerful microphone and speaker on your wrist making it an ergonomic watch that enables avid mobile phone users to get notifications and make and receive calls while wearing a definitive style statement.
Utilizing a Martian smartwatch gives mobile phone users freedom to communicate while keeping their phone in their pocket or purse. They can view notifications, use voice commands, make and receive calls, read or listen and respond to text messages from their wrists, set calendar notifications, control music, search the web, set reminders and calendar appointments by using the familiar voice command functions integrated into their smartphones - all from the convenience of their wrists. Bluetooth wireless and voice features aside, the timeless analog look of each of the Martian Watch designs sets it apart from the plethora of other wearable digital options.
"Having a watch that acts as an extension of your smartphone to keep you abreast of important calls, texts, emails and calendar notifications is the next step in wearable technology for personal communications," said Jeffrey Hsieh, CEO of Martian Watches. "We are excited to team with Amazon and look forward to working with them long into the future to meet the growing demand for our popular products."
The Martian Watch face contains an OLED with a scrolling readout that displays caller ID or an incoming text, along with vibration and LED alerts. With the downloadable Martian App for both Android and iOS, users can customize incoming notifications, such as Facebook, Twitter, Weather, and email. An on-board accelerometer allows one to send an untimely call to voicemail with just a shake of the wrist. Additional handy features include the Martian Leash -- so you'll never leave your phone behind again -- and the Remote Shutter Control feature that let's everyone get in the picture.
The impressive rectangular-faced Martian Passport watch is an elegant, upscale executive watch. It is fashioned for men and women who appreciate traditional styling with a black or white face. The white face models are available with a white or black leather band, and the black face model comes with a custom-molded black silicone band. The MSRP is $299 USD.
The Martian Victory model offers all-day style for the individual who wants a sporty round watch face with substantial size and stainless steel polish. The monotone color options include matching face and band combinations of black, white and tan. The MSRP is $299 USD.
Have you listened to this week's Android Central Podcast?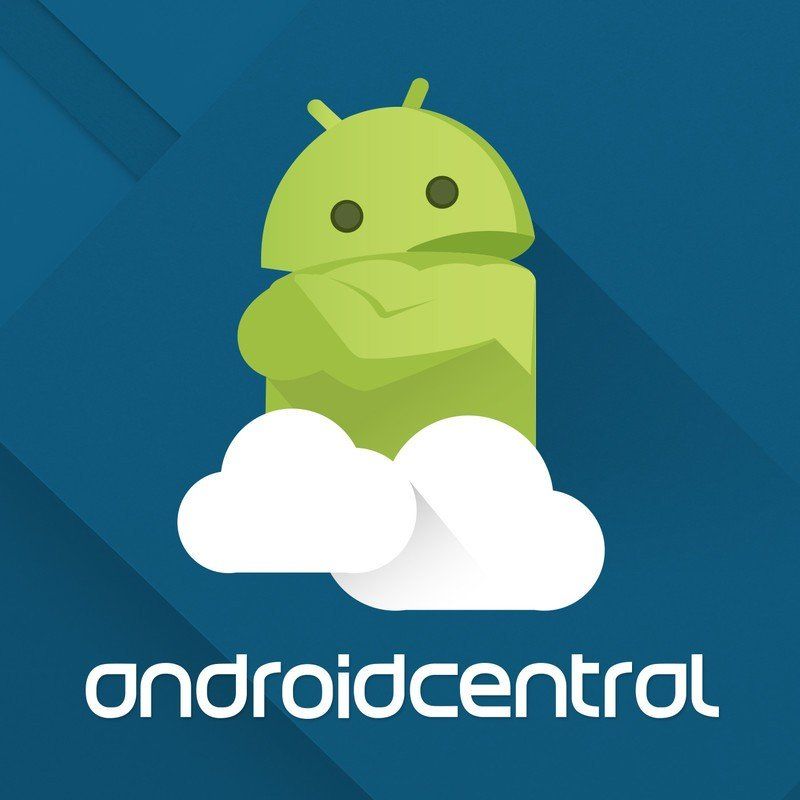 Every week, the Android Central Podcast brings you the latest tech news, analysis and hot takes, with familiar co-hosts and special guests.
Senior Editor — Google Ecosystem
Jerry is an amateur woodworker and struggling shade tree mechanic. There's nothing he can't take apart, but many things he can't reassemble. You'll find him writing and speaking his loud opinion on Android Central and occasionally on Twitter.
This is probably the first smartwatch I'd actually own because it really looks like a watch. That being said, I still don't really see the point of them yet, but I'm sure they'll become relevant in future years.

Definitely agree on both points. I'd probably get one if a company would come out with one that doesn't have a plastic or leather band. Until then, they just look like kids watches.

How does a nice leather band look like a kids watch? Posted via Android Central App

Looks like... kids watches?

Yes, in my opinion, leather bands or silicone make a watch look cheap or even like a kids watch. I am sure there are some very expensive brands out there with those style of bands, but, to me, they look cheap.

Also not mentioned is the fact that most of them are huge and it makes it look like you are a child wearing an adult watch.

Well that just depends on how small the person wearing it is, some of us need bigger watches or it looks like we're wearing a womans watch. (no offense intended to anyone)

Haha! This Posted via Android 5.0 Milkshake

I guess I need to throw away about $2k worth of watches with leather bands...

You could always donate them or try ebay rather than throw them away. Craigslist may also be an option in your area.

I think that's the point. There are some extremely expensive and quality pieces that have a nice leather band. There are also dinky pieces of crap with metal bands. You should be more open minded otherwise you may think your $100 fossil is more classy than a $20k watch with a leather strap. Posted via Android Central App

All personal preference as stated above but there are a lot of $100 watches that look better than those $20k watches all IMO

I don't consider Tag Huer watches to be cheap and they have leather bands.

They do have other bands; they're just not listed on Amazon.com. Example:
http://store.martianwatches.com/stainless-steel-band-p/mb100ss.htm

I wish the Victory model had more of a brushed metal look instead of the chrome.

Looks better than the Galaxy Gear, has almost all the features of the Galaxy Gear, and works with most Android devices. Galaxy Gear you're dead! Posted via LiquidSmooth 4.3 Sprint GS3

I don't think so. I'll bet u the galaxy gear will still sell more. Look at that watch and tell me what woman would wear it. I'm a man and wouldn't recommend that for a woman. Posted via Android Central App

The Victory in black is gorgeous. I just wish the screen were bigger. It looks like everything will scroll on this, so no quick glances. These are definitely the best looking smart watches right now however.

If I were a woman, I'd be having an orgasm right now.
Seeing that smartwatch made my eyes water adn my heart
rate go up. What's that orange dot at 4 o'clock for? Both Sony and Samsung should be ashamed for realesing
ugly smartwatches.

If you were a woman, this would not give you an orgasm.

that's my point... I'm NOT a woman and I have no idea how things work.(or even care) :D That watch needs a more exotic name.

I don't follow. All the women I know get excited about things like sexy shoes, clothes, and anything on Pinterest. They don't girlgasm over watches.

So no one here cares about whether or not this is a good WATCH? Cause all I'm seeing is a generic timepiece, likely sourced from China or Korea, that costs a small fraction of that $299, bolted onto a beefed up BT earpiece, which also costs far less than $299. With less functionality than a Metawatch, which costs a lot less, by the way. What I'm seeing is a smart group of monied gents with the right connections to quickly cash in on the consumer interest generated by all the tech blog speculation. This company will be gone in six months.

The Martian watch is a great product. I researched all the smart watches on the market and for your money Martian is the best for the money. For $249.00 the G2G in white with a black silicone band looks great for a man! and if you leave the white band ( that comes with it) it looks great for a woman. There are many options in the Martian app. You can toggle on and off many options. You can use all different voice apps. Such as Dragon Mobile Assustant,Iris,Jeannie and many more depending on what you like.

The Martian watch is a great product. I researched all the smart watches on the market and for your money Martian is the best for the money. For $249.00 the G2G in white with a black silicone band looks great for a man! and if you leave the white band ( that comes with it) it looks great for a woman. There are many options in the Martian app. You can toggle on and off many options. You can use all different voice apps. Such as Dragon Mobile Assistant, Iris,Jeannie and many more depending on what you like. So it all depends what you are looking for. The gmail, tweets,Facebook,text, and calander reminders are a nice feature.

Just waiting for the person who wrote that he/she'd buy/wear a watch only for functionality and not for fashion :p I am pretty sure that if you asked the average Joe to choose between these models and the ones from Samsung/Sony/etc that we've seen so far (which have the same features), these would win. Now, I still can't see the utility of smartwatches, but that's just my opinion.

IMO ugly as sin. i think watches should look like and be one thing or the other - classic timepieces or high technology pieces. when you try to merge those two worlds on one watch you come up with a really ugly mishmash clash of looks which is really gruesome. i'll take a Galaxy Gear over this. but i'll take a fine mechanical automatic Swiss timepiece over the Gear. but don't try to merge the two together into one monstrosity. and what they did here is even worse - they used a cheap Timex-looking watch. just my opinion.

That's actually a decent looking watch, hope there are different background colors, I like blue or black background since it's much easier for me to see than a white background.

Ill wait for your review but that looks really smart, hopefully its not a mega bag of shit jerry

Best Buy has them in a number of different styles. I'm diggin this one:
https://www.androidcentral.com/e?link=https2F2Flink...

Okay, good idea but not carried all the way through. I finally see a good use for those transparent screens! Just cover the entire face of any traditional watch with a transparent display and you have the best of both worlds! Dosent matter if it is a expensive watch or a cheapo, but I assume that the more traditional boutique manufacturers of high end fashion watches will benefit the most from this idea. As it will enable them to create a fully functional smart-watch with their traditional iconic look and style while preserving brand awareness. Now where is my coffee? Posted via Android Central App via HTC One Motorola Droid Bionic Has Been Stolen and has been recovered! Yey!

I was thinking the same thing. I really like my classic analog watch and think having a screen that will turn into a full display when there is something to see would be a great idea. I think I'll wait for someone to pickup on this idea before I buy. Posted via Android Central App

Please review the watch. I'm interested in buying!

Will be checking out this company since I just found they're next to where I work (Irvine, CA). Hopefully I can get a better price on them.

These are also available at Best Buy if you don't feel like waiting. They also have the G2G model for $250. Posted via Android Central App

Great.
As a recovering watch collector, the last thing I needed was reason anew to purchase and wear timepieces...

But the battery only last two hours talk time?

Im in two minds on this one, i think in one way merging the two tech and watch well that is the point.is great but yet on the other hand part on me is saying keep them seperate..meaning in terms of design. This may end up at a dead end it they cant get that fine balance right. In the mean time im happy with my phone being smart and my watch being a watch lol Posted via Android Central App

How thick is that thing? Looks like it's thicker than the original LED digital watches circa 1970. That think wouldn't fit under the sleeve of any of my dress shirts. Fashion? Not hardly. Just like digital watches, eventually the tech will make these practical, but I've yet to see a "smart watch" I'd actually wear in public.
Android Central Newsletter
Thank you for signing up to Android Central. You will receive a verification email shortly.
There was a problem. Please refresh the page and try again.