Lollipop update now rolling out to T-Mobile HTC One M8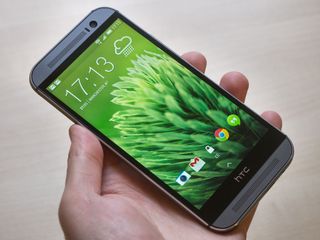 Lollipop for the HTC One M8 appears to be finally rolling out, with owners starting to share screen grabs of the notifications hitting their smartphones. Yesterday, the T-Mobile support website mentioned February 10 as the date for the rollout of the update.
Should you be on the network, we recommend you commence mashing that "Check for Updates" button if you're eager to receive the 630MB upgrade as soon as it's available for your handset. As for Europeans, you should also see if Lollipop is available for your HTC One M8.
Got the update on a T-Mobile HTC One M8? Let us know in the comments and join the conversation on our forums!
Are your Barclays apps working after the update?? Posted via Android Central App

I'm not on AT&T's good side right about now. I just get 4.4.4 and everyone else is getting Lollipop. I want to throw a fit. From my M8 OR NEXUS 5!

You got 4.4.4? I don't think I got an update. And I agree. AT&T and Verizon are still on integration stage, and everyone else is certification or rolling out already.

Yeah it was an OTA update a couple weeks ago. From my M8 OR NEXUS 5!

So maybe I should skip this lollipop! Will I be able to update much later on if I don't do it now? I don't want to or know how to flash romsand stuff.. Posted via the Android Central App

Has anyone else noticed general system instability since updating to Lollipop on the M8? At first the interface seemed even more responsive and buttery smooth, but after a few days I've noticed lagging and issues with specific apps, such as facebook; the screen will lock-up when scrolling through your news feed for a good 5 seconds. Just switching between home screens can lag which had never once happened before. If you use the task manager to close all running apps at once (you'll need to change the view back to the grid view rather than the HIDEOUS card view that Lollipop defaults to) this now takes a second whereas before it was instant. Curious to hear others experiences?

I have the 1 sec lag when closing the recent apps, seems normal anywhere else Posted via the Android Central App

Most instances of system instability is for the most part caused by Facebook and Messenger, not the actual ROM itself. You can always do a factory reset if things don't go too well U WOT M8

Facebook is known to cause problems Posted via the Android Central App

My text messages tend to lag when typing and when pulling up who I want to text. My HTCBlink Feed app will not load my Facebook posts, but will post all other feeds after a couple of weeks of downloading the new update. Some of my pictures and all of my music have been deleted off of my phone. And last but not least, my phone keeps telling me that my mobile data is shut off, but when I go to my settings, it shows that it is turned on.

Got mines...love it Posted via T-Mobile HTC One M8

Three UK m8 lollipop update live as well Posted via the Android Central App

Installing now! Posted via the Android Central App

Great news...I'm sure AT&T still roll ours out in about 8 months....just about the time I'm getting my new M9 Posted via the Android Central App

Download started at 5:46 AM GMT -7.

Flashed, and it's so fast! It's slick. Posted via the Android Central App

no raw support... Posted via the Android Central App

Every one of these HTC articles remind me how absolutely beautiful HTC's smartphone designs are.

5.0.1 completed in less than an hour. A little bit of clunkiness with Mobile Iron 7.5.0,1.5R, but all the basics seem to work okay, so far. It's a work phone, so nothng fancy installed, but there shouldn't be any user problems to deal with.

Updated mine last night, no issues to speak of. Still just as buttery smooth as kitkat was. Posted via the Android Central App

Updated this morning and I am having major issues. Told me that I needed to update Google Play Services, but would hang up at 31% every time I tried, so I went an pulled the apk down off of apkmirrior.com brought it up to 6.6.03. This made the notification to update services go away, but now I am getting a "unknown google play services error" being requested by google play music. Also Google Inbox wont open at all, it crashes every time I try. Is anyone else seeing these issues?

I was getting the same error. I'm going to restart and try again. Google Play is what I use most, so hopefully it will start working.

Same happened to me, just let it run for about 10 minutes. It eventually got through the &download and installed.

I'm not updating until I know that Xposed Modules work with it.

Updated my tmobile m8 overnight. The update was long but seamless. I changed the recent apps to show as grid, and reverted Chrome not to use the recent apps. Overall, I've noticed slight speed improvements in the UI, and haven't noticed lags (except when closing all recent apps). I used to have issues with mobile data in NYC metropolitan area on previous ROM. For instance, I used to have 5 bars on 4G, but unable to get any data. In my morning commute, I haven't noticed this issue, and was able to get data. LTE download was 62Mbps, upload was 23Mbps. 4G download was 13Mbps, upload was 1.5Mbps. I can't comment on battery yet since I tend to use my phone more than normal after an update :) So far I like this update. It looks like a minor improvement in the right direction.

Interesting, thanks. I definitely have that problem with T-Mobile in NYC also. I'll have to see if it gets better now.

Haven't got the notification yet. Checking manually says no update still. :( Posted from my HTC One M8 via Android Central App

Same here. Hate u Android.

I also wasn't getting the update. Restarted my phone and went to check for update. There it was.

Restarting worked! Thanks for sharing! :) Posted from my HTC One M8 via Android Central App

Updated this morning. I normally do a factory reset after a major update, but I havent yet. Everything is buttery smooth so far. My only nit is with the look of notifications on the lock screen. I was hoping HTC would make things prettier. I guess that's coming with the sense update. Posted via the Android Central App

Downloading now! Posted via the Android Central App

Sprint...... Crickets chirping.

Working great so far... Changed my mind and went for it. Posted via the Android Central App

Just got it Posted by my M8 ;)

No lollipop wallpapers... Bummer Posted via the Android Central App

The Sprint HTC One M7 has had lollipop for a week now, while us Sprint HTC One M8 users continue to wait. #Annoyed

I got the update on the unlock version. The phone is still smooth as it is before. Posted via Android Central App

Im Still waiting for the unlocked UK lollipop update for M7. Posted via the Android Central App

I got the update around 8:30am here in L.A. so far so good. notice the phone seems faster and smoother. Using it with the Google Now Launcher really gives you a better Lollipop Nexus type of feel now that the animation is there. Also i noticed the wallpaper now scrolls with the update using GNL

Excellent. Phone is slower, network connection is slower and battery is draining faster. This seems like a good update.

Maybe its just for you, because my phone is working just fine... Posted via the Android Central App

Restart the phone see if that helps. if not look to do a factory reset

I'll be doing a factory reset tomorrow... Cleared the cache, but my battery sucks now. Posted via the Android Central App

Okay is anybody else NOT getting the Heads Up notifications? I really wanted those....

What should off changed? Apps look the same.... App drawer is same...? Posted via the Android Central App

why my Face locke and No lock screen is disable after update ???
my Phone is M8 T-mobile ???

Ok, I have a question, and any feedback would be greatly appreciated! I have the Galaxy S5 on T-Mobile. So, obviously I have yet to receive the update to lolipop, but I have been reading every post I can find to make sure that once I do get the update, I am prepared to make the transition easy and make the most out of the new OS! The one thing that I keep seeing is the suggestion to do a factory reset after the update in order to prevent and/or remedy any possible issues. My question is this, I have done a full backup of my device through Kies, so, once I do the factory reset, would it be advantageous for me to use that backup, or, might that just re-install any elements that may have caused problems, thereby rendering the whole factory reset, useless? Obviously, I would like to be able to just use my kies backup to get back my apps and such that the reset deleted, but if that is going to cause the reset to be essentially useless, then it will definitely be worth the extra effort to rebuild my apps and such from scratch! Any recommendations on this matter would be greatly appreciated!! Thank You!

All you really need to do is wipe cache. You would only need to do a factory reset if you are having problems after the update.

Ok, so, just to simplify my question a bit... Obviously the purpose of doing a factory reset after an OS update, is to wipe out any old system files, data, info, ect... That may conflict with the update, thereby causing stability issues and various other problems. With that in mind, What I really want to know is: If I use my Kies backup to restore the apps and data that I DO want back in my phone, will that also restore the files, data, or whatever, that I DO NOT want back in my phone, (those type of files & such that may cause problems after the update?)

This is kind of exciting. It's like watching a race, with all manufacturers going all out to get lollipop on their flagships. First it was the S5, now the HTC One (M8), and we are seeing the G3 get some love, too. The Moto X/G phones are receiving their updates. This has been a busy time for software updates. I don't think I've seen this since I started my smartphone addiction back in 2007.

Holy crap... since I updated my Rogers HTC One M8 today to Lollipop I can't even charge the phone and get a positive charging flow! This is using my old connection on a high speed USB charging port that worked just fine before. NOT IMPRESSED.

He heals and solve most of the problems & sickness which are failed to be healed by other doctors/healers. He solve bad luck, pregnancy problems, lost lover, sexual weakness, early ejaculation, witch-crafts, broken marriage, poverty, debts trouble, divorce, court cases, domestic problems, gambling losses, Lost jobs, promotions at work, Do you need penis enlargement? Do you want to be Rich? Do you need many children? Are you tired of jealousy people, Evil dreams, all long illnesses, blood pressure, HIV & aids, skin infections? etc. He use strong herbs & magic spells as well as powerful ancestors. Get healed today by this greatest miracle doctor who has healed many people through his experienced ancestors. Join the rest of the world to cerebrate his miracle healings. he can even read and tell you your problems before you say anything to him. He can connect you to talk to the spirit of a deceased of your family member or friend. he can also tell you your future through reading palm, play card, a mirror/water. He uses many ways of healing just to make sure that he certify his clients all over the world. he is the only traditional healer who does fully corresponds with all religious beliefs. contact him on his email address at fiokporspiritualtemple@gmail.com

I know this is a T mobile blog, but I'm on Sprint, and I received the update today. And it only took me 17 minutes to do. But I was on WiFi.
Android Central Newsletter
Get the best of Android Central in in your inbox, every day!
Thank you for signing up to Android Central. You will receive a verification email shortly.
There was a problem. Please refresh the page and try again.