Live from the Android Fireside Chat at Google I/O - 4 p.m. Pacific, 7 p.m. Eastern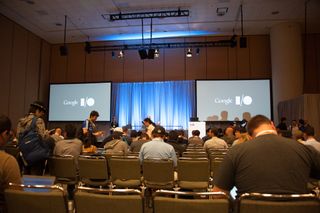 Less formal, all Android
The keynote may be over, but the Google I/O 2014 fun and games doesn't stop as it's now time for the Android Fireside Chat. It's a little less formal, a little more Q&A and there's a first rate panel on hand including Matias Duarte, Dianne Hackborn, Dave Burke and more.
So grab a hot beverage, curl up on the rug and join us as we fire up the old liveblog machine and take you along with us. It's sure to be worth your time. It's kicking off soon – 4 p.m. on the west coast, 7 p.m. on the east and midnight in the UK. You can also find the livestream of the session below.
Link? Brought to you by the Nexus M8

To what? Our liveblog is in the post :)

Didn't see it at first.....thanks :) Brought to you by the Nexus M8

What's the UK time? Posted via Android Central App

Are you guys hosting a podcast tonight?
Android Central Newsletter
Get the best of Android Central in in your inbox, every day!
Thank you for signing up to Android Central. You will receive a verification email shortly.
There was a problem. Please refresh the page and try again.