Listen to every detail with Wear Audio Recorder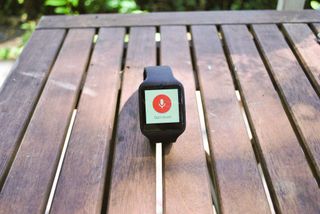 There are times when being able to easily record audio is a serious advantage in your day to day life. Whether that means you do it for work, school, or anything else, now you can easily do it with Wear Audio Recorder on your Android Wear device. Whether it's a short moment or a full meeting, this app has got you covered.
Wear Audio Recorder has a fantastic look that is both simple and stylish. Unsurpising when you realize that they're using Google's Material Design. On your Smart Watch, this app doesn't have a ton of features. What it does, it does well. Recording is as simple as opening the app, and tapping record.
From your smart watch, you have two basic options. You can view previously synced recordings, or you can make a new recording. While recording you have a timer to let you know the length of your recording. On the bottom left is a trashcan so you can discard unwanted recordings, on the bottom right is a check mark which allows you to save your recording. You can pause, resume, start and stop recordings all from your smart watch. There is even a peek card so that you know your recording is paused.
Your smart phone is where you'll find all the settings and options for the Wear Audio Recorder. Your first screen has two tabs. The first gives you a list of all recordings by the date. You can access each recording to edit the description, add tags, share with friends, or delete them. Quick settings is the second tab. From here you have a list of settings like adjusting the audio compression, suppressing echo and noise, and adjusting your audio quality.
You can access the rest of your settings from a sidebar. These are your general settings, along with behavior settings for both your smartphone and smartwatch. General Settings will let you change the save location of your recordings, allow other apps to show recorded items, and gives you the option to location tag your recordings. Behavior settings for your Android Wear device lets you adjust sync behavior, autostart when the app opens, autostop after a set amount of time, show a notification when a recording saves successfully and lets you use an alternate notification icon.
The Wear Audio Recorder is a fantastic option for anyone who needs an easy and simple way to record audio. It's easy and intuitive to use, and has a fantastic look thanks to it's use of Material Design. If you need to record audio, this may be one of the easiest ways to reliably do it.
Get the Android Central Newsletter
Instant access to breaking news, the hottest reviews, great deals and helpful tips.
Jen is a staff writer who spends her time researching the products you didn't know you needed. She's also a fantasy novelist and has a serious Civ VI addiction. You can follow her on Twitter.