Linksys Wellness Pods will track your breathing using Wi-Fi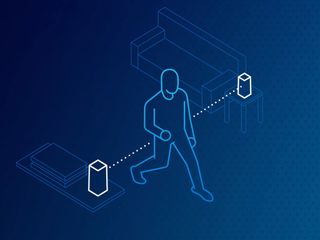 (Image credit: Linksys)
What you need to know
Linksys is improving the capabilities of its Aware subscription motion-sensing service.
Linksys Wellness Pods will be sensitive enough to monitor breathing and sleep patterns.
The company says tracking data will be processed locally and not uploaded to the cloud.
Did you know that you can track somebody's movements using only the Wi-Fi signal you have bouncing around your home? Linksys has been offering a subscription service called Linksys Aware that uses Wi-Fi signals to turn the routers into basic motion detectors. This year, Linksys tells Gizmodo, it will venture well beyond the basics with Wellness Pod sensors that are incredibly sensitive — sensitive enough to detect a person's breathing pattern. If the idea of a mesh Wi-Fi network listening to you breathe isn't creepy enough, Linksys also says that the Wellness Pods will track your motions to determine how well you are sleeping. Your router can now see how you move in bed.
The new Wellness Pods were created in conjunction with AI developers at Origin Wireless. While the basic motion detection feature on Linksys Aware polls the network signal 30 times per second, the new Wellness Pods sample the network 1,500 times per second. That level of sensitivity allows Linksys Aware to finely tune its motion tracking. In addition to the breathing and sleep-watching, Linksys Aware will be able to detect and distinguish between slips and falls. Aware can work with Alexa to check on the user vocally, then contact a preset emergency number.
Linksys is also expanding the reach of its Linksys Aware service by incorporating more Wi-Fi touchpoints. Instead of relying mostly on the Linksys Velop routers, Aware will soon be able to use existing network hardware and communication signals between the routers and IoT appliances, including smart bulbs. The increased accuracy will allow Linksys Aware to eventually pinpoint movement in the home, instead of just generally sensing motion.
Obviously, privacy is a major concern with such detailed personal tracking and history, and Linksys claims that data will not be processed in the cloud and instead handled locally. This seems like the sort of claim with disclaimers attached, as Linksys Aware definitely communicates with other cloud services, so it will be important for Linksys to maintain transparency on what personal data is shared and how it is anonymized.
Towering Wi-Fi
Towers of powerful Wi-Fi
Linksys Velop mesh routers work better together, so why not buy a 3-pack? With a subscription to Linksys Aware, the Velop has powerful capabilities that will only improve as Linksys develops its technology further.
Get the Android Central Newsletter
Instant access to breaking news, the hottest reviews, great deals and helpful tips.