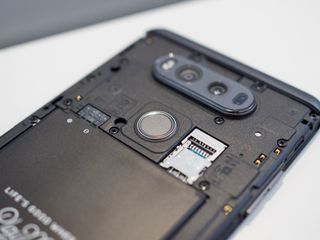 With the push of a button you can pop off the metal back of the LG V20 and get a look at (some of) its insides. The battery, SD card and fingerprint sensor-button mechanism are all in view. But you can't see everything, of course, and that's why we have this spec table for you. See the whole spec sheet for the LG V20 right here.
Swipe to scroll horizontally
Category
spec
Operating System
Android 7.0 Nougat
Display
5.7-inch IPS Quantum Display
2560x1440 (513 ppi)
Second Screen 160x1040
Gorilla Glass 4
Processor
Qualcomm Snapdragon 820
2.15GHz + 1.6GHz quad-core
Storage
64GB UFS 2.0
Expandable
microSD up to 2TB
RAM
4GB LPDDR4
Rear Cameras
Main: 16MP f/1.8, OIS
Second: 8MP f/2.4 wide-angle
Laser AF, Phase-detect AF, Contrast AF
Front Camera
5MP f/1.9 wide-angle
Connectivity
Wi-Fi 802.11ac, Bluetooth 4.2LE, USB 2.0, NFC
LTE Category 12 w/ 3x CA
Audio
32-bit Quad DAC
Battery
3200 mAh
Removable
Charging
USB-C
Quick Charge 3.0
Water resistance
No
Security
One-touch fingerprint sensor
Dimensions
159.7 x 78.1 x 7.7 mm
Weight
173 g
Andrew was an Executive Editor, U.S. at Android Central between 2012 and 2020.
Do I need this if I have the V10?

Does the V10 still work well for you? If so, it's not a bad idea to hold onto it. If no, and if you like what this offers, put it on your shortlist.

So the BIG question here, is it going to be on Sprint?

That and wireless charging is what I'm wondering.

There is an IR blaster, yes!

Megaman X! Posted via Android Central App

Speaking of that, Is there such a thing as a cheap IR blaster that connects to a phone via bluetooth?

There's the Anymote, but it's not exactly cheap. https://www.anymote.io/
That being said, if you buy that, you also get their paid Universal remote app for free. Otherwise, they sell it for $8 on Google play.

There's also the Kiwik on Amazon (it connects via the headphone jack).

I see no where that it has one but others say it does... Which is correct?

So there must be a 2TB microsd card out there by now there have been compatible phones for like 2years

I've not seen one yet. It's a theoretical maximum capacity but it's apparently not commercially viable to make them that big.

Sometimes they'll list 200 or 256 as the maximum, but that can be misleading to people so sometimes they list the theoretical 2 TB just to be clear that it's compatible with whatever the highest SD card is available.

Stupid ass IPS display. Amoled should be the standard for a flagship device.

just cause you like AMOLED, it doesn't mean that they should be the standard for a flagship. yes they do look nice however LCD displays also look great.

Meh. I'd rather keep my claymore-like Note7 than get the V20.

Not a lot of battery to push all those pixels.

That's the big disappointment for me, especially given the pre-release rumors of 4000 mAh. I'm trying to upgrade from the LG G2, which has 3000 mAh. 3200 seems a bit small for a phone this size.

You can swap a fresh battery and be back at 100% in 30 seconds.

Carrying an extra battery around is a hassle. A hassle that *could* have been avoided if they'd bumped the capacity up to about 3700...

It is much easier to carry a spare battery than a battery bank or charger and cord. It is one of the major reasons I ditched my Note 5 and switched to the V20. SOOO glad I did!

A step in the right direction at least.

Impressive, but was kind of hoping to see 128GB of storage. Not that there's anything wrong with 64GB for a phone, but you know.

No we don't know.lol 64gb plus microSD expansion. That's more than enough these days.

V20 is the biggest letdown since the S6/Note5 Posted via the Android Central App

How was Note 5 a let down? O_o

I just retired my Note 5, It was a huge disappointment for me. I would run out of juice after 3 hours and couldn't swap batteries. The increased processing power over the Note 2 I had before it was meaningless because I had to run it in power saving mode and turnoff the GPS to even get 3 hours . The memory wasn't expandable either. The only thing good about it was the camera and the wireless charging which I really needed when the micro usb port broke. I won't be buying a Samsung again anytime soon if they keep chasing Apple with "features" like a sealed battery.

I am absolutely getting this phone just like I got the amazing v10...only thing that worries me is, like the v10, battery issues...... 3200mah really? Where is that 4000mah we were speculating.

We might have to get one of those battery extenders(bulky option) or slim batteries(convenient option) that add more mAh power in the same form factor as the stock battery to make it work for us.

Small battery but everything else looks cool.

So 4GB of ram and snapdragon 820? I wonder if it'll get the same **** talking as the note 7 did. Even though there's nothing wrong with these specs.

They'll stop talking crap as soon as the Google phones are announced with the same specs. Then the tune will change.

Meh. I stopped caring about them for a while already. The specs, I mean,

Same. People act like the 820 is crap compared to the 821.

Yep like old time fighter

Ehh, nothing wrong with it, except maybe a little light in the battery department, just not feeling very moved by it.

I think I'll upgrade to this over my V10 because my V10 has already been hit with the bootloop issue and I'm on my second unit as of last week, the video quality in paper is better, the build is a little more compact and premium looking. Also the fact that the V20 has a native 4:3 aspect ratio (which I'm not the biggest fan of) might suggest that they are using a new sensor instead of the one that came with the G4, V10, and G5 which were all 16:9 natively if I recall correctly. Really interested in the extra auto focus features and Steady Record.

The software problems with the v10 would make me very wary of getting a V20.

Me too. I said my farewell to LG after bootloop. Note 7 is unreal with Samsung Pay and IP68 Posted via the Android Central App

Yep I've said it before and I'll say it again this year was over when the gs7 launched. And that's a good and very bad thing. Competition was non existent this year except the unlocked market

Depends on your views on Samsung. And what software problems? I have had more issues with TouchWiz than LG

Yeah you really have a point. Samsung curb stomped everyone this year and it wasn't even close. I don't really even like Samsung that much and I've owned the GS7e and now the Note 7, because if you want a flagship right now they're the best of the best. The mid-range ~$400 market is where things have been interesting. And for some reason I want one of those phones so bad even though we had I have already is better lol.

Yea, those Note 7 owners are thrilled with them, especially the one who fly and aren't allowed to bring them on the plane.

V10 was one of the coolest phones ever made. I wanted it as soon as I saw it on the net. But I despise the V20. Posted via the Android Central App

True. The best design and feel in my opinion.

GG5 or GG4? I can't seem to find it called out specifically.

I have the G4 and love it, still... almost a year and a half later.
The V20 is a maybe but only after it's been out a month or two and deals start popping up. OR, I'll just hang on to what I've got waiting for something that will blow my socks off, there's not a damn thing wrong with "my" G4, I'll just sit back and watch..

I just sit back and watch with my original G2, never had an issue with it and is still my daily driver. I don't game, the camera still kicks a$$. Seriously though, nothing right now(to me) has warranted a new phone. Yes, I have been tempted by some BUT then I realize I'm not getting a monster improvement over what I currently have. However, It is time to upgrade. I will wait to see what Google comes out with. If I dont like it I may just get my self a brand new unlocked G5. They are currently $499.00. That hard to beat right now.

I wish they kept that steel on the sides.dropped so many times and there is no scratch to be seen there.can't imagine what it would have been like in aluminum housing.

meh nothing special, same as G5 with poor battery, 3200mah is way way too low for QHD LCD.

Will we have an option for second sim card slot like we got on V10?

Does the v10 battery work in the v20?... They look the same, aside from the added 200mah.

Should have kept the steel sides of the V10... Imho.

The specs look good, especially the 64 GB internal storage, SD card slot and removable battery!

So will you be able to replace the metal back with a plastic one and add a QI charging coil?

Maybe on a spec sheet we could include video capabilities??? Would be nice to know if such a multi media powerhouse has 4k, 240fps, etc.

Is it only single SIM ? Can't understand why anyone buys them!

Because it has a user swap-able battery for one. My Note 5 is now in the junk drawer because the battery life was so bad. I am on Sprint, this is the 1st phone I've ever had that even had a sim so that isn't even a consideration for me. It can also take up to a 2TB Micro SD card, how much memory can you get in an Iphone again?

My god that's expensive considering that I can get an iPhone 7plus, pixel, note 7 for similar pricing.
Android Central Newsletter
Thank you for signing up to Android Central. You will receive a verification email shortly.
There was a problem. Please refresh the page and try again.