Essential Accessories for LG V20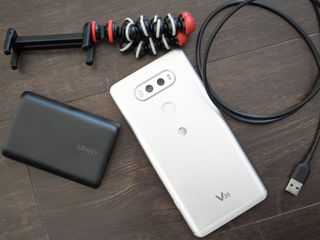 We all have specific needs from our phones, but when it comes down to it there's a handful of accessories most of us will need to pick up no matter what. A case is usually at the top of the list. Then an extra cable or charger, perhaps. For the heavier users, maybe a portable battery.
So before you get too deep into more specific accessories, give this group a look to find a great starting point with the basics for your new LG V20.
Update, May 2017: Article brought up to date with the latest information and prices for accessories.
Ringke Fusion Clear PC Back TPU case
The V20 is a big and tough phone so you may be reluctant to toss a case on it, but if you want to protect that metal exterior when you expect to toss the phone around a bit you should have a case ready to go. Considering its size you probably don't want a big and bulky case, either, so we've picked the Ringke Fusion Clear PC Back TPU case.
Keeping things simple, this case has a hard plastic back combined with a shock-absorbing TPU "bumper" around the outside. You can get it in either all-clear or with a smoke bumper accent, but in either model you're going to get a solid amount of protection while also showing off the V20's design. It's also plenty cheap, starting at just $12.
See at Amazon (opens in new tab)
SanDisk Extreme PRO 64GB UHS-I/U3 microSD card
There are so many microSD cards out there to choose from, and they all offer various value propositions in terms of price, capacity, speed and reliability claims. If we have to pick just one that you know lands right in the middle of the pack and offers good value for the money, right now we pick the SanDisk Extreme PRO 64GB U3 microSD card. At under $50 for 64GB (to double your internal storage) it isn't cheap, but the idea here is that you're buy a fast, reliable card that's worthy of your high-end phone.
If you need something more specific in terms of higher capacity or a lower price, be sure to look at our list of the best microSD cards for Android.
See at Amazon (opens in new tab)
Anker PowerLine USB-C to USB-C cable
The LG V20 comes with a USB-A to USB-C cable in the box (a nice one at that), but the future is all about C-to-C. Whether it's for connecting to new computers, wall chargers or other phones and tablets, you'll want to have a C-to-C cable around at some point. Thankfully there are lots of good, cost-effective models out there like this Anker PowerLine cable.
The 3-foot cable comes in black or white and is just $8 — perfect for starting your USB-C transition, and making sure you're not relying on just the in-box cable.
See at Amazon (opens in new tab)
JOBY GPod Mini Magnetic Compact Tripod
The LG V20 is packed full of excellent photo and video features, from its dual cameras to complete manual controls and hi-fi audio recording. It can do great things when it's simply handheld, but for the most professional-looking videos, long exposures and time lapses, you'll want a tripod. This compact magnetic GPod tripod from Joby does the trick. It has sturdy, flexible legs that articulate to wrap around objects and get positioned just right, and also has magnetic feet so you can stick it on metal for a secure hold.
It comes with a standard tripod head, so you can attach whatever phone clamp you like ... Joby's own is slim but relatively expensive (opens in new tab), but there are many solid (and cheaper) choices out there (opens in new tab). Take your pick!
See at Amazon (opens in new tab)
Anker PowerCore Speed 10000 QC portable battery
The V20 has a removable battery, but since replacement cells are specific to just this phone and require a separate charger themselves we're going to recommend you pick up a compact but powerful portable battery instead. Anker's one of the best-known names in the business, and its PowerCore Speed 10,000 mAh battery gets the job done. It's compact but packs plenty of juice for multiple recharges of your V20, and offers Quick Charge 3.0 support for the fastest possible charging of your phone.
The battery has a standard USB-A port so you can plug in the cable that came with your V20 but also any other cable if you need to charge up an older Micro-USB or Apple device instead. Anker's power delivery system will give the fastest possible charge for the device that it detects.
See at Amazon (opens in new tab)
Aukey CC-T8 Car Charger
Seeing a theme here? Quick Charge 3.0 is great, and if you're going to be buying new accessories for your phone you might as well get ones with the proper specs to get you charged up right. Charging in a car is a perfect example of when charging speed is important, getting your phone topped up while you're on a quick drive or keeping it from draining while you're using the screen and GPS for navigation.
Aukey's CC-T8 car charger offers two Quick Charge 3.0 ports, meaning you can keep your V20 topped up on one but can also have a backup for your passenger to charge up at the fastest possible speeds. For less than $20 that's a great deal.
See at Amazon (opens in new tab)
Anker Micro-USB to USB-C adapter (2 pack)
If you're coming to the V20 from an older Android phone, chances are you haven't stocked up on USB-C cables just yet. If you want to be able to use your old Micro-USB cables with the V20, you can pick up this two pack of Anker adapters. They're cheap and get the job done, particularly for chargers or devices that have integrated cables you can't easily swap out.
See at Amazon (opens in new tab)
Get the Android Central Newsletter
Instant access to breaking news, the hottest reviews, great deals and helpful tips.
Andrew was an Executive Editor, U.S. at Android Central between 2012 and 2020.