The LG AKA: Cute? Creepy? I don't care, I want one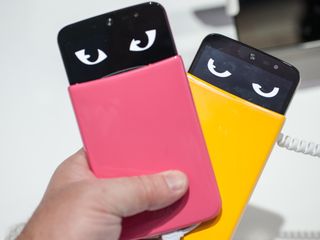 LG AKA
The eyes have it as we get our first look at LG's colorful Korean character phones
You learn a thing or three running Android Central. One is that you need to remember to have fun with phones from time to time. Another is that sometimes there are serious regional differences that you just have to roll with.
Those nuggets are what bring us to the LG AKA, an Android smartphone that until now I've really only seen as a phone with a pair of blinking eyes, held by happy people in Korean-language press releases. They look playful. They're having fun. The phones, that is. And so I almost didn't actually want to pick up the phone at LG's booth at Central Hall here at CES, lest the magic somehow be lost and the blinking eyes close forever.
But I dared. I picked up the little creature and found a phone in my hand, clad in a colorful case, with a bit of the display left uncovered for those peepers.
AKA actually comes as four characters, with a unique UI for each. Phones with personality. When was the last time you could say that about, well, just about anything here in the states. (That the AKA personalities are decidedly Korean and, therefore, very much foreign to me, wasn't lost on this father of two who very much would love for his young daughters to embrace this sort of care-free technology.)
The eyes are indeed the gateway to the AKA's soul. They blink when waking. Spin when shaking. You get different faces when charging or using headphones or when a call comes in or an alarm goes off.
But few minutes of cuddling does not a relationship make, even with the cutest of characters. And so I returned the AKA to the safety of its security cradle. Where it closed its eyes one final time.
Image 1 of 12
(For those of you less concerned about about the eyes and more concerned about the specs, the AKA's got a 5-inch display and a 1.2GHz quad-core processor. It's running Android 4.4.2, has an 8MP rear camera (2.1MP out front. It's got a 2,610 mAh battery, 16GB of internal memory an 1.5GB of RAM. AKA comes in white, navy blue, yellow and pink.)
Get the Android Central Newsletter
Instant access to breaking news, the hottest reviews, great deals and helpful tips.