Lenovo shows off insanely flexible phone and tablet concepts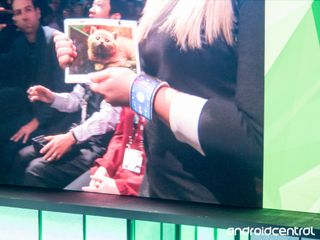 On stage at Lenovo Tech World today, Lenovo gave a quick demonstration of some prototype flexible tech that it is working on. During the demo, the company showed off an idea for a phone that could snap and bend to fit around your wrist, as well as a tablet that could fold in half to be used as a phone.
While definitely still in the concept stage, and nowhere near ready for primetime, the demos provided an awesome look at would be coming up. Of course, as Lenovo noted, bringing these demos to a real product will take some extreme engineering to make everything from the battery to the frame entirely flexible.
Still, with flexible screens already a reality, it will be cool to see what may come down the pipeline in the coming years.
Be sure to tune into our Lenovo Tech World live blog for more!
That was a cool tech moment.

Looking for a video of this girl talking about this tech.....I heard you have to turn your speakers way up to hear her. :-P

I'll wait until a virtual screen interface can be imbedded in my optic nerve. Unlocked Marshmallow Nexus 6 on Verizon. I'm a happy guy.

I wish nokia morph came to reality! Posted via the Android Central App

https://en.m.wikipedia.org/wiki/Nokia_Morph Posted via the Android Central App

Finally! Posted via the Android Central App
Android Central Newsletter
Get the best of Android Central in in your inbox, every day!
Thank you for signing up to Android Central. You will receive a verification email shortly.
There was a problem. Please refresh the page and try again.