The Lenovo Duet Chromebook is the last hope for Chrome OS tablets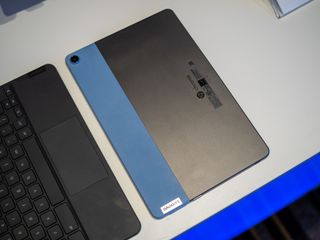 (Image credit: Andrew Martonik / Android Central)
There are several Chromebooks flaunting shimmery new shells at CES this year — and make no mistake, I want to play with them all — but the one that holds the most of my attention is in fact the smallest and most affordable of the bunch. Lenovo is turning heads with the IdeaPad Duet Chromebook for a number of reasons, from its long Chrome OS update life to its new Mediatek platform to its included keyboard and kickstand cover, and these little bonuses all add up to what may be the best Chrome OS tablet ever.
And thank music for that, because I was about to give up on ever getting one worth its salt.
Slates and rubber slabs: the current state of Chrome tablets
Source: Android Central
Chrome OS tablets have been around for a couple years now, starting with detachables like the perfectly decent HP Chromebook X2, but they've been relatively hard to find and even harder to find at a decent quality without a ridiculous price. Now that the X2 is getting harder to find, that leaves you with really only two options until the Duet is available: the discontinued Google Pixel Slate (opens in new tab) — which saw very good sales during Black Friday but is otherwise still overpriced and positioned as a premium device — and you have low-spec, lower-quality education-focused models like the Acer Chromebook Tab (opens in new tab) and the CTL Chromebook Tablet Tx1, which are covered in durable but ugly rubberized plastic and have low-resolution screens.
Now, don't get me wrong; the Pixel Slate doesn't suck, but it's not something the average user would seek out, and for good reason: you're paying for the Google prestige in a product even Google is doing its best to help you forget it existed. It's the most powerful Chrome OS tablet out there by a wide margin, but in most cases it's still being sold without a keyboard cover, or even a kickstand cover at prices that simply don't make sense.
As AC's esteemed guru Jerry Hildenbrand has written before, Google stopped caring about tablets a long time ago, so it's not all that surprising that its take on a Chrome tablet was a little too pricey and a little too awkward. It didn't help that at launch, Chrome OS just wasn't quite calibrated properly for the Pixel Slate — or tablets in general — something that only came along several months later.
Chrome OS is ready for tablets now
It sounds weird to say that Chrome OS wasn't ready for tablets when we've had Chrome detachables since 2018 and had tablet mode for 2-in-1s for 5 years, but really, the system was still too optimized for the mouse-and-keyboard life. In fact, the Lenovo Duet that's turning heads at CES isn't running the Chrome OS that most people today use: it's on Chrome 80, which we'll likely see around March.
Chrome 80 should be packing a few new tricks for tablets, from the iPad-like gesture system we're seeing on demo units of the Duet to a handy strip for tab thumbnails spotted by About Chromebooks. In addition, Chrome OS has been slowly chipping away at bugs and tweaking minute details in attempts to make Chrome OS more tablet-friendly for the last 18 months, and it started really picking up in the last 6, such as tweaks to the overview screen and design of some touch targets.
The beauty of Chrome OS's update system is that this means that if you already own a Chrome OS tablet, your user experience has gone from okay to pretty good over the life of your machine. It also means that even if we're not 100% there at Chrome 80 when the Duet launches, so long as at launch the system is properly calibrated for the new hardware platform that Lenovo is using here — seriously, how did that ever happen with the Pixel Slate — the Duet should be just fine from the get-go and then get even better over time.
Keyboard and kickstand: Duet's return to sanity
Whereas the Pixel Slate needed you to shell out extra for the keyboard and kickstand cover, the Duet not only comes with both in the box, the keyboard is detachable, allowing you to use the kickstand separately when you're just using the Duet for Disney+ bingeing. While I do kind of wish the Duet had a built-in kickstand like the Surface Go, I'm happy enough that one comes in the box.
The other major benefit of the Duet is that it starts under $300, making it much more viable as an iPad alternative than any other Chrome tablet in the last two years. While the Pixel Slate might have been powerful enough to compete with the Surface Pro series or iPad Pro series, the Duet actually makes sense over a regular iPad in both functionality and price. For $280, you can get a tablet that comes with a kickstand and keyboard, supports more and better keyboard shortcuts, and features the same easy-to-learn system that your kids are likely using at school.
This combines with the 8-year support life, 10-hour battery life and the 1080p screen to present a pretty great value for a tablet that you could use for a little bit of work or play.
Long-term promises need long-term evaluation
Duet has up to 8 years of Chrome OS updates ahead of it, but beyond the Chrome updates I do have some serious questions that can only be answered by using the Lenovo Duet for weeks or months to come. The most important of these questions is how well the new Mediatek Helio P60 holds up over time and how much of a workload it can actually handle. While this iPad alternative isn't something a power-user is buying as their primary device, I'm wondering how many tabs/apps it can support at a time, especially when paired with only 4GB of RAM.
The only other long-term concern I have with the Duet is that it has only one USB-C port, meaning you'll need to take care when plugging and unplugging, and you'll want to get yourself a faithful hub for those moments when you need to use any peripherals while charging, as well as using any USB-A peripherals like a mouse, keyboard, or thumb drive. Having two USB-C ports would give me much more peace of mind on a device I want to keep alive for 8 years, not to mention practically every Chromebook that debuted in 2019 had two USB-C ports.
Android Central Newsletter
Get instant access to breaking news, the hottest reviews, great deals and helpful tips
Ara Wagoner was a staff writer at Android Central. She themes phones and pokes YouTube Music with a stick. When she's not writing about cases, Chromebooks, or customization, she's wandering around Walt Disney World. If you see her without headphones, RUN. You can follow her on Twitter at @arawagco.
Have you not seen that since Black Friday, the Pixel Slate is sold with it's keyboard and pen for $450? I understand it's criticism a year ago, but at that price and with the state of current Chrome OS, it's a much better purchase than this Lenovo. Better screen, processors, and build still a year later. This article is out of touch.

In the UK the Slate is £749, keyboard £189 and pen £99 so not out of touch on this side of the pond!

It was £450 this side of the pond with the slate and the keyboard no pen, it was a black Friday deal and was everywhere! Argos, Currys/PC World and direct from Google themselves.

It may have been on black Friday but the OP is saying it's been that price since then. As far as I can make out that's not the case in the UK.

I see what you're saying, but it really doesn't make any sense to use that one special sale day as your defense (not to mention the fact that many folks haven't received their Black Friday order yet) . If you wanted to buy it today, it starts at $799 at the Google Store, and that's absurd. Black Friday simply proves that the Slate was overpriced...which is exactly what Ara said in her article: [The Pixel Slate] "which saw very good sales during Black Friday but is otherwise still overpriced and positioned as a premium device"

I just returned my Pixel Slate. Couldn't stand the keyboard case. Just poorly designed and a sloppy fit. I'm fine with a 12" tablet. And functional wise, the Slate was fine. I just couldn't take the case as an everyday carry. Couldn't take the lack of a tablet only case to make it a slimmer and lighter carry when I don't need the keyboard. Incipio had zero interest in bringing theirs back. But not everyone wants a 12" tablet. The keyboard/kickstand combo here is much nicer than the Slate's, even if I'm not a fan of the magnetic attaching of the kickstand portion. Why not a snap on one that actually protects the edges and corners? I do like chromebooks and am without one for the first time since my Samsung Plus. I'd pick up one of these as I'm sure I'll find it for under $250. It's cheaper and a more productive device than ANY android tablet on the market (outside of the tab S6) strictly for the keyboard with a TRACKPAD. Should do Android apps nicely. I never had a ram issue on my X2, so I would think 4gb here will be fine. My main issue, which is the same one I had with Slate and X2. Where is the tablet only folio case? It's an epic fail to make a tablet without a tablet only case. And I'm not talking generic crap, leather framed slide in crap and so on. A simple snap in frame with fold over cover. Same as I had for my 12" Note Pro years ago. Same thing that's been available for every single tablet since they started making them. But the minute it's marketed as a tablet with a keyboard, the tablet only case is forgotten. So if it doesn't have one, I'll pass. I don't always need a keyboard and don't care to carry it if I don't have to.

I bought into this deal at $400 and I'm not sure I'm happy about it. The clunky keyboard fold is too much of a pain.

The Pixel Slate is bigger than the Lenovo Chromebook Duet so still not as easily useful as a tablet and if you can find the Pixel at that price, as I don't see it for that now, it is still $171 more. Both a good and it really just depends on your needs and what size and price you want.

Before this post I didn't even know they existed.

I bought one in the black Friday deal and for the money no complaints especially with Google extending end of life support till June 2026..

Yeah, the Black Friday deal was sweet, especially since it got extended, but it's still not for most folks, and the Duet is gonna spank it on value.

Pretty sure the Duet won't last as long as the 8 yrs it gets support for... Chrome is only going to get more resource hungry, not less, over time. I'm sure you'll still be able to use it even 8 yrs later but it definitely won't be as smooth as launch...

comment deleted. Lenovo has clarified.

? what did you ask, what did they clarify?

Seems very good product. Can you use it as a laptop without the kickstand or is that a necessity? Thx

I am getting the Samsung Chromebook, seems insanely nice

Will this get any updates? My last Lenovo tablet never received a single update. It's sitting under my bed right now in it's nice leather case, running the same software it left the factory with.

I bought a 8" Samsung Tab A 2019 android tablet for $110. It was a Black Friday deal at Costco that also included a 32gb micro sd chip. I really like this model because it is small, has loud speakers, really nice screen, and has 32GB of memory (which is a really nice upgrade from the normal 16GB these cheap tablets usually come with). This works great for me, I can hold it comfortably in my hand and carry with me, it fast and speedy for what I want it to do (internet, streaming, and most apps). It does only have 2GB of ram, so far, I haven't run into any problems for what I mainly use it for. Normal price is $150. I wouldn't buy a Chromebook, I would much rather look at a Windows laptop with SSD if I want something more powerful.
Android Central Newsletter
Get instant access to breaking news, the hottest reviews, great deals and helpful tips
Thank you for signing up to Android Central. You will receive a verification email shortly.
There was a problem. Please refresh the page and try again.