Lenovo announces tablet-sized Phab and Phab Plus phones at IFA 2015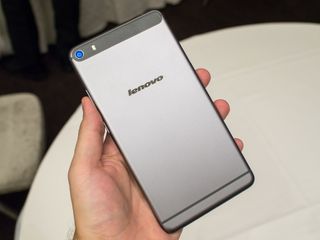 Lenovo has hardly denied the popularity of big phones, and is going all-in today with the announcement of the Phab and Phab Plus. The Phab Plus is the leading model, with an absolutely massive 6.8-inch 1920x1080 display wrapped by a unibody metal design. There's a Snapdragon 615 processor inside along with 2GB of RAM, 32GB of storage (as well as an SD card slot), a 13MP camera around the back and a 3500 mAh battery.
Contrary to the naming, the standard entry-model Phab is actually a touch larger at 6.98-inches, but with lower-end specs to slot it underneath the Phab Plus in price and appeal. The Phab will also have a Snapdragon processor (model unspecified), but just 1GB of RAM and 16GB of storage (SD card expandable) — the screen is also just 1280x720 resolution. There's a notable battery bump to 4250 mAh, and it also supports dual SIMs.
Both phones are running Android 5.0 Lollipop with minimal customization in terms of interface, but include the necessary software features for shrinking the screen to improve one-handed use when necessary. The Phab Plus will launch in a variety of markets this month — including Southeast Asia, China, India, the Middle East, Latin America and Eastern Europe — for the equivalent of $299 unlocked. The entry-level Phab model comes in at just $179 unlocked.
Press release:
Lenovo's PHAB Plus redefines tablet + phone mash-ups
All the fun of a tablet with the true portability of a smartphone
Berlin – September 2, 2015 — Global technology leader Lenovo (HKSE: 992) (ADR: LNVGY), today unveiled the latest evolution in mobile devices, the Lenovo PHAB Plus, a beautifully designed premium phablet, optimized for single-hand use. Targeted at today's millennials, the Lenovo PHAB Plus promises to eliminate the dilemma of choosing between costly smartphones with big screens and underwhelming small tablets by offering a sweet-spot 6.8-inch device with best-in-class entertainment, speedy Internet, and all-day battery life.
"With today's tech-savvy generation in mind, Lenovo is addressing the popularity of larger-screen personal devices, while acknowledging the portability struggles associated with tablet computers. The new PHAB Plus conquers these boundaries, merging the fun of a tablet with the portability of a smartphone in a stylish metallic uni-body casing. Unlike other phablets on the market, the Lenovo PHAB Plus boasts a full HD display optimized for one-hand usage and provides an unrivaled viewing and sound experience, all within an attainable and very competitive US$299 price tag," said Jeff Meredith, General Manager and Vice President, Tablet Business Unit, Lenovo.
Phone + Tablet = PHAB: The best of both worlds
When was the last time you actually made a call with your phone? Calling actually ranks behind browsing the Internet, checking social networks, listening to music and playing games as preferred smartphone activities – blurring the distinction between phones and tablets. The Lenovo PHAB Plus is Lenovo's response to the phablet market—combining the best of both smartphones and tablets in one very cool device.
As a smartphone, the PHAB Plus addresses consumers' 24/7 connectivity needs with its Dual SIM and 4G LTW fast connectivity, ensuring a reliable and fast connection whether at home or abroad. These features are all built upon an Android™ v5.0 (Lollipop) operating system foundation, providing enhanced performance for seamless networking.
For capturing images and video, the PHAB Plus has 13 MP rear and 5 MP front cameras that ensure crisp images regardless of setting. The Panorama Selfie function and dual-LED flash help users take photos with more natural color and lifelike skin tones, perfect for sharing selfies, while the Low Light settings enable bright pictures to be taken even in dimly lit environments. Corporate users will enjoy the Smart Tool, which enables a photo of a presentation slide to be taken from any angle, and then adjusted and aligned for best results.
Compatible with both left- and right-handed users, the PHAB Plus has been optimized for one-hand usability, making it more comfortable to hold and use the phablet. Users can double-tap to turn their screen on, long-press anywhere on the screen to take a photo, shake to lock, create a one-hand keyboard that shrinks and snaps to their hand position, and answer calls through a series of voiceactivated prompts.
The PHAB Plus also excels with its 3,500mAh battery, lending up to 24 hours of talk time and 20 days of standby time, courtesy of a built-in platform that limits the internal temperature of the device.
Big in entertainment: Visual feast and immersive sound
As an entertainment-focused consumption tablet, the PHAB Plus features a 6.8-inch full HD panel display with a crisp definition of 326ppi. Compatible with all HD content including photos, movies and games along with 32GB of memory, users now can hold a powerful multimedia experience in one hand. In-Plane Switching (IPS) technology also guarantees an ultra-wide viewing angle, significantly enhancing screen legibility and color vibrancy for watching videos and viewing social media content.
"The best way to enjoy your favorite music, movies and TV shows is with amazing sound that puts you inside the action," said John Couling, Senior Vice President, E-Media Business Group, Dolby Laboratories. "The Lenovo PHAB Plus with Dolby Atmos delivers breathtaking, moving audio for an amazing mobile entertainment experience."
Gamers aren't forgotten with the PHAB Plus. The device's Qualcomm Snapdragon® 615 octa-core chip with 2GB of memory takes responsive gaming to the next level, ensuring smooth functions and usability, boosting virtual experiences. In addition to its features, the PHAB Plus comes in an attractive form factor. The device is encased in an acclaimed uni-body design with round edges and polished buttons, crafted from durable yet lightweight aluminum material. It is available in three Colors including Gunmetal Grey, Titanium Silver and Champagne Gold.
Other PHAB Option
Lenovo's PHAB series will also include a PHAB introductory model, offering a bigger HD screen at 6.98 inches. In addition to its unrivalled 4250mAh battery life, the device boasts a 360̊ Voice feature. Its three-microphone solution and dedicated voice processor ensure clean voice input and flawless on-speaker sound. Adding to its slew of features is 1GB of memory and octa-core Qualcomm processor, ensuring a responsive and smooth-running device. The PHAB is 8.9mm thin, 250g and features a color protective back which is available in Tuxedo Black, Polar White, Aqua Blue or Cherry Red.
Pricing and availability
The Lenovo PHAB Plus and PHAB will be available from Lenovo. in September USD$299 and at USD$179, respectively. Below are currently planned markets and countries:
MEA: UAE, KSA, Nigeria, Egypt
SEA: Vietnam, Thailand, Philippines, Singapore, Malaysia
PRC (People's Republic of China)
Indonesia
India
HTK: Hong Kong, Taiwan, Korea
LAS: Mexico, Columbia, Peru, Chile
East Europe: Ukraine (Key), Russia, Czech, Romania, Bulgaria, Hungary
Prices do not include tax or shipping or options and are subject to change without notice; additional terms and conditions apply. Reseller prices may vary. On-shelf dates may vary by geography and products may only be available in selected markets. All offers subject to availability. Lenovo reserves the right to alter product offerings, features and specifications at any time without notice
Andrew was an Executive Editor, U.S. at Android Central between 2012 and 2020.
Is this coming to the US at some point?

Not planned for North America.

Mexico is in North America

Not to sound like the people that like 5.2'' and below but you do have to draw a line somewhere. 6'' phones is that line for me. I have used my 7'' tablet as a phone in some emergencies and it is ridiculous. Check out the new Nexus! https://youtu.be/u3uFOavLo_w, not a Rick roll

I agree to be honest if I just saw the pictures of the phone without knowing I would not guess the screen was almost 7 inch. Looks much smaller than a 7 inch tablet. but I agree, a no go for me even if I could. Posted via Android Central App

You just lack vision, or maybe if you buy the phone you will lack vision because the phone will partially block your vision. I am waiting for the 8 to 10 inch phones to be released. Next step maybe the 12.2 inch phone. Does anyone know of shirts with 8 inch front pockets? I am with you, I just can't see the market for 7 inch phones. I guess the bigger phone the better in Asia. Also, didn't Lenovo get the memo from Samsung that SD Card support was suppose to be dropped.

People said that about 5.5/5.2/4.7/3.7 inch phones! You're just afraid of the future! What's wrong with liking 5.2 inch displays? Sounds like you're trying to eat your cake and have it too! Wubba lubba dub dub!

Not in thar US so doesn't matter, but wonder how good of a tablet it would make plus be a back up phone. Posted via Android Central App

My first tablet was a 7" I can't see myself buying a phone that big. To each his own, but this slow move to larger phones is not OK. 6" is enough and even then I prefer a phone with smaller bezels in that case. I'm using a Note 5 doesn't mean I like it!

Your 7" tablet had a giant bezel, this phone does not.

I would buy a 6.8" phone.

Isn't this the phone we thought would be the Nexus? I'm using a Note 5 doesn't mean I like it!

No. Nexus is supposed to be made by Huawei and LG.

720p on 6"? No. Posted via the Android Central App

I'd totally buy the Phab+ for $300 if it had the 5000 mah battery

7" at 720p. May as well buy an old Moto G and hold it closer to your face.

Regarding smartphones
Anything over 4 inch screen is ridiculous.
Anything over 5 inch screen is ridiculous.
Anything over 6 inch screen is ridiculous.
Anything over 7 inch screen is ridiculous.
Pick your poison.
For me any above 4.7 is ridiculous.

The G4 that I'm using now is my first large phone, and it'll be my last, I think. If the reviews are good, I'll get either the Z5 or Z5C, probably.

How has nobody said anything about this looking almost EXACTLY like the iPhone 6/6+ Space Gray?????

What I thought. But I guess all phones have to look alike at least some. Posted via the Android Central App

This is especially like an Iphone 6, although this is about twice as large

Because it doesn't. A phone is a phone. A rectangle is a rectangle. I will say again, there are only so many ways to do a rectangle. Posted via Android Central App

Oh my goodness, just hush with all that. I don't ever make comparisons to the iPhone just based on rectangles and whatnot.
Besides size, this phone looks identical almost. Antenna lines, color, material, camera shape, size, and placement, the camera flash, the volume rocker and power button, the screws on either side of the charging port.... They look the damn same. Don't know how you can deny that.

I thought they were going under the Motorola branding?
I'm confused Posted via Android Central App on 1+1

Nope, they're gonna keep selling Lenovo-branded phones in areas where they already sell them.

Did they really name a phablet (Yuck, I hate this word), Phab? Lol somebody at Lenovo has a sick sense of humor. Posted via the Android Central App

I love the screen size and price but am flummoxed that the low end phone has a bigger screen and much larger battery. On the plus side it seems Lenovo is a fan of big screens and big batteries. Hopefully that speaks to a larger moto x in 2016, with a 6+" screen and at least 3500 mAh battery. Of course whether they honor moto industry leading software experience is yet to be seen.

exactly what I'm thinking ... I'd be interested in a 6" phone. I like the larger batteries with lower resolution. hopefully this will rub off on moto ... the ones that make it to the US before VZ gets their paws on em that is!!

that looks like a bigger iPhone 6plus wow Lenovo same design same antenna lines even the direction no wonder they gave the keys to the smartphone business to moto because they need to leave the designing to that team for their brand phones as well. however its still is a good deal if only 1080p vs the 720p on such large screens.

It's not a copy of an I phone. It's a generic metal slab with a non metallic stripe for the antenna. One feature is like to see a phone maker try is to let us change resolution on the fly. 720, 1080, 2k, 4k Since the shows I download are 720 I could save a ton of battery life by switching to 720. But if course I want a giant battery as well. If the p1 can fit a 5000 mAh battery into a 5.5 inch phone then I think a 6+" phone should be able to pack in 6000 mAh. And something like the phab with its 7 " screen could probably pack in 7000 mAh. Can you imagine what the battery life in that would be with resolution set at 720? What the standby time would be with doze? Probably 100 days!

I would buy it, but the 615 and 2GB of RAM just aren't enough. Put a 2K screen, the new 820, and 3GB of RAM in that though... Posted via the Android Central App

Then they won't cost $179/$299.
Hey, here it is the new Opel Corsa.
Nope, that car won't cut it, give me a Ferrari.

At 94mm wide, Huwei's 6.8-inch Ascend 8 will still fit in most shirtpockets. Lenovo's 6.8s will not; I think they're 96mm wide. My Sony (6.44 inches) is 92.5mm wide. If I can't fit my phone in my shirt, I'd rather treat myself to an 8-inch phablet like the Sony Xperia Z3 Compact Tablet, which works on all nationwide bands of T-Mobile and AT&T. --shirtpocketable 6.44-inch Sony Z Ultra GPE

Now we can choose between the NSA or People Republic Cyber Army. I love Global free Markets. Posted via the Android Central App

This all but confirms the leaked Nexus images, with that strange camera strip at the top. Posted via the Android Central App

IT has a Micro SD slot... I want it!
Android Central Newsletter
Get the best of Android Central in in your inbox, every day!
Thank you for signing up to Android Central. You will receive a verification email shortly.
There was a problem. Please refresh the page and try again.