Leaked press image of forthcoming Huawei Ascend P2 emerges ahead of MWC unveiling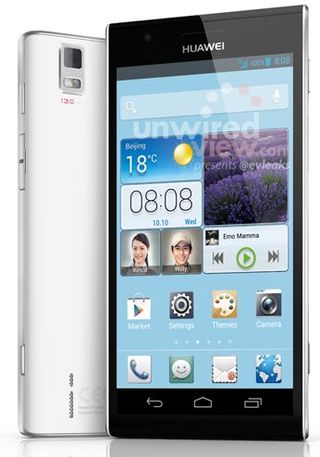 This press image obtained by @evleaks claims to be the next high end offering from Huawei. Following on from the Ascend D2 which first launched at CES, the Ascend P2 that we see here is also reportedly joining the 1080p display club. Only, unlike the D2 which comes in at 5 inches, the P2 display is reported to be just 4.5 inches with on-screen buttons.
Leaks of recent Huawei devices have proved pretty accurate, so while the usual rumor tag applies here too, there's plenty of cause to believe this is what we'll be seeing from Huawei in Barcelona next month at Mobile World Congress.
The P2, besides the display, is also reported to contain an in-house built 1.8GHz quad-core processor, 2GB of RAM, a 13MP camera and a pretty hefty 3000mAh battery. Software is said to be Jelly Bean, with no indication as to which version. If it all pans out, it's clear to see that Huawei didn't just leave their big guns in Las Vegas. How much is true remains to be seen, but we'll be live from Barcelona next month to take a look at whatever it is that Huawei brings.
Source: @evleaks (Unwired View)
Android Central Newsletter
Get instant access to breaking news, the hottest reviews, great deals and helpful tips
Sorry, but I can't get excited about anything other than the M7.

I can't get excited about anything non-Nexus lol :P

Those bezels.....sooo tiny. So thin..so would love this phone if it was not made by huawei

I just can't see myself buying or using a Huawei, no matter how nice it is or how inexpensive.

daaaaaanng.... A high end compact phone? please come to sprint!! and why the deuce would you want 1080p on a 4.5" screen.

Why not? Not everyone wants 5 inches, some of us have small hands ;-)

4.5 is too small for 1080p. a waste of performance and battery life... I cant help but think anything at or under 5 inches should not have 1080p cuz its just ridiculous. Its become just marketing jabber- "FULL HD SMARTPHONE!!!!" never mind that you cant tell the difference and its a huge mark down in performance and battery life.

5" is too big (unless the phone has minimal bezels). My girlfriends GS3 is too big. You don't really need 1080p. A 720p 4.3"-4.5" is perfect size for one hand use with reasonable sized hands. Glad to see more companies starting to use bigger batteries though. I'm looking forward to the next Motorola phone, just fingers crossed it's not 5".

Dont like the squared edges but it looks ok otherwise and specs seem reasonable. Not bad Huawei

Is it just me or does the very much resemble a Sony Experia? lol Typical Chinese company move.....

Beautiful looking phone. About time someone built a high end phone with a screen size not over 4.7 inches. I really think this phone would do very good in the USA. Not everyone wants a huge screen. I remember anything over 4 inches was considered a big screen. Bring this baby to the USA and it will sell.

Looks A LOT like the LG Spectrum 2.

Hmmm. This could be the phone for me, but I doubt it until the S4 is revealed. Hopefully that's the power button on the side and it has an SDcard slot somewhere.

Finally someone came to their senses and realised not evryone wants to have a giant phone which can't be used with one hand. And yes, I DO want a 4.5" 1080p screen. I can see the pixels on my iPhone 5's screen even though it has a 326 ppi, so I want a higher resolution, especially on a bigger screen.
Android Central Newsletter
Get instant access to breaking news, the hottest reviews, great deals and helpful tips
Thank you for signing up to Android Central. You will receive a verification email shortly.
There was a problem. Please refresh the page and try again.