Leak reveals specs and images of Lenovo Vibe Z3 Pro ahead of rumored MWC launch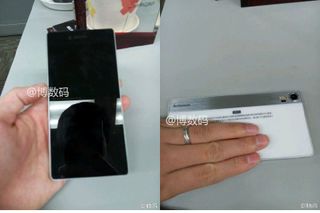 It looks like Lenovo is set to unveil this year's flagship at Mobile World Congress in Barcelona next month. The device, which will reportedly be dubbed the Vibe Z3 Pro, is said to feature a 5.5-inch QHD display, Snapdragon 810, 4GB RAM and 64GB internal memory.
Image 1 of 6
Image 2 of 6
Image 3 of 6
Image 4 of 6
Image 5 of 6
Image 6 of 6
The leaked images highlight a metallic design, with what looks like a brushed metal band running across the length of the device at the back that encompasses the camera sensor. The camera itself is claimed to be a 16MP variant with OIS, laser autofocus and three LED flash. The front doesn't reveal much other than a black slab, There also seems to be a dedicated camera shutter button, as well as a mute button. The battery is claimed to be a 3,400mAh unit.
There's no official word from Lenovo, but with HTC and Samsung set to unveil their next-generation phones at the event, it is likely the Chinese manufacturer will also showcase its latest and greatest at the venue.
What do you guys think of the leaked images of the Vibe Z3 Pro?
Source: Weibo; Via: GizmoChina
Harish Jonnalagadda is a Senior Editor covering Asia at Android Central. He leads the site's coverage of Chinese phone manufacturers, and writes about the semiconductor industry, storage servers, and audio products. Contact him on Twitter at @chunkynerd.
Lenovo is doing well overall - would love to see this phone in North America.

If this thing supports US LTE and was sold here in the states, I'd buy it too.

Y I've a feeling its body feels like an iPhone from the edges/sides ? If the specs r correct that means they wanna venture in high end phones

They made high end phones before. Posted via the Android Central App

Dont care much for them but this MWC 2015 will be the best ever! S6 (make o break for Samsung - to be honest...if the S6 is a S5 in a metal body I will buy it!), HTC M9 ( Will it be just a slight upgrade from the M8?), Z4 (Will Sony still use the same design and only tweak their Z3 and make Z3 owners angry?) Lenovo and the rest showing Samsung, LG, Sony and HTC how to make a good cheap phone!

They also need to standardize the TW design philosophy across their line. The little variances between the s5, Galaxy Alpha, and Note 4 are annoying.

Why exactly? Who besides a tiny fraction of people have all 3? Posted via the Android Central App

Come to the States, Lenovo. Sent from my Sony Xperia Tablet Z

They should. Their laptops are everywhere, so brand recognition would play well for them. Nice looking phone as well.

technically there are already here ;) lol. the question is if they will brand it lenovo in the state or go with moto

It will most certainly be branded Lenovo. They have already stated that Motorola will continue to operate as its own company with its own products. Also, Motorola is already moving back into China with their products. If Lenovo branded it Motorola here they would have to there too. Posted via the Android Central App on the 2nd Gen. Moto X

The build, screen, materials, awesome SOC, and camera looks to be maybe something special, plenty of RAM and flash dang it looks pretty dang good 2 me!!!
If this thing would have a close enough to stock android 5.02 on it I could see myself buying one maybe... a lot would be the price which can't be cheap though.

This looks awesome! Posted via the Android Central App

Oko hey! I like this unique looks. Good job Lenovo! Posted via the Android Central App

This looks very good !
BUT
beware guys, I got a Lenovo vibe Z2 Pro around 4 months back and almost 2 months back, it started responding to the power button very sluggishly and sometimes took 3-5 minutes to open then I did everything I could do to solve the problem by finding solutions on forums and stuff and finally did a factory reset but that didn't solve the problem and it came back ! It later went on to be stuck in boot loop for a long time and I factory reset it again but to no avail, it's now restarting from time to time and most times doesn't respond to the power button. I read some negative reviews on Flipkart (Online retailer in India, the only source, to get the phone) and people had similar problem and most got dead units. The phone is very good looking and performs well but it fails sometimes at the simplest of tasks, the multitask window is very slow in Vibe UI and the menu button takes me to the multitask window instead of opening the menu/options bar with even the slightest touch. But IMHO, the phone works better in the google UI.Regardless,Lenovo needs to up their game ! They need to match Samsung and other flagships service and quality. I can't complaint much because of the cheap price tho ! Its only 520$ with the specs of Note 4 !!! Please excuse my poor typing skills if they are of any hindrance. Posted via Android Central App

Looks like spec wise, MWC is going to be very similar. It's going to come down to premium non plastic designs, and useful nongimicky software features that'll set phones apart from one another. Posted from my HTC One M8 via Android Central App

That's right! ... ( 0ppo F5) ...

Why can't manufacturers be a little more creative with names? G3, Z3, S3, blah, blah, blah.

You wat m8? Posted via the Android Central App

Nice specs, but damn that thing is fugly. Posted via the Android Central App on the 2nd Gen. Moto X

You'll see other Chinese oem with similar design. Posted via the Android Central App

the best chinese smartphone maker
n this wil be one of their best
what a design it has.......
just like iphone.....
true metallic design dude........
wanna buy if available in india.....
Android Central Newsletter
Get the best of Android Central in in your inbox, every day!
Thank you for signing up to Android Central. You will receive a verification email shortly.
There was a problem. Please refresh the page and try again.