Latest Nougat beta for Galaxy S7 and S7 edge renames TouchWiz to Samsung Experience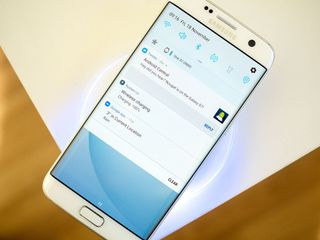 If you're enrolled in the Galaxy Beta Program for the Galaxy S7 and Galaxy S7 edge, it's time to check your phone for an update. Samsung is rolling out the third Nougat beta version, adding Samsung Pass, the Samsung Note app, an auto brightness button in the Quick Panel, and moving the "Close All" button to the bottom of the recents panel.
Interestingly, the software info section lists the UI as Samsung Experience version 8, so it looks like Samsung is transitioning away from the TouchWiz name for its user interface. We haven't necessarily seen the TouchWiz branding highlighted in recent times, and with Nougat, the company is moving away from blue-green accents to a more refined layout that features a lot of white elements interspersed with light-blue accent colors.
Samsung notes a few bugs that are yet to be fixed (which were present in the second beta as well), including a delay in the screen switching on after pressing the power button, and Wi-Fi connection issues. Samsung is looking into the problem, and will roll out an update once it finds a solution. The update itself comes in at 528MB, and includes the December 1 security patch.
Eager to know what's new in Nougat on the S7 edge? Be sure to check out all the features on offer.
Android Central Newsletter
Get instant access to breaking news, the hottest reviews, great deals and helpful tips
Harish Jonnalagadda is a Senior Editor overseeing Asia at Android Central. He leads the site's coverage of Chinese phone brands, contributing to reviews, features, and buying guides. He also writes about storage servers, audio products, and the semiconductor industry. Contact him on Twitter at @chunkynerd.
Very interesting. I suppose that rebranding is the beginning change if the experience is indeed different. TouchWiz is evolving as it has always brought features that find their way into vanilla Android sooner or later if not years later. It has gotten progressively lighter and more efficient leading me to even forgo throwing a skin over it like I did in the past with Nova Launcher.

The launcher would be fine, it's the baked in Samsuck bloat that's the issue.

Depends on what you call bloat..
For some people the Samsung gallery is a "duplicate" app. For me I would be really disappointed if I bought a device and it only has Google photos as the gallery app.

+1000000. The biggest downfall for the nexus 5 was the photos app fod someone who is in their gallery so much.

Exactly. In these cases it's Googles mandatory apps that are the "bloat".
Several Samsung apps (Gallery, S Planner, etc) are superior to the Google alternatives.

+1 The stock Samsung Gallery is the best gallery app I've used. I too would be seriously angry if I only had the Google photos app which, besides it's awesome cloud storage and AI, is way less functional and polished than Samsung Gallery for everyday image and video browsing, editing, and moving and copying between folders.

Also, the Samsung browser *destroys* Chrome in page loading and rendering speed (even with ad block turned off). Perhaps it's only this fast on a Samsung phone though (which is fine with me since that's what I use). I wish I had started using it much sooner, but I avoided because the (incorrect) common wisdom is that Chrome is the fastest. In this case, the common wisdom is just plain wrong.

That's why I use a Nexus device, unlocked and rooted.

They really have toned it down. I bought the pro version of Package Disabler with my S6 and there are far fewer items checked in it now.

I'd say that's because Samsung made them remove half the packages because people were using it to stop their note 7s getting forced updated to only 60% charge. All package Disabler apps on the play store have now been totally stripped back to the point you can no longer even manually disable anything anymore. Its merely a take it or leave it thing now. This is unless you have an old version of one that hasn't been force updated like ez & what they tried with PDP but at least PDP kept your packages blocked when the app stopped working if you chose not to update it. The app failed to open but if you uninstalled & rolled back to an older version,once you re granted permission & opened it you'd find all your blocked packages still listed & blocked. I did have the 4 update packages miraculously enable themselves once though which I believe may of been PDP devs way of trying to appease Samsung to save the app from being stripped right back to where they are at now. Maybe or more so hopefully they are allowed to restore it to somewhere close to its previous state before the whole note 7 recall fiasco happened but I can't see that happening now. Such a shame too. I imagine this may even stop some dedicated & more hardcore samsung users to not even consider buying a Samsung phone again as it pushes them back to the old days of root & vulnerabilities that whole process can bring along with its advantages, as well as that you lose NFC p@yment options like s pay & android pay as well

This is really good news. If they start to number their android "skins" like HTC do with Sense for instance, then we might actually see Samsung start updating older devices to newer versions of their skin as well.

Well the S6 did get the S7's skin with MM.

It does make sense.
Because when Samsung releases a new phone with Samsung Experience 9 then people who bought phones with Samsung experience 8 will ask when it comes to their phones. Like HTC owners ask when they get the new version of Sense.

You can call it whatever you want! It's still going to be "Samsung Experience" = Lag

Saying that without having experienced it yourself makes you extremely ignorant. But you don't care about that, do you?

Don't get all touchy just because someone's implying your bloated Samsung phone may be prone to occasional performance issues.......AKA, Lag

Actually, lag = a significant delay between an action and a response. If the phone does respond but takes a while to do so, it's just slow in doing so. But if the phone takes a while to respond, it's lag.

OMG....that's reaching a bit too much buddy. But okay, sure.

All carrier skins are bloated to some degree, so your so not saying anything we don't already know. Try a new approach and maybe you'll have something.

I just like reading you talk about carrier skins. I've noticed you seem quite passionate about the subject for...oh, IDK...forever? Tell me more

Trolls are out in full force

Well I love samsung touchwiz, even if they lag updating device they always bring the most of android before anyone else, we have been using split screen since galaxy s3 and everyone else just getting it in android 7.0, so samsung may not be as fast but always give u the best in every version, quick setting and notifications bars has always being in the top and better then any other one , unless u customize with any other custom rom

They can rename it all they want. It still sucks when compared to stock android or latest HTC Sense, in my humble opinion.

When are they opening the beta up again?

So why is Verizon no longer allowing S7 owners to get the Nougat Beta updates from Samsung? Too much work for them?

Only few know for sure. Possibilities are politics or Verizon being difficult so Samsung gave them the boot. The big wheels of at&t and Verizon are slow to move. At&t declined participation and now Verizon is cut short. Call it what you wish.....

Still has some ways to go, but coming from past Samsungs, it's less garish and obnoxious at least.

Nah it's been fine for awhile now

There's still some things they can work out on. It's much improved but some things can still be polished.

Nothing yet for me on T-Mobile

Even Beta is getting security updates !!
Where's any support for the United States Unlocked editions??
930U and 935U are still on the September 1st patch level !!!
And why in the world would Samsung not include a variant that does not have to go through the carriers before it pushes to devices?
I seriously think samsung has lost the plot. The US market is one of the most important to them, yet we're treated like the redheaded stepchild and left out of all of the programs that most others can be a part of. All of this Nougat and security update lack of support for these models needs addressed.
Samsung, take the time and effort to get the 930U and 935U up to the same level of service. Keep your promise to your consumers for security.
I have been telling anyone who is looking for a Samsung phone and is interested in the Unlocked editions to skip them entirely and get a Pixel.. Samsung is quickly becoming a name synonymous with Failure and lack of customer support.
This 930U may well be the last Samsung device I ever purchase. I used to be a fan of their products, but the level of commitment to quality has fallen to an astounding low. In a time when Samsung is looking to recover from the Note 7 debacle, this is a sure fire way to just reinforce there Epic fall from grace and glory..
I will keep my fingers crossed for them to step up and make it right. I mean it's not like this version is just a one-off, Samsung has been in the Unlocked market internationally for quite a while. I didn't order this from a shady 3rd party. I walked into the local BestBuy and paid cash for it. They sell them In Stores! So this lack of promised support for the life cycle of the device, is actually a breach of contract. They should keep that in mind.

Oh, yeah, just because it's not bound to a carrier and loaded to the gills with useless "bloatware" does not mean that it is somehow less of a FLAGSHIP DEVICE, therefore somehow worth less commitment.. In fact, it should be treated to a higher standard !! It "was / could have been" the way past the carriers redesigning and slowing down the process of keeping them updated and at the top of the Security list.. Knox is a well designed platform for security, when it's maintained.. I can only guess that the recent proof of their lack of desire to show support across an entire model series (930F, 930A, 930V, 930T, 930U & their 935* counterparts etc.. ) all the way, is why AC didn't feel that it was worthy of a mention as one top pick for Business Professionals, and instead suggested a BlackBerry product, the DTEK 50&60 both. BlackBerry has had a rough time keeping up with the mobile industry, but it is a shining example of the way to maintain a product line and it's security.

Good. I never liked the name TouchWiz anyway. Samsung Experience sounds a lot better. It truly is an experience when you use Samsung phone. Their number of features are countless, they're always thinking outside the box to bring the user a different experience. The theme store and own native apps really set them apart from all the other OEM's.

Guess they got sick of its nickname, TouchJiz.

Received my update downloading now

The launcher is still named TouchWiz. It isn't going anywhere yet.
http://imgur.com/a/puZ95

I'm loving the new update so far. However, all the bright white is killing me. Thank god I had a dark theme already or I would be blind by now.
Android Central Newsletter
Get instant access to breaking news, the hottest reviews, great deals and helpful tips
Thank you for signing up to Android Central. You will receive a verification email shortly.
There was a problem. Please refresh the page and try again.