How to update to Kodi 17 on your OSMC-powered Raspberry Pi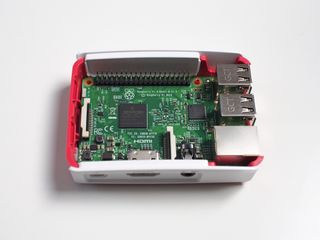 If you followed our guide on getting Kodi on the Raspberry Pi, then there's a good chance you're also using OSMC. It's definitely one of the more attractive Kodi builds out there and it has now been updated underneath, and out front, with Kodi 17 Krypton.
If you've got automatic updates turned on then you may already have been prompted with the latest version. If you're still on 16.1, here's how you manually pull it down.
Go down to My OSMC.
Select updates.
Scroll to the bottom option labeled manual controls.
Hit the option to scan for updates now.
If there's an update available (which there is right now) your Raspberry Pi will download it and you'll see the message above when OSMC is ready to install. Hit yes, watch it boot to a super nerdy-looking screen, and wait it out until everything comes back up.
When it's all done loading you'll immediately notice that OSMC looks a bit different. The stock skin has had a reworking for this new release, and it's certainly a looker. Most things are still in the same places, though, so it shouldn't take you long to figure it out. Besides all the new stuff in Kodi 17, these features have been added specifically to OSMC:
Add support for LIRC GPIO receivers on pins > 24 for Raspberry Pi in My OSMC
Improved CEC compatibility and performance
Improved Bluetooth audio streaming support
Improved loading time when streaming via NFS
Improved video synchronization on Vero 2
Ensure that Adjust Refresh Rate is enabled by default
Ensure that Expert Settings are enabled by default
Also bear in mind that some existing add-ons may not work properly with Kodi 17, so if you're nervous about that, you can always hold off awhile. For more on the latest OSMC release, you can check out the post on the official blog.
I noticed after update that Exodus was not visible. I went back to the previous Kodi screen display and it was there. Tried to reload Fusion and still no Exodus. This on the Raspberry Pi 3, but on my window computer it is there, so I do not know??? I am having fun with Raspberry Pi and installing and playing with the several versions of Kodi. It took a while to find where to change the skin in V17, and having it on my computer and Raspberry Pi it is easier to find where the new features are at, and still watch programs on the big screen.

I don't think anyone here is going to help you with plugins to get illegal/pirated content. You can go to those plugin's sites for help. Kodi is not Exodus/Fusion.

Question: I'm new to KODI and Raspberry Pi 3. I have the OSMC and Kodi setup, but the display only shows a 4x3 picture in the center of the screen, even when the display is OSMC is set to show 16:9. The display just will not use the whole screen just a square in the middle. All else works fine. Is there a setting for the Raspberry Pi or OSMC to auto recognize a 40" screen (Seiki LED TV) and use it all.
Android Central Newsletter
Thank you for signing up to Android Central. You will receive a verification email shortly.
There was a problem. Please refresh the page and try again.