It's not just you: The Philips Hue update system is overwhelmed today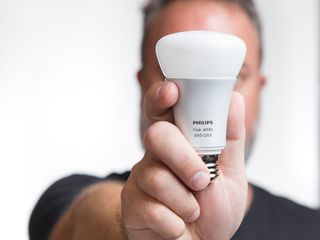 (Image credit: Android Central)
Philips used CES as a perfect opportunity to drop a big feature update into its app today, but in order to use that app all of the bulbs in your home need to also be updated. This isn't usually a big deal, but because so many people are trying to update their Hue bulbs today the servers at Philips are a little overwhelmed.
Long story short, it's going to be a little while before you get access to this new feature. If you're not excited about constantly checking the update screen in the Hue app until the update is finally ready, Philips has a solution for you.
It's not enabled by default because a random blinking light in your home is disconcerting, but Philips offers the ability to silently auto-update your bulbs when an update is available. You can pick a specific time to have these updates installed, and doing so makes it possible for the update to be downloaded to the hub during non-peak times. Here's how that works:
Open the Hue app.
Tap on the Settings gear at the top right of the navigation strip.
Scroll down and select Software update.
Scroll to the middle of the page and tap Automatic update.
Tap the switch to enable Automatic update.
Set a time for when the Automatic update will occur
This isn't going to get you the update today. This background update will check in with Philips in the next 24 hours, and pull the update down when it is available. Once that update is at your Bridge, the update will be installed on your bulbs at the time you selected.
Here's hoping next time Philips is a little better prepared for everyone to want their Hue update as soon as a new feature is announced.
Android Central Newsletter
Get instant access to breaking news, the hottest reviews, great deals and helpful tips
It's not just "hue" , how could you miss that??

Aw, cut him a break. To err is Hueman, after all.

The impact of this is huege.

Huemongous, one might say.

Is this the entertainment areas update? Or is this something else?

But what's the friggin update?

They pushed a mobile app update today that allows syncing your Hue lights with "media partners." Presumably automatically matching your lighting to whatever movie you're watching if you're using the right service.

A "big feature update"...which you fail to mention. Ugh.

Seriously. Cater to my laziness, please.

What is the update? I swear who ever writes these articles should be fired.

What the hell, updates for lightbulbs? Do you have have to upgrade to a new one when you get no more updates from your current bulb? Do they deliberately dim the bulb to get you to upgrade?

I'm not sure you know what hue bulbs are

LOL. "This big update - which we won't tell you about - might be hard to get today". LOL
Android Central Newsletter
Get instant access to breaking news, the hottest reviews, great deals and helpful tips
Thank you for signing up to Android Central. You will receive a verification email shortly.
There was a problem. Please refresh the page and try again.