Lloyd Gear T-Shirts, Caps & Pins are here!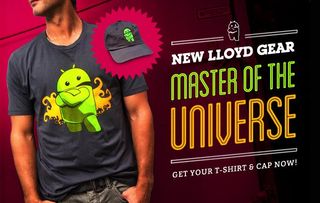 Awww, yeaahhh — Lloyd Gear is here. Our first round of new gear includes a supernaturally good t-shirt, a sweet baseball cap and a secret society pin. If you love Lloyd. If you love Android. If you love to be awesome. Then you can get these. Also some really great bonus offers in here — read on after the break.
Bow down to Lloyd! Our first high quality T-shirt with the popular Overlord print is finally available for you to own. This is Lloyd how we initially envisioned him — towering over the mass of lesser droids engulfed in flames. Nice.
If you wear this t-shirt the following things are GUARANTEED* to happen; birds will sing your name, mothers will name their first-born after you, it will never EVER rain on you ever again. This has been tested.
The new Lloyd T-shirts are eco-printed in San Francisco on the finest charcoal colored 100% combed cotton jersey that we could find. We love these t-shirts and they have survived stringent wear and wash tests. We wear them to work. We wear them to parties.
We basically wanted nothing less than the highest quality t-shirts for our community so that you could proudly walk around with Lloyd on your chest and enjoy all the benefits listed above.
Do you keep sensitive secrets in your head? Worried about mind-reading aliens/governments? Or perhaps you just need to shade your head from the burning sun. Either way, Lloyd is here to save the day again*. Wear Lloyd where he matters most — on your head.
Made from 100% washed cotton. Made in Vietnam, embroidered in San Francisco.
Do you want a more subtle way to display your undying devotion to Lloyd? This smart little pin can be placed on any material you dare stick a pin-size hole in.
Guaranteed* to get you into any nightclub, members club, golf tournament, VIP Lounge and Private Beach. Also, everlasting happiness and fortune will be yours.
Plus, there's more! Free shipping and free pins!
BONUS OFFER 1: For a limited time, whenever you add either a Lloyd T-shirt or Lloyd cap to your basket we'll offer you FREE shipping on your entire order. This means that you'll be able to combine both superb Lloyd Gear and great Android accessories at zero shipping cost.
BONUS OFFER 2: For the first 250 t-shirt and cap buyers we'll also give out one of our Lloyd pins for free!
* Not really
Get the Android Central Newsletter
Instant access to breaking news, the hottest reviews, great deals and helpful tips.