Intel announces dual-core Atom, multiband LTE chip and OEM partnerships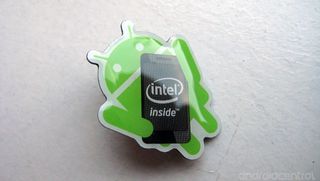 Intel is laying down a whole group of announcements today, covering the launch of dual-core Atom processors, multiband LTE chips and partnerships with OEMs for future quad-core Intel chips. First up is Intel's dual-core Atom (known as Clover Trail+), which is a 32nm (nanometer) processor coming in three SKU's -- Z2580, Z2560, Z2520 -- at 2.0GHz, 1.6GHz and 1.2GHz, respectively. The new Atom will deliver "industry-leading" performance, with Intel's hyper-threading technology, and battery life (which hasn't been Intel's strong suit) to rival current high-end devices.
The new chips also now support up to 1900x1200 display resolution, which will make it a suitable chip for future Android tablets. The Clover Trail+ Atoms support Android 4.2 Jelly Bean and HSPA+ 42 mobile data modems as well. Intel says it has already made partnerships with ASUS, Lenovo and ZTE to integrate Clover Trail+ processors into future tablets and phones.
Intel is also announcing today the availability of its first multimode and multiband LTE chip, the XMM 7160. One of the world's lowest power and smallest chips available, the 7160 supports up to 15 LTE bands simultaneously, and offers full LTE, DC-HSPA+ and EDGE connectivity in one chip SKU. Intel expects the radio to be ready in the first half of this year, with the radio and processor roadmaps soon converging to offer an integrated solution in the future.
Last but not least, Intel is looking forward to its upcoming "Bay Trail" quad-core Atom processors for use in tablets. The new processor will double the performance of its current tablet offerings, with potential designs as small as 8nm going forward. Intel is working with Acer, ASUS, HP, Lenovo, LG Electronics and Samsung to have both Android and Windows 8 tablets in the market by the holiday season of 2013 with Bay Trail quad-core processors.
Things weren't too great for Intel in 2012 when looking at the complete dominance of ARM-based processors in high-end devices, but the company doesn't seem to be holding back on its mobile product developments. Give it a couple more product cycles and Intel could begin to see some market share gain going forward.
Source: Intel (BusinessWire)
Andrew was an Executive Editor, U.S. at Android Central between 2012 and 2020.
The Motorola Razr i had pretty great battery life though. That was really the only major design win for Intel silicon last year so I'd say battery life HAS been an Intel strong suit at least so far as their major design wins go.

People automatically think of "huge power drain" when they think of Intel anything, but the Razr i beat the Razr m in battery life and browser benchmarks. With only a single core processor. So their very first major entry resulted in basically a push against what should have handled it hands down.

The reason for the increased battery life was not because Atom chips are architecturally more efficient than Arm A9. x86 in fact drains alot more power than ARM. The reason is because intels 28nm fabrication process is alot better than TSMC's cruder 40nm fabrication process. Smaller process means lower power drain and leak and better battery life. That being said I don't think Hyper Threading works well in mobile environments, the idea behind HT is basically they take unused/inefficiently used CPU run time and run a secondary thread on it, this doesn't work as well in a cellphone where the number one design constraint is battery life. You want most of the CPU in a phone to be idle. They still have the problem of the non integrated modem as well, see Nvidia Tegra 4. Until Atom becomes a true SoC, alot of the patents for the modem are owned by Qualcomm, intel will still be a marginal player. I can see them making big gains in the tablet space though because manufacturers can make one design for both android and windows 8 tablets.

I really love that pin! Were they giving those away at MWC?
Android Central Newsletter
Get the best of Android Central in in your inbox, every day!
Thank you for signing up to Android Central. You will receive a verification email shortly.
There was a problem. Please refresh the page and try again.