Infographic showcases RED Hydrogen One specs, design, and features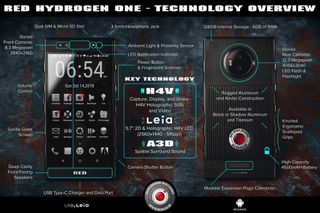 It's been well over a year since the RED Hydrogen One was first announced, and since then, details on the phone have been few and far between. We're still not entirely sure when the handset will actually launch, but thanks to the eagle eyes of one AC reader, we've now got a fancy infographic that highlights all of the Hydrogen One's key details.
The camera package is easily one of the biggest selling points for the phone, and around back, we're looking at a dual rear camera setup that consists of two 12.3MP sensors with an LED flash to accompany them. Up front is dual 8.3MP cameras.
Also confirmed here are the 4,500 mAh battery, 6GB RAM, and 128GB of internal storage that can be expanded via a microSD card slot.
The infographic goes on to highlight three of the Hydrogen One's key technologies, including its H4V holographic video and still image capturing, Leia holographic 5.7-inch 2560 x 1440 H4V display, and A3D spatial surround sound.
In late September, RED announced that it was delaying the titanium version of the Hydrogen One due to a disastrous first production run. The company's making it up to its customers by offering them a free aluminum version of the phone while they wait, but it's anyone's guess as to when that version will ship.
Are you still interested in the RED Hydrogen One?
Three reasons the RED Hydrogen One could be the most interesting phone of 2018
Android Central Newsletter
Get instant access to breaking news, the hottest reviews, great deals and helpful tips
Joe Maring was a Senior Editor for Android Central between 2017 and 2021. You can reach him on Twitter at @JoeMaring1.
I think like the Razer phone, this is a phone that has a specific focus, and is striving to innovate in its areas of focus. As someone generally bored of current smartphones, I really appreciate that.

And if memory serves me right, you mentioned in another article that you're reviewing it. Well, I for one am looking forward to it. My two concerns are growing pains with mass production of the innovative display panel, and how that display is going to affect battery life. Mass production is the usual issue with new manufacturers. Can you at least mention whether or not the Red hotshoe is currently operational ?

Not so much reviewing it, just bought it early and got an early unit, so I'm just using it. It's obviously new tech, but because the tech of the display is in different components, it's probably less of a production hurdle than one might expect. The screen is a normally produced screen as far as I'm aware, but Leia's nanoscale layer exists between the display and the backlight. I don't know how much the H4V tech specifically affects battery life, but it is an easy 2 day battery for my purposes. And yes, though RED is an experienced camera manufacturer, they did go through some teething in manufacturing their first phone, hence the delays. They've been very transparent about it throughout this entire process though. The fact that they let us buy in so early in the development process and keep track of everything is a boon for those who are interested, and a ready argument for those who are not. The pogo connectors are working, but they're only going to release modules for it after the phone itself is released. We've gotten to see and hear about a couple of module prototypes though, and all I can say is that this phone is going to disrupt more than one market.

I am certainly interested in seeing a review of this phone. As to buying one, no.

Same here. Whilst the phone isn't for me, this sort of innovative technology can only have a positive effect on the mass market eventually so I'm interested to see how it all works.

I do hope it sees mass adoption, and it's for that reason I'm happy it's RED that's pushing this. RED was also at the forefront of pushing 4K and 8K because of their camera and file format technologies, and they have the ties to entertainment industries. Leia, the company behind the screen tech, is ready to go bigger with the technology. The phone, with a 4-view display, is an entry point. As far as I'm aware, the tech can support up to 64 views in larger displays. The more views, the more parallax or "look-around" effect on objects. I feel like this is all being done with a roadmap for the future in mind.
Android Central Newsletter
Get instant access to breaking news, the hottest reviews, great deals and helpful tips
Thank you for signing up to Android Central. You will receive a verification email shortly.
There was a problem. Please refresh the page and try again.